In the Eye of the Beholder
We were excited about the World's Fair of Money running August 16-20! Those of us who write the Heads & Tails blog articles are especially thrilled by the focus of this year's Sundman Lecture Series Symposium. The topic is "Numismatic Art Through the Ages." Papers are expected on the engraver's art from as far back as coins from Naxos, the first Greek colony in Sicily founded in 734 B.C. through to the dramatic motifs on U.S. gold coins by famed sculptor August Saint-Gaudens.
Inspired by that breathtaking span of coinage artistry, we asked our Littleton Coin colleagues to share some of their favorite artistic works on coins and paper money. We were bowled over by their responses. Hope you are, too!
In the beginning…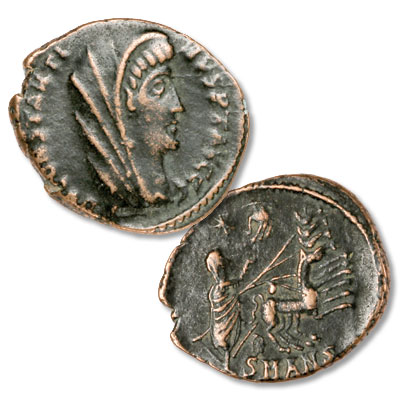 We're not going back as far as 734 B.C. with this first suggestion. It's from Chris, the LCC merchandiser who has ancient coins as one of his specialties. Struck in A.D. 337 by the sons of Constantine the Great, this commemorative coin honors one of Rome's greatest emperors.
Constantine made Christianity the empire's official religion. He believed that a holy vision he saw before the Battle of Milvian Bridge over the Tiber River was responsible for his decisive victory. As a result, he ended persecution of Christians and converted to Christianity.
"I love the history and story of this coin. The symbolism on the back of Constantine riding a chariot and looking up to the welcoming hand of God is inspiring," Chris shared. "And you can't beat owning this type of history and art for under $100.00!"
Early American coins
Equally enthusiastic about early coins is Dave, who works in our Fulfillment Department. But in Dave's collection, early means that period when America was very young.
"My family stayed in the same town for over 300 years," Dave said, talking where he grew up. "Colonial America is my focus in all my historical endeavors."
An early U.S. coin type Dave likes to collect are Capped Bust, explaining "I like the beauty and representation of a young, strong and expanding United States."
Back then, America's coins were pressed by hand in Philadelphia – a period that lasted for 40 years, from 1792 to 1832. This historical fact prompted Dave to note, "I also like the idea that these were created individually on a screw press.
"The half dollars are my favorite," he added. "The scroll # 2 in the 1820s numeration is fascinating to me and is quite whimsical looking for government coins. The edge lettering is interesting as well. This one is a nice addition to my collection."
The art of confounding counterfeiters
Let's dial America's history back a little further. Colonial-era printer Benjamin Franklin knew counterfeit paper money was devaluing the hard-earned gains made by colonists. He sought a solution after getting the contract to print the colony of Pennsylvania's paper money. He found it in the unique patterns for leaves created by Mother Nature. The various whorls he adapted did, indeed, make colonial notes difficult to duplicate.
Move forward through the decades, other flourishes found their way onto bank notes as the Bureau of Engraving and Printing evolved its anti-counterfeiting strategies. So, too, the intricately designed center portraits. One of our currency graders, Heather, chatted with us about the strategy of foiling fraudsters in this blog article about the funnyback note. This time around, we asked her to choose a favorite bank note based on its artistic merits.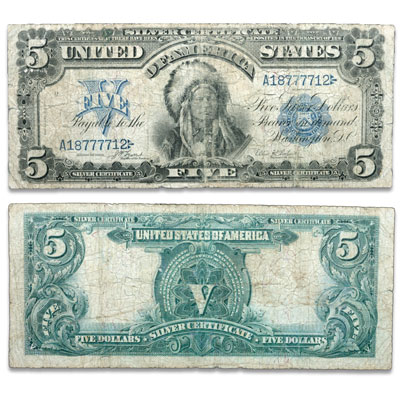 "It's difficult to choose one note!" Heather replied with a laugh. But after a beat, she continued. "To me, the most beautiful U.S. currency would be the large-size notes from the early days. These notes truly are artwork in your hands!
"One of my particular favorites is the 1899 $5 "Indian Chief" Silver Certificate. A powerful design with such intricate detail makes this note a beautiful piece of history."
The dramatic silver certificate comes from a period known as the "Era of Elegance." You can discover other amazing examples of the engravers' art on paper money at this link.
Let's not overlook foreign currency. It's often printed in vivid colors that draw attention to the often complex details of history.
"This was a really difficult decision," Charlena told us when we met up with her. The Littleton merchandiser who overseas our world paper offers did finally select a trio of Uncirculated $100 notes from Hong Kong. They pay homage to an art form dating from 1180 in China's Canton region. She added, "World paper money is often beautifully utilized as a country's way of
celebrating their history, culture, achievements and land through artistic means."
Native American coinage
We've written about the growing popularity of collecting Native American coins and commemorative paper money. In 2009, the U.S. Mint started a tradition of one-year-only reverse designs on the Native American dollar. In 2022, it honored Seneca Nation member Ely S. Parker. He easily could be added to this archival-quality Littleton folder designed to display these artistic dollars.
John, one of Littleton's friendly Customer Service reps, collects Native American coinage art. When we contacted him about a favorite, he had a new one!
"That's easy enough," he said. "I'm really enjoying the Native Spirit War Horse. I find that the details and finish are impeccable and a real asset to have in my collection!"
Coin-ucopia
Part of our hard-working web team, Naomi has several favorites – many of them having to do with wildlife.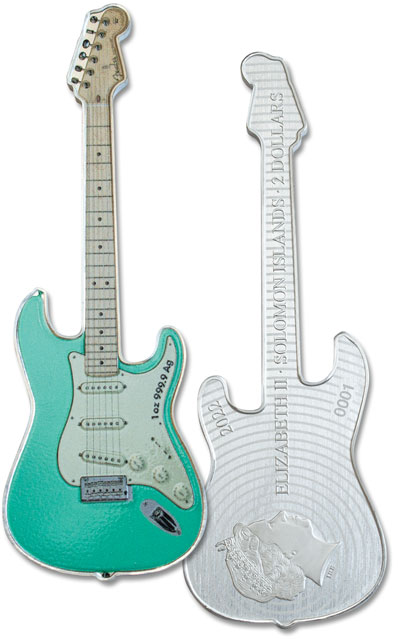 "Can it be world coins in general?!" she asked about our question to pick one favorite. "I like a lot of them. They tend to be unique, using different metals with color and in many varieties. They also are struck in different shapes and sizes."
One of her choices is the adorable Tiny Tiger from the Pacific Ocean nation of Palau. At the other end is Littleton's own Endangered Species Collection Series that starts with the Amur Leopard found in southern Russia and northern China.
"But I also like the Splash of Color City Coins and the Fender guitar,"" she said, pointing out they, too, were issued from island nations in the Pacific.
"If you want a U.S. coin, I have always liked the colorized and gold-plated American Silver Eagle," she said. "The combination of color, gold and silver just sparkles, and the flag makes it a great tribute to America."
Cindy, who can be found daily at our Reception Desk and in our Coin Store also has a patriotic favorite.
"The coin I think is the most beautiful is found in the 1986 Centennial Prestige Set from the San Francisco Mint," she said. "The lovely Lady Liberty half dollar is just striking and it appeals to my way of collecting."
What is your way of collecting coinage art? Please feel free to share an example or two in the space provided below. Thanks!