When American Bank Notes were stunning works of art!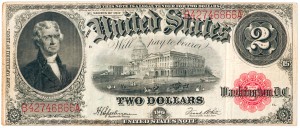 Though extra-large portraits and subtle background color have added some interest to modern U.S. paper money, to me there's still no comparison to the artistry of older large-size American bank notes. To discourage skilled counterfeiters, 19th-century bank notes featured amazingly elaborate designs combining complex typography and intricately detailed illustrations. Many of the images, depicting allegorical figures or prominent leaders and events, were based on oil paintings by the premier artists of their time.
Dubbed the "Era of Elegance" in American paper money history, this included currency issued by thousands of state-chartered banks before federal paper money debuted in the Civil War, as well as large-size U.S. bank notes from the Civil War era to the early 20th century. The designs on the state-chartered bank notes (now known as "obsolete bank notes") are as varied as the banks and offer a tremendous collecting opportunity by themselves. More widely known are the many beautiful designs found on early large-size U.S. paper money…
The most sought-after Legal Tender Notes
The first type of enduring U.S. currency was the Legal Tender Note, introduced in 1862 in a variety of denominations and issued for over a century until gradually replaced by Federal Reserve Notes. Artwork on the older Legal Tender Notes is highlighted by three famous issues:
Rare 1862-1863 $100 "Spread Eagle Note," ranked #8 in 100 Greatest American Currency Notes (by Q. David Bowers and LCC's David Sundman)

1901 $10 "Bison Note" featuring an icon of the American West and ranked #6 in "100 Greatest"
1875-1907 $5 "Woodchopper Note" depicting a pioneer with his family and dog (I'm proud to own a circulated Woodchopper Note)
National Bank Notes display a gallery of art
The backs of First Charter National Bank Notes, issued by federally-chartered banks throughout the country from 1863-1882, display a distinguished gallery of historical art based on famous oil paintings. All seven of the following images are from massive 12-foot by 18-foot oil paintings that have graced the walls of the U.S. Capitol Rotunda for more than 160 years. You can see these impressive works of early American art when you take a tour of the U.S. Capitol as I did on a visit to Washington, D.C. last Fall.
Landing of Columbus by John Vanderlyn on $5 notes
Discovery of the Mississippi by William H. Powell on $10 bills
Baptism of Pocahontas by John G. Chapman on $20 issues
Embarkation of the Pilgrims by Robert W. Weir on $50 notes
Declaration of Independence on $100 bills, Surrender of General Burgoyne on $500 issues and General George Washington Resigning his Commission on $1,000 notes are all by John Trumbull.
The "controversial" 1896 Educational Series is widely considered the most beautiful of all
Ornate art and architecture reached a high point in the 1890s, and three Series 1896 Silver Certificates featuring allegorical images are considered the most beautiful bank notes in American history:
1896 $1 Silver Certificate depicts the goddess History teaching a youth about the U.S. Constitution, displayed to the right, with the U.S. Capitol, Washington Monument and Potomac River in the background.
1896 $2 Silver Certificate depicts the goddess Science presenting Steam and Electricity (the two children) to Commerce and Manufacture.
1896 $5 Silver Certificate portrays the goddess Electricity as the dominant force in the world.
The classic artistry of the "Educational Series" has made these notes among the most popular and sought after currency notes in the world today. However, when introduced during the Victorian Era, the naked breasts of the allegorical figures on the $5 bill created quite a controversy when a group of Boston society ladies objected to the design and some Boston bankers reportedly refused to accept the currency in transactions. In fact, the famous phrase "banned in Boston" may have originated with the $5 Educational Note! Personally, I don't think the images on this note are anything different from those found in stained glass artwork of many prominent churches and cathedrals!
The back of each 1896 Educational Note bears the impressive detailed portraits of two prominent Americans. The first "First Couple" George and Martha Washington are seen on the $1 Silver Certificate, inventors Robert Fulton and Samuel F.B. Morse are found on the $2 bill, and Civil War generals Ulysses S. Grant and Philip Sheridan are portrayed on the $5 note.
Other extraordinary Silver Certificates
There are several other U.S. Silver Certificate designs that are highly prized by collectors, including:
1886 $2 Silver Certificate (#73 in "100 Greatest") with an intricate back design of scalloped images, scrollwork and typography.
1899 "Black Eagle" $1 Silver Certificate bearing a dramatic rendition of our national emblem, the bald eagle.
1899 "Indian Chief" $5 Silver Certificate featuring a lifelike portrait of Sioux Chief Running Antelope and the only U.S. currency note with a central image of a Native American.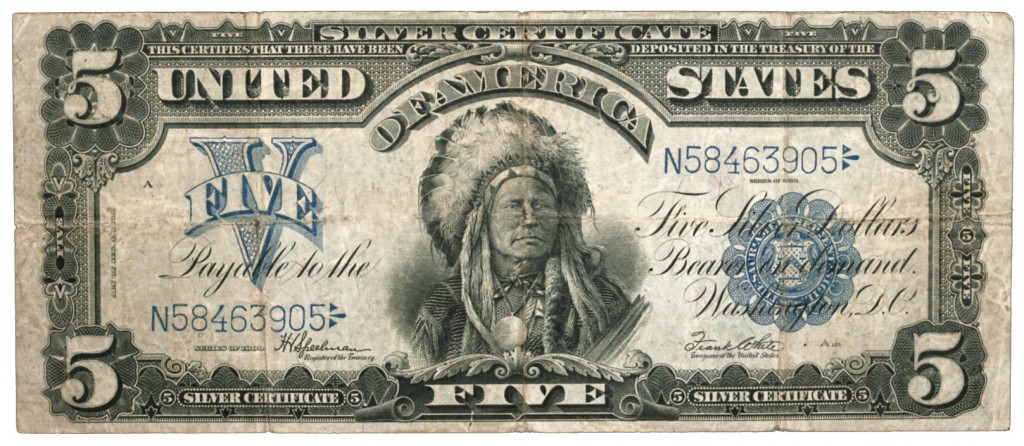 With the capability of color copiers today, counterfeiting is now combated with watermarks, micro-printing, security threads and color-shifting inks instead of the intricate designs of the 19th century. And who knows how long paper money itself will continue to be used? The beautiful older large-size currency notes may become even more precious as artifacts from a bygone era!
To explore the wide variety of impressive designs on older large-size American bank notes, I recommend these highly respected reference books available on Littleton's website – Obsolete Paper Money by Q. David Bowers and A Guide Book of U.S. Paper Money by Arthur and Ira Friedberg.
Do you own any of these prized issues or have some other favorites? Please share your recommendations and comments with other paper money enthusiasts!