Have you found 'W' Mint Mark quarters yet?
It's a good year to be a collector! First, the U.S. Mint announced that three special-issue Lincoln cents would be issued in 2019 – one each with the release of the annual Mint Sets, Proof Sets, and 99.9% Silver Proof Sets.
Then, from April 20-26, coin dealers across the nation participated in the first ever Great American Coin Hunt. Through this exciting campaign, thousands of collectible coins were placed back into circulation to generate interest in the numismatic hobby!
And now, first-of-their-kind National Park quarters are turning up in circulation!
Mint releases special quarters in 2019
At the start of April, the mint announced that of the 5 National Park quarter designs issued this year, 2 million of each would be struck in West Point. While West Point has issued quarters in the past, they – like the quarters from the Philadelphia facility – bear a "P" mint mark, making it impossible to tell the two apart. So that piece alone isn't cause for celebration. But what IS noteworthy is that the quarters issued from West Point this year will bear a "W" mint mark!
It's part of a new, ongoing effort to get the general public interested in our nation's coins, and attract a new wave of collectors into the hobby.
And it's working! We keep hearing from people who are scouring their pocket change. I know, I've set my pre-teen kids on the hunt. "Keep an eye on your coins for a while," I told them. "There are going to be W mint mark quarters out there! If you find one for me, I'll give you 50¢ for it…"
Ok, so it isn't the $5,000 reward PCGS was offering for the first example they received for certification. But I'm working with a slightly tighter budget!
Kicking off the hunt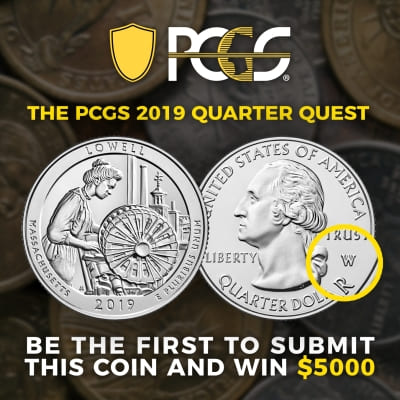 You read that correctly! This new mint creation caused so much buzz, that Professional Coin Grading Service (PCGS) was offering a $5,000 reward for the first examples of W mint mark quarters sent in for certification. Unfortunately for us, it was announced on April 12 that the prize had already been claimed. (Of course, if either winner is reading this… congratulations on your find!)
Although 2 million quarters might sound like a lot – it isn't. Not when you look at the mintage numbers for the other circulation-issue quarters… Last year, for example, more than 237 million quarters with the design honoring Voyageurs park were struck at the Philadelphia Mint alone!
In all, there were 1.85 billion circulation-quality quarters issued by the Philadelphia and Denver Mints last year. Compared to that number… the total of 10 million W mint mark quarters that will be issued this year seems awfully small!
This hunt is doing exactly what it was designed to do – it's bringing awareness back to the hobby. What are your thoughts on this exciting new development? Have you found any W mint mark quarters in circulation yet? If you do find any – what do you plan to do with them?