Native American Coin Collecting on the Rise
Poet, writer and musician Joy Harjo started her role in September as our country's 23rd poet laureate, and the first Native American ever to hold the post. A member of the Muscogee Creek Nation in Oklahoma, Harjo's appointment occurs as interest in tribal history and heritage grows, and various states are switching their Columbus Day celebration to Indigenous Peoples Day. In the universe of coin and paper money collecting, the fascination with Native America dollars and other coinage is increasing daily.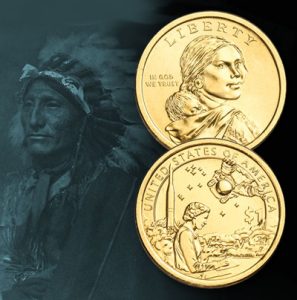 The start of 21st century collecting saw the U.S. Mint launch this renaissance in 2000. It debuted a new, golden-colored dollar series featuring Sacagawea, the young Shoshone guide for the Lewis and Clark Exposition, on the obverse. This dollar coin's design was distinctive for a number of reasons. It was the:
first to pay tribute to an actual Native American
first to show a child (her infant son)
second ever to honor a female historical figure
Next Native American on U.S. coin is, again, a woman!
Nine years later, the mint started to feature one-year-only reverse designs to honor contributions by Native American tribes and individuals. This year's huge hit is a double – some might say triple – celebration. The well-detailed golden dollar reverse honors Mary Golda Ross, of the Cherokee Nation. As a woman, Ross is also the first native engineer to work in the U.S. space program.
With her specialty in mathematics, Ross was on the Atlas-Agena reconnaissance satellite design team, which figured out how to launch a manned craft into space. That technical breakthrough lead to Apollo 11 and the first moon landing 50 years ago, in 1969.
Littleton Coin is paying tribute to her with an illustrated and informative display card. It holds the two 2019 Uncirculated P&D mint issues of the Sacagawea dollar with Ross on the reverse. And, we've included a Mint 1969 10¢ commemorative U.S. stamp that honors Neil Armstrong, Apollo 11's commander, standing on the moon's surface.
To help you organize and protect your Sacagawea dollars, Littleton offers one of our classic green, archival-quality coin folders. It also can be used to organize your collection of our 11 colorized coins of the Sacagawea one-year-only reverses, which add the kind of visual depth that brings each story to life in vivid detail.
Native American-designed coinage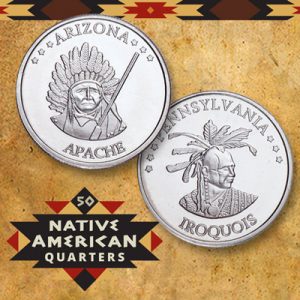 We also offer collectors a handsomely designed folder in which to keep track of the new quarter series from the Jamul Nation that started in 2018. Available exclusively from Littleton Coin in North America, the quarter series honors well-known Native American tribes from each of the 50 states.
Recognized as a sovereign nation by the U.S. government, the Jamul Band of the Kumeyaay Nation of Southern California – which can trace its existence back 12,000 years in the San Diego County region – is legally authorized to issue its own commemorative coins. The first two copper-nickel issues honor the Apache Tribe of Arizona and the Iroquois Tribe of Pennsylvania.
Also exclusively from Littleton Coin in North America are the Jamul Nation's series of six Uncirculated coins in colorful display cards for each tribe, like this one for the Native Hawaiians. Each coin has a common obverse, while each reverse features different cultural symbols of that particular tribe. This series began in 2016 with the Iroquois.
Native Americans: Leading the way?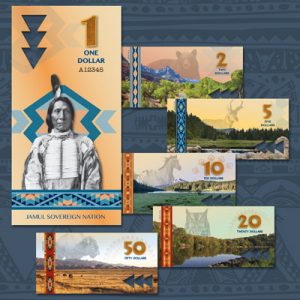 Our well-informed Customer Service representatives think polymer notes are the next big thing when it comes to collecting flat currency. Littleton Coin is ready for this trend with a detailed 6-note tribute to our nation's indigenous past!
More durable than traditional paper, each note is printed on thermo-plastic. They feature rich colors, individual serial numbers and a clear window – a unique feature of polymer notes that protects against counterfeiting. All six designs honor an important Native American on the face, with a tribe-associated animal on the back. Available exclusively from Littleton Coin in North American, the six are:
$1 Red Cloud (Oglala Lakota) – famed 19th-century leader – with Colonial Spanish Mustang
$2 Geronimo (Apache) – led hundreds off the reservation to defend their lands – with Black Bear
$5 Chief Running Antelope (Hunkpapa) – advisor to Sitting Bull during the Plains Indian Wars – with American Pronghorn
$10 Chief Joseph (Nez Perce) – led his people in an effort to escape to Canada, following resistance to white settlement on tribal lands – with Appaloosa Horse
$20 Sequoyah (Cherokee) – a silversmith who made symbols to create a written Cherokee language – with Eastern Screech Owl
$50 Sitting Bull (Sioux) – best known for his defeat of General Custer at the battle of Little Big Horn – with American Bison
There's more, of course, but if you've read this far, and are wondering about coins with traditional Native American motifs such as the Indian Head cent and the Buffalo nickel, Littleton Coin excitedly announced a brand-new collectors club in our autumn 2019 Hard to Find catalog.
It's an easy, affordable way to build a comprehensive collection of Native American currency. When you sign up for the first time, you'll receive a free agate arrowhead. Want to know more? Call our friendly folks in Customer Service today at 1-800-645-3122!