Littleton Coin's Store Reopens!
One of the delights we experience here on Mt. Eustis Road in Littleton, NH is meeting coin collectors. All ages. From all compass points. Families. Motorcycle riders. Campers. Coin fans so enthusiastic they pose for photographs by our "Littleton Rising Sun" sign outside.

In our humble opinion, Littleton Coin's customers are the nicest visitors to our valley in the White Mountains Region of New Hampshire. How we've missed you these last three years! But now, we're happy to say our popular Showroom and our free Money Museum tours are again open to the public!
When word got out, a visitor from North Kingston, RI came up and wrote on a guest comment card: "I'm fairly new to collecting but…when we found out you were in NH, we had to come check it out. It was worth it!"
No matter your travel distance, all guests are welcome to take a guided tour and discover how money changed hands for millennia. See giant stone money from Yap Island in Micronesia. Trace fabled routes with ancient coins traded for silk, spices and coffee. Understand what it means to collect U.S. coins by "type." Commented a visitor from Edmond, OK, "Lots of unique coins from history – very interesting."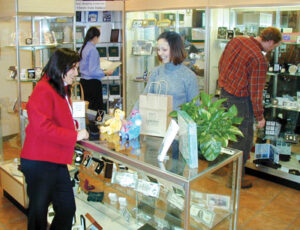 What else?
The history of money includes printed currency! Find out why early American paper money was nicknamed "horse blankets." And, explore the connection between the United States Postal Service and the founding of Littleton Coin.
Tours are held at 1:30 p.m. Monday-Friday, Summer through Fall Foliage. Winter tours are Wednesday and Friday afternoons only. Masks are not required, but are available along with hand sanitizer. Our building is handicapped accessible.
Got a large group of 10 or more? Please call to schedule in advance. School groups are especially encouraged, and with a little advanced planning we can all be prepared for a well-informed experience.
Browse our Showroom!
Want to come just to shop our Showroom? Hours are: Monday-Friday 9 a.m. – 4 p.m.
Now that we're again open to the public, expect to find regularly changing displays in our retail store. It's located inside our secure corporate office lobby. Grabbing your attention is our exclusive America 250 Series. It's just getting started, but will grow as new issues are released in advance of America's big Independence birthday in 2026.
Once inside the store, you'll find a dazzling array of numismatic offers. Check out the revolving tower filled with delicate cut-coin jewelry for both women and men, eye-catching belt buckles, plus pocket watches and unique pieces you're not likely to find anywhere else. Another well-lit tower features hand-struck coins from Ancient Civilizations. Beside it is a self-controlled moving display of commemorative and colorized coins, historic coins in our informative Showpak® holders, bank notes, and premium, certified coins.
An entire wall features a luminous display of silver World and U.S. coins. The center standalone case holds the perennial favorite for very young collectors – the explore-and-discover starter kit. Hundreds of these portable folders have sparked the curiosity of children as early as six!
And for practical consideration, check out the more than 40 titles of coin folders you can purchase and easily put in your suitcase. You'll save on shipping costs when you do!
By the way, if you are visiting and have a collection to sell, call ahead to discuss your holdings: (877) 857-7850.
Our front-desk team is ready with legendary Yankee hospitality to answer any questions you may have. The friendly customer service you experience on the phone, on Facebook, or via our website's new Live Chat is just as dynamic in person!
Follow these directions to find us. We hope you'll agree with a neighbor from Bethlehem, NH who dropped in to see us and left these words on a comment card: "Glad you're back open…Looking forward to my next visit."
Where You Can Find Us in Littleton's Downtown
We're proud of the partnerships we maintain with the greater Littleton community. Our employees find fulfillment as volunteers with so many of them. One that deserves mention is the Littleton Area Historical Museum. It has an entire exhibit permanently devoted to our history, going back to when founders Maynard and Fannie Sundman first started catering to stamp collectors!
Open Wednesdays from 10 a.m. to 2 p.m. and Saturdays from noon to 3 p.m. (and by donation), the museum is located in the historic Town Building in whose auditorium we've held company meetings in years past. Complete with a turret, it was built in 1896 at the corner of Main and Cottage Streets. It has a modest parking lot from which you use the handicap-accessible entrance to the building, which also has an elevator. Little-known fact: The lower-level exhibition space was once the home of the Eureka Hose Co. No. 1.
When you're done touring the Littleton Coin exhibit at the museum, stroll across Cottage Street and take a selfie at No. 7 Main Street where a bronze plaque marks our historic start on the second floor of Tilton's Opera Block that went up in 1881. (Hint: look for the blue post-office mailbox!) Better yet – bring a Showcase you picked up at our gift shop, snap a pose, and share it on Facebook!
Safe and happy travels this summer and fall. Looking forward to seeing you!