Littleton Coin's Store Reopens!
One of the delights we experience here on Mt. Eustis Road in Littleton, NH is meeting coin collectors. All ages. From all compass points. Families. Motorcycle riders. Campers. Coin fans so enthusiastic they pose for photographs by our "Littleton Rising Sun" sign outside.

In our humble opinion, Littleton Coin's customers are the nicest visitors to New Hampshire's famed White Mountains! So for all of you – and first-timers, too – we're happy to announce that after a two-year hiatus, our popular coin store is once again open to the public!
Located in our secure corporate lobby, the store features some of our latest colorized coins and currency exclusively done by our in-house artists. This line of collectibles is popular with many new-generation collectors. They also make great gifts for all seasons and ages. New this year are examples that celebrate the Lincoln Memorial's centennial.
You'll also find luminous American Silver Eagle dollars – really breathtaking if you're seeing them in person for the first time. There's also a revolving tower filled with delicate cut-coin jewelry for women and eye-catching belt buckles and pocket watches for men. You know it's never too soon to make holiday purchases or to be prepared for special anniversaries or birthdays!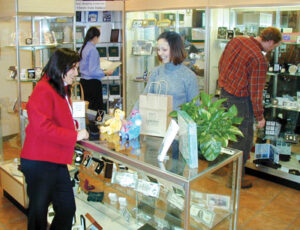 In a stand-alone display case, check out a perennial favorite – the "explore and discover" starter kit for very young collectors. Hundreds of these kits have sparked the curiosity of children as early as six! Not too far away, a tall library cabinet is filled with our handsome green archival folders and albums. Need one while on your visit? Save on shipping costs and buy one, or more, when you stop in to say "Hello!"
There's also a moving display of paper currency you can control at the touch of a button. Tap to pause the rotating shelves if you want to spend a little extra time examining a bank note that might just fill a sequence your collection.
Our front-desk team is ready with legendary Yankee hospitality to answer any questions you may have. The friendly customer service you experience on the phone, on Facebook, or via our website's new Live Chat is just as dynamic in person!
But here's one request we have to hold off fulfilling for now: No tours. In 2023 we expect to resume this unique Littleton Coin experience. Should you still come? Yes! We'd love to welcome you to our beautiful mountain location. Follow these directions. Our store hours are 9 a.m. to 4 p.m. Monday through Friday.
Where You Can Find Us in Littleton's Downtown
We're proud of the partnerships we maintain with the greater Littleton community. Our employees find fulfillment as volunteers with so many of them. One that deserves mention is the Littleton Area Historical Museum. It has an entire exhibit permanently devoted to our history, going back to when founders Maynard and Fannie Sundman first started catering to stamp collectors!
Open Wednesdays from 10 a.m. to 2 p.m. and Saturdays from noon to 3 p.m. (and by donation), the museum is located in the historic Town Building in whose auditorium we've held company meetings in years past. Complete with a turret, it was built in 1896 at the corner of Main and Cottage Streets. It has a modest parking lot from which you use the handicap-accessible entrance to the building, which also has an elevator. Little-known fact: The lower-level exhibition space was once the home of the Eureka Hose Co. No. 1.
When you're done touring the Littleton Coin exhibit at the museum, stroll across Cottage Street and take a selfie at No. 7 Main Street where a bronze plaque marks our historic start on the second floor of Tilton's Opera Block that went up in 1881. (Hint: look for the blue post-office mailbox!) Better yet – bring a Showcase you picked up at our gift shop, snap a pose, and share it on Facebook!
Safe and happy travels this summer and fall. Looking forward to seeing you!