Where do you turn when you want the best… the most popular… the greatest for your collection?
There are certain coins that collectors just gravitate toward. Firsts. Lasts. Low mintage pieces and eye-catching errors. These tend to consistently be at the top of collectors' lists. But even looking for items on a list this specific can be a little overwhelming to start!
Luckily, the folks at Whitman Publishing have given those looking for "the best" a few focal points. More than 15 years ago, in 2003, they printed the first volume in their 100 Greatest series of books. That original book focused on U.S. coins, and was so popular in the field that it was soon followed by titles featuring ancient coins, currency notes, modern coins and more.
Books detailing the best of the best
The idea is a simple one: professionals from the numismatic world are polled on their choices for the "top 100" pieces in a given category. Then, a pair of experts cull the results and present detailed information on each item chosen as the "100 greatest" within that topic.
The result? Some of the hobby's broadest topics are boiled down, highlighting the items that offer
great stories and important numismatic characteristics.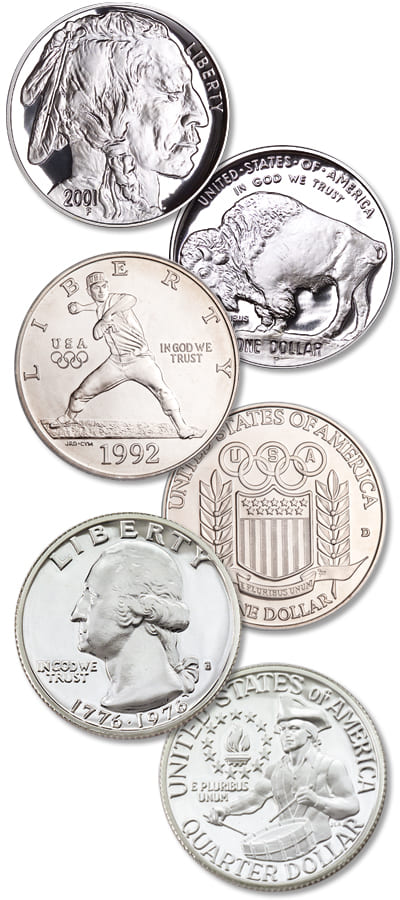 Coins not shown to scale
Deciding what made the cut
In the latest issue of our Hard to Find Coins catalog, we were fortunate to have 15 items available that were found in two of those impressive works! The coins were each featured in one of the four editions of 100 Greatest U.S. Modern Coins (authored by Scott Schechter and Jeff Garrett). Plus, our staff pulled together a nice selection of paper money from 100 Greatest American Currency Notes, which was written by Q. David Bowers and Littleton's President, David Sundman. These coffee-table books are looked to as fantastic guides for collecting some of the most sought-after coins (from 1964 to date) and notes out there today!
Schechter and Garrett's work posed a unique challenge, since there aren't many books out there that are specifically composed to feature modern coinage. But they were certainly up to the task! To start, they compiled a list of more than 150 of the most important and influential coins from 1964 to date. From there, the pair consulted experts across the field to help narrow down the list and begin a ranking order. Finally, using the internet and printed resources, the final list was ranked.
Now in its fourth edition, this work has given collectors great information on coins like the 2001-P Buffalo Silver Dollar, the 1992-D "Nolan Ryan" Baseball Olympiad commemorative half dollar, and the 40% silver 1976-S Bicentennial quarter.

More "note"worthy pieces
For those who enjoy the beauty and artistic merit of U.S. paper money, Bowers and Sundman's work really delivers. Their process for choosing the top 100 was slightly different. It was the result of an extensive survey involving dealers, collectors and writers from the field. Many pieces that made the list came as no surprise to the authors, as their history and artistry almost guaranteed their spots.
Collector-favorites like the 1899 "Black Eagle" $1 Silver Certificate, America's only large-size $10 Gold Certificate design, and the 1935A $1 Silver Certificate featuring a yellow seal – a WWII emergency issue struck for use in North Africa during Operation Torch – all made the list.
Have you read either of these volumes? Which pieces from the 100 Greatest are your favorites?