Martha Washington and the 1792 Half Dime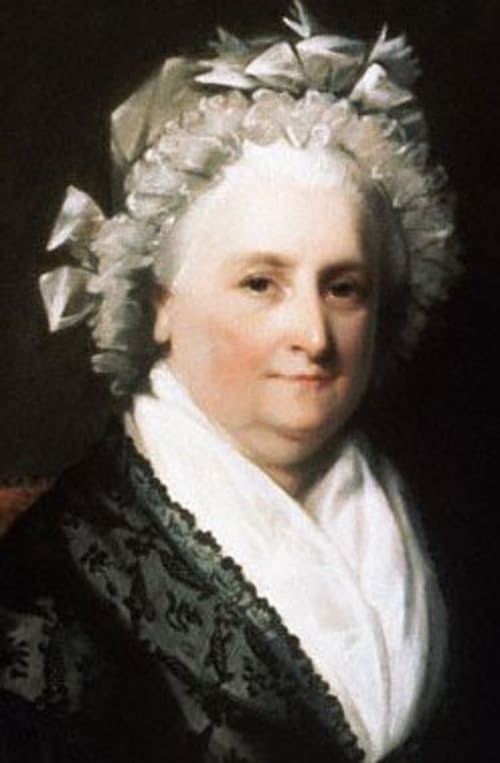 First Lady Martha Washington
According to legend, the first official U.S. silver coin depicted a woman. And not just any woman, but America's very first First Spouse.
But are the stories true?
Let's turn back the pages of history and take a closer look at America's first official silver coin. Beginning with the nation's initial position on…
Historical Figures on U.S. Coins
These days, we're used to seeing famous Americans on our coinage. So it's easy to forget that wasn't always the case.
For much of America's history, U.S. coins did not depict historical figures. Other nations' coins showcased their monarchs. But our founding fathers – especially George Washington – wanted the world to know the United States was different. They chose to depict Lady Liberty on U.S. coins, in honor of the nation's founding principles and hard-won freedom.
However, legend has it there was an exception.
According to stories, the first official U.S. silver coin struck following the Coinage Act of April 2, 1792 didn't depict Liberty at all. Rather, its obverse bore a portrait of George Washington's wife, Martha Washington!
The Infamous 1792 Silver Half Dime
Following the Coinage Act of April 2, 1792, the founding fathers were eager to ease the nation's coinage shortage. So eager, in fact, they didn't even wait for construction of the newly authorized U.S. Mint to be completed.
On July 9, 1792, President George Washington authorized the coining of 1,500 silver "half dismes" (disme being an early spelling of dime, pronounced "deem") to be struck in the basement of Philadelphia saw maker John Harper.
And just four days later, the coins were delivered to Secretary of State Thomas Jefferson.
Some stories claim the silver for these first official U.S. coins came from George Washington's personal coffers. While according to others, some of the coins were struck from bullion made from melting down silverware donated by his wife, Martha.
As a result, it was widely believed the portrait gracing the coin's obverse (right) was Martha Washington's. Many even called it the Martha Washington half dime!
Sadly, it appears the tales are untrue…
After more than two centuries of debate, the stories of George and Martha Washington donating their silverware to mint the nation's first official coins were firmly debunked in 2020 – by none other than Thomas Jefferson himself.
As one of our leading founding fathers and the first secretary of state, Thomas Jefferson was directly involved in creating our nation's coinage system.
And the future president kept meticulous records.
Despite other seemingly reliable accounts claiming Washington provided the silver for the coins, a review of Jefferson's papers found that on Tuesday, July 10, 1792, he withdrew "100 D." from the Bank of the United States.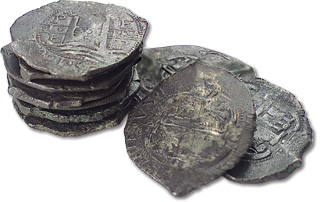 Spanish 8 reales
Since the United States had yet to mint its own dollars, these were most likely Spanish silver dollars (also called 8 reales, or "pieces of 8,").
And of the 100 dollars, Jefferson delivered 75 to the mint to be coined. Three days later, on July 13, 1792, he received from the mint 1,500 "half dismes of the new coinage."
So it turns out, the Washingtons' silver wasn't used after all.
What about Martha's portrait?
Jefferson's records don't tell if Martha Washington's portrait was used for the coin's obverse – or if the image was even based on an actual person. And while it's believed the coin was designed by Robert Birch, this has yet to be proven.
So there's no direct evidence to prove the connection.
And unfortunately, most experts feel the portrait bears little resemblance to other images of Martha from the same period. So it's unlikely the legends are true.
Personally, I'm not so sure.
On one hand, our founding fathers had strong feelings about honoring living persons on our circulating coins. Especially George Washington. Which is why U.S. coinage bore an allegorical image of Liberty, not portraits of historical figures, for more than a century.
And the 1792 half dime obverse does bear similarities to the images of Liberty on the Flowing Hair, Draped Bust and Capped Bust half dimes that followed.
But on the other hand…
Sometimes, I do see a hint of resemblance. Although that might just be a bit of wishful thinking, because this is one legend I'd love to be true.
So many of the historical figures we remember from that time were men, while women who helped build our nation are often overlooked. It'd be nice for one of the women to have been honored by gracing the first U.S. coins. Especially a coin of such historical significance.
Martha Washington on Coins & Currency
Series 1896 $1 Silver Certificate featuring the "First Couple," George and Martha Washington
Of course, even if Martha Washington's image did not grace the 1792 half dime, she still holds a unique place in numismatic history.
To date, she is the only historical woman to appear on both U.S. coins and paper money. As well as the only historical female whose portrait was featured on U.S. paper money. (Pocahontas appears on Original Series $20 National Bank Notes, but as part of a vignette.)
Martha Washington's portrait graced Series 1866 and Series 1891 $1 Silver Certificates – as did the portrait of her husband, first U.S. President George Washington.
And when the famed Series 1896 $1 Silver Certificates were released bearing the beautiful vignette History Instructing Youth, their portraits were simply moved to the back (above).
In 2007, Martha Washington finally and unmistakably appeared on a U.S. coin – the first official First Spouse $10 Gold Coin struck by the West Point Mint. Authorized by Public Law 109-145, they were released as a companion series to the Presidential $1 coins.
Struck in 1/2 oz. of 99.99% pure gold, those coins may be out of reach for many collectors. But fortunately, the mint also struck First Spouse bronze medals of the same design. If you'd like to add one for your collection, you can get the 2007 Martha Washington Bronze Medal from Littleton's online store while supplies last.
What do you think?
Do you believe the 1792 half dime depicts Martha Washington or Lady Liberty? Let us know in the comments below!
Sources:
LCC Writing Team. "Lady Liberty: over 150 years on U.S. coinage and now back again." Heads & Tails. Last Updated December 5, 2018.
https://blog.littletoncoin.com/lady-liberty-returns/
Len B. "Thomas Jefferson's Coin Collection." Heads & Tails. Last Updated September 30, 2022.
https://blog.littletoncoin.com/thomas-jeffersons-coin-collection/
Numismatic News Staff. "1792 Half Dime." Numismatic News. October 15, 2019.
https://www.numismaticnews.net/archive/1792-half-dime
NGC Coin Explorer. "Early Half Dimes (1792-1837)." Accessed 11/28/22.
https://www.ngccoin.com/coin-explorer/united-states/half-dimes/early-half-dimes-1792-1837/
Guth, R. "Bust Half Dime." PCGS CoinFacts. Accessed 11/28/22.
https://www.pcgs.com/coinfacts/category/bust-half-dime-1792/683
Smith, P., Orosz, J. & Augsburger, L. "A More Accurate History of the 1792 Half Disme." 7/21. ANA Coin Press (blog.money.org). Originally published in The Numismatist; August 2017.
https://blog.money.org/coin-collecting/history-of-the-1792-disme
Len B. "Thomas Jefferson's Coin Collection, Part 2." Heads & Tails. Last Updated September 30, 2022.
https://blog.littletoncoin.com/what-happened-to-thomas-jeffersons-coin-collection/
Stacks Bowers Galleries. "1792 half dime. J-7, P-7. Rarity-4. AU-58 (PCGS)." Accessed December 6, 2022.
https://auctions.stacksbowers.com/lots/view/3-AQR4E/1792-half-dime-j-7-p-7-rarity-4-au-58-pcgs
S., Kierstin. "Did you know that these 5 people used to be on our paper money?" Heads & Tails. Last Updated October 3, 2021.
https://blog.littletoncoin.com/did-you-know-these-5-people-used-to-be-on-our-paper-money/
LCC Writing Team. "When American Bank Notes were stunning works of art!" Heads & Tails. June 2015.
https://blog.littletoncoin.com/when-american-bank-notes-were-stunning-works-of-art/
U.S. Congress. "Public Law 109–145; Presidential $1 Coin Act of 2005." Dec. 22, 2005. govinfo.gov. Accessed December 6, 2022.
https://www.govinfo.gov/content/pkg/PLAW-109publ145/pdf/PLAW-109publ145.pdf