Thomas Jefferson's Coin Collection, Part 2
As we covered in Part 1 of this series, early America suffered from a coinage crisis – there simply weren't enough British coins in the colonies to go around. So colonists used anything they could get their hands on, including foreign coins, Indian wampum, gunpowder and tobacco.
It was more than an inconvenience. It was an economic nightmare. So much that – even before the War for Independence was won, our founding fathers set to work searching for a solution.
And Thomas Jefferson was right in the thick of it.
He began collecting coins from various nations and studied their monetary systems. He decided what America needed was a simple, easy-to-use decimal coinage system. By 1784, Congress was convinced – and the new United States of America became one of the first nations to adopt decimal coinage.
But the problem wasn't solved. So let's pick up the story three years later, when…
The Constitution changes everything…
On September 17, 1787, delegates to the Constitutional Convention in Philadelphia voted to replace America's original Articles of Confederation with a new Constitution of the United States.
And for U.S. coinage, everything changed.
Previously, authority to coin money rested with both Congress and the individual states. But under the Constitution, only Congress had the power to coin money. And while the new Constitution would take two years to be ratified, Congress did not wait.
Fugio Cent
That same year, it authorized the first official U.S. coin – the ill-fated Fugio cent. Its design is attributed to Benjamin Franklin, and hopes for the new cent were high. Some 300 tons of Fugio cents were minted.
But they never truly caught on, and the government eventually sold its supply to a merchant at a loss.
Fast forward to 1792…
Five years after Congress authorized the Fugio cent, America was still in the midst of a coinage crisis. But a solution was on the way – and largely due to Thomas Jefferson's efforts.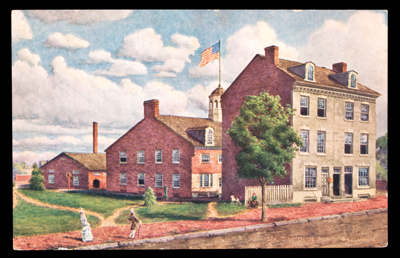 Philadelphia Mint
On April 2, 1792, Congress passed The Coinage Act of 1792. It established the Philadelphia Mint as the first official U.S. Mint. It also followed Thomas Jefferson's advice – U.S. coinage would remain a decimal coinage system based on the dollar.
Ten denominations were established, of which five would be struck in silver. These included the half dime, dime, quarter dollar, half dollar and dollar. Three would be minted in gold: the quarter eagle ($2.50), half eagle ($5.00) and eagle ($10.00).
Finally, cents and half cents would be struck in copper. But there was a catch: The Coinage Act of 1792 did not actually make copper coins legal tender. The cent eventually gained legal tender status in 1864, but until then copper coins could be refused as payment.
And even with the new federal mint up and running, the coinage shortage was far from over. It would be many years before Philadelphia produced enough coins to satisfy the nation's demand.
Fortunately, Jefferson was still on the case…
In July of 1792, Jefferson received some 1,500 new half dimes from the U.S. Mint. But the coin shortage continued. And Jefferson continued acquiring coins to help ensure America's coins would be second to none.
To that end, he commissioned a set of copper notes and coins from Boulton's Birmingham Works. After examining them, he sent them to President George Washington for inspection – along with a letter noting the quality was superior to anything America could produce at the time.
The following March, Jefferson acquired still more Birmingham specimens – this time, a book of medals and coins. As well as several English half pence and two "American Cents" that had been produced in 1791 on speculation by Obadiah Westwood.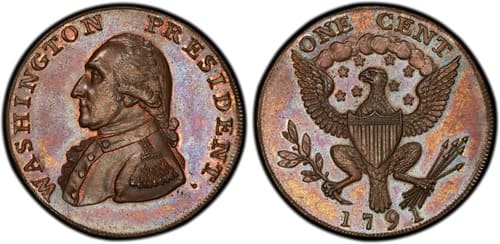 Image courtesy of PCGS
Over the next decade, Thomas Jefferson continued to acquire various coins. But his interest waned as American coinage became more established. So rather than holding on to the coins, he passed them on to others.
In 1798, he received "a large square plate of a Swedish Copper Coin" – which he promptly gave to the American Philosophical Society (APS).
In 1805, he received a box of Roman coins from Nicolai Henrick Weinwich of Copenhagen. Inside were 150 bronze coins of varying size, ranging in period from the reign of Augustus to the reign of Theodosius. Jefferson no doubt enjoyed examining the specimens. But they, too, were promptly passed on to the APS.
What happened to Thomas Jefferson's coin collection?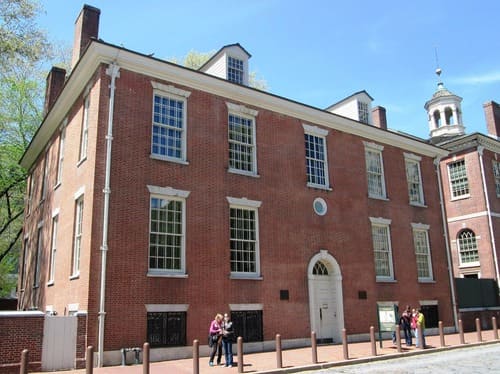 American Philosophical Society Hall
Finally, Thomas Jefferson felt he had done enough. Over the course of two decades, he had assembled a collection of some 300 coins and medals. But he had collected them for the benefit of the American people. Jefferson had already donated some of the more interesting pieces to the APS. And in June of 1806, he gave them the remainder of his collection.
However, you won't find it on display in their museum.
Jefferson's coin collection remained with the American Philosophical Society for over 160 years. Then, in 1967, the APS combined it with other numismatic items – and sold them all for just $1,650.
The buyer, a Philadelphia antiquities dealer named Seymour Moss, apparently sold the coins before his death. But today their whereabouts remains a mystery. We can only hope the Jefferson coin collection will resurface someday and be made available to the public.
But for now, we can only dream… and enjoy the story while collecting coins and notes bearing Jefferson's portrait.
Happy Collecting!