As the saying goes, all that glitters is not gold. It's not always silver, either. In fact, it's increasingly copper!
That's right – from shades of bright orange-red to deep chocolate brown – copper is a metal more collectible now than ever before. Let's take a quick tour of history and some copper issues, both modern and historic!
America's first copper coin?
Dutch exporters were among the first Europeans to establish seaports for trading around the world. Their global operations were so vast, in fact, that Parliament let them mint their own money. The smallest denomination was called a duit, equal to two pennings of Dutch currency. The copper to strike those early coins likely came from Asia.
Why? The Dutch had ports linking the long coastline from India to China to trading posts in the Indonesian archipelago, once called the Spice Islands. Vereenigde Oost-Indische Compagnie, or VOC, was the formal name of what most of us call the Dutch East India Company. The VOC initials appeared on the copper duit's obverse motif.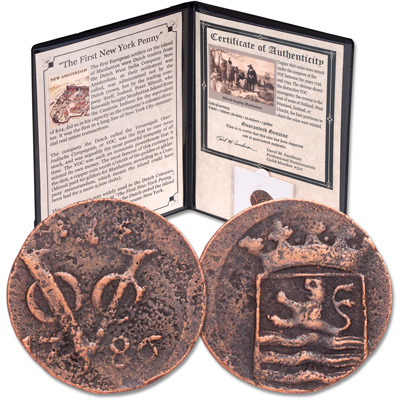 Dutch traders next braved untamed North America. In 1624 they established New Amsterdam on Manhattan Island for exporting fur pelts and tobacco. The currency? VOC coins. Clearly, the copper duits had staying power!
Even after the English takeover of Manhattan in 1667, the copper duit, with its raised VOC letters, continued to be used. But a new coin name emerged to go with the new provincial capital: the New York penny.
American-made copper coins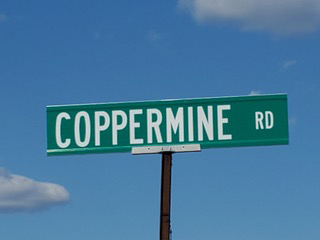 This Monroe, NH road sign is a historic nod to early mining efforts.
Refined from ore, copper has a high tolerance for impact and wear. It's an ideal metal for coins that are continuously handled and occasionally subject to such elements as water and heat.
With the English busy colonizing other parts of North America, early settlers experimented with striking coins for local commerce. Unearthed mineral deposits, especially copper, in New Hampshire, Vermont, Connecticut and New Jersey helped spur this early enterprise in minting coins. Curious to know more about these issues? For a deeper dive, please visit Littleton's Learn Center.
It would take the American Revolution and the economic need for a uniform monetary system to prompt Congress to pass the Coinage Act of 1792. The following year, the Philadelphia Mint struck the first copper coins for circulation – and from locally sourced copper!
Westward, Ho!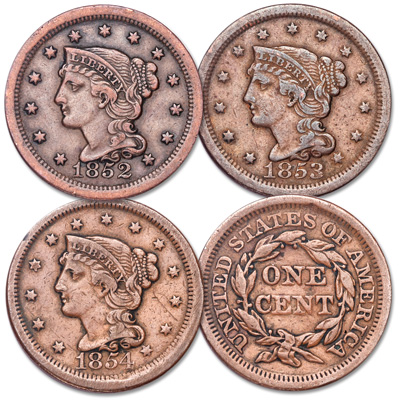 Like a western sunset, the warm reddish-brown color of copper catches the eye – and often the imagination. As expansion pushed America towards a new century, discovery of the versatile ore gave rise to such copper-centric place names as Copper County (Michigan), Copperopolis (Montana), Santa Rita del Cobre as "del Cobre" is Spanish for copper (New Mexico) and, eventually, Copper Pit Overlook Road (Utah).
There was also Alta No. 2 Copper Mining Company in northern California, linked to short-story writer Bret Harte, who went to work for the first San Francisco Mint in 1862. But shortly before that, the main mint in Philadelphia was melting large copper cents to strike the smaller, lighter cents we still use as pocket change today.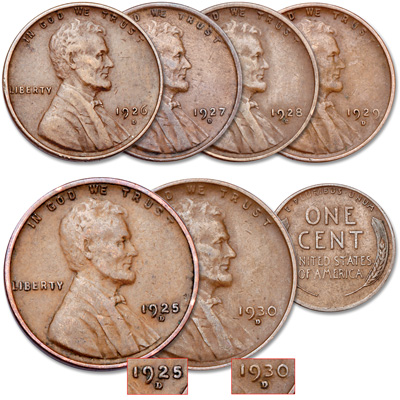 More significantly, the large cents that survived those melting pots launched coin collecting in America! Struck in pure copper and in modest quantities from 1793 to 1857, large cents were nearly the size of today's half dollar. Take a look at this well-preserved, nicely detailed set of three consecutive Braided Hair large cents from 1852-1854 (show above).
Another copper coin favored by collectors are Wheaties, the nickname given to the reverse design on the Lincoln Head Cent framed by a pair of wheat ears from 1909 to 1958. Here is a sought-after set of 1925-1930 low-mintage Wheaties from the Denver Mint.
A Rose By Any Other Name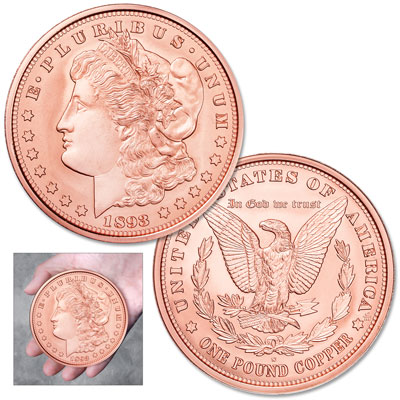 Part of copper's 21st-century popularity occurs in two forms new to this metal: rounds and bars. Typically minted in 99.9% pure copper, they can be found in one-ounce, five-ounce and one-pound weights with dazzling Prooflike fields.
Their rosy hue makes them especially attractive backdrops for replicating historic motifs, such as the Buffalo nickel's Native American chief and the bison, the Silver American Eagle and half dollar's Liberty Walking Towards the Dawn of a New Day design, and this key date for the Morgan dollar that is hard-to-find in silver.
Both affordable and dramatic, copper rounds and copper bars can be their own unique collection. They also can expand an existing collection based on either classic or contemporary designs. And, perhaps, most important of all: They also make great gifts!