Dreams of Striking It Rich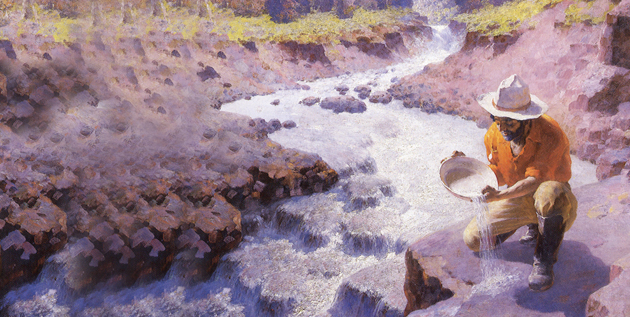 In the untamed West, trappers-turned-miners dreamed of striking it rich. They weren't alone. There were three adventurers whose mining forays didn't pan out, but their printed words did. As they became successful, each recounted his early experiences with gold, silver and copper.
Newspaper reporter and radio pioneer Lowell Thomas grew up in gold mining's heyday in Colorado, where his father was a doctor. The Thomas family lived modestly in Victor, a small town where mining shafts outnumbered houses. Paired with nearby Cripple Creek, this gold rush region on the southwestern slope of Pike's Peak produced an estimated $300 million in gold ore before mining wound down in 1918.
"My job was swinging a pick and shovel," wrote Lowell about being a mucker in his autobiography Good Evening Everybody: From Cripple Creek to Samarkand.
The young Lowell also pushed ore cars out of the Buena vein of the Empire State Mine. By horseback, he carried ore samples for the Portland Mine to the assay office in Victor, where they were tested for their gold purity.
But "sorting was one of my favorite jobs…[where] I listened to the gaudy tales of men who had been on the trail of gold in the farthest corners of the earth…" Thomas wrote.
He would take his ear for a good story, a flare for lively writing and his quest for adventure to launch a hugely successful career, ultimately authoring more than 50 books. His most famous work profiled British archaeologist-turned-WWI-spy, T.E. Lawrence.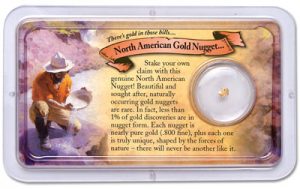 In the early vein of Lowell Thomas, why not help a young prospector in your life stake a claim in coin collecting with our exclusive Showpak® featuring a genuine gold nugget?
From Gold to Silver
Samuel Clemens was a Mississippi riverboat captain looking for a new adventure when he teamed up with his older brother, Orion. Barely ahead of the Civil War's start in 1861, the duo headed west to the Nevada Territory, where Orion was named its secretary in the capital of Carson City. While Sam had no offers waiting for him, what he did have were job prospects in the silver mines. Booming in western Nevada after the discovery of massive silver ore deposits in 1859, they were called the Comstock Lode.
More than 100 miles from Carson City, Clemens picked up a shovel and went to work as a mucker. He "learned that the burrowing was only half the work…that to get the silver out of the ore was the…laborious other half of it," according to his book Roughing It.
"This mill was a six-stamp affair, driven by steam. Six tall, upright rods of iron, as large as a man's ankle, and heavily shod with a mass of iron and steel at their lower ends, were framed together like a gate, and these rose and fell, one after the other in a ponderous dance, in an iron box called a 'battery.' Each of these rods or stamps weighed six hundred pounds."
He continued. "The ceaseless dance of the stamps pulverizes the rock to powder, and a stream of water that trickled into the battery turned it to a creamy paste. The minutest particles were driven through a fine wire screen which fitted close around the battery, and were washed into great tubs warmed by super-heated steam…"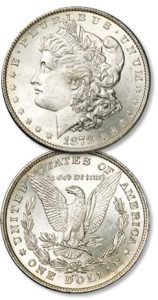 You don't have to wonder how long Clemens lasted because he soon revealed "I only remained in the milling business one week." He returned to Carson City and to a newspaper job that prompted the pen name of Mark Twain. Before long, he headed further West to seek new adventures in California.
Had he stayed, Twain might have reported on the new Carson City Mint that opened in 1870. Its purpose was to strike coins from the enormous influx of Comstock silver that was overwhelming both the Philadelphia and San Francisco Mints. This frontier mint would strike more than 2.2 million Morgan dollars in 1878. Littleton Coin has a range of grades of this famous coin. Check them out and see which one would fit nicely in your collection.
Lucky with literature
Short-story writer and poet Bret Harte was just 17 when his father, a teacher, died in 1853 in New York. Moving the family to Oakland, CA, his widowed mother remarried. Harte spent the next few years in California's untamed northwestern counties where useful minerals, including copper, had been discovered. A few years ago, Harte's signature was found on an 1863 stock certificate for Alta No. 2 Copper Mining Company in Del Norte County, piquing a little more interest in his early career.
Amid mining camps filled with two-fisted muckers, saloon singers and pistol-packing card players, Harte found a newspaper job north of Eureka. But when he wrote an editorial condemning the near total massacre of the Native American Wiyot Tribe in 1860, he found his own life in jeopardy, and left.
Harte landed a job as secretary at the first San Francisco Mint. From about 1862 to 1869, he secretly wrote fiction and poetry at his desk. In 1868, one of his more enduring short stories, "The Luck of Roaring Camp" was published. The next year – his last at the mint – saw publication of "The Outcasts of Poker Flat" in which he wrote: "'Luck,' continued the gambler, reflectively, 'is a mighty queer thing. All you know about it for certain is that it's bound to change. And it's finding out when it's going to change that makes you.'"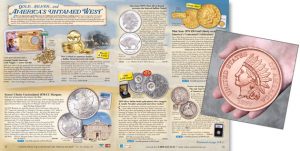 In a nod to Harte's adventures, here's an affordable round of the famous 1877 Indian Head cent design. Struck in one full pound of 99.9% pure copper and measuring 3 1/2″ in diameter, this impressive piece displays a Prooflike finish and celebrates the scarce and sought-after key-date Indian Head cent.
Littleton Coin Company has more copper, silver and gold selections from the untamed West. We also have a collectors club focusing on just Morgan dollars of the Wild West. To find out how Littleton Coin can help you prospect for more coins, sign up for our FREE email newsletter today!