Getting a makeover at 35 – Happy Birthday to the Silver American Eagle!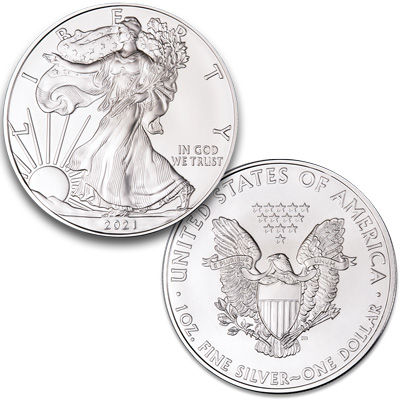 2021 Silver American Eagle – last with original Heraldic Eagle reverse
Even though it's still looking great at 35, the beloved Silver American Eagle series has gotten a makeover this year!
The magic began in 1986, when the U.S. Mint released the first Silver Eagles. The series had been authorized by then-President Ronald Reagan the year before, as part of the Liberty Coin Act. From the start, the coins' obverses displayed the beloved image of Liberty Walking, which originated on half dollars of 1916-1947.
The original reverse design for these 1 oz., 99.9% pure silver coins displayed a bold Heraldic Eagle with 13 stars (representing the original colonies) above. Designed by mint engraver John Mercanti, this stalwart design has graced the reverse ever since the first coins debuted… until now.
First-ever reverse change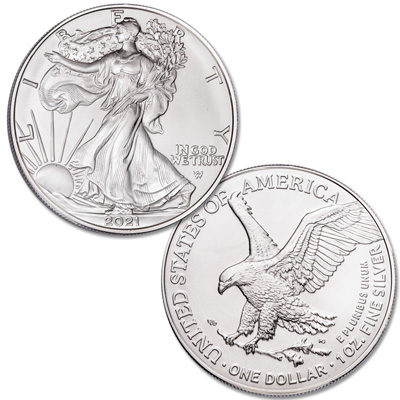 This Landing Eagle reverse is a new, ongoing design for the Silver American Eagle!
In 2021, to honor the 35th anniversary of this popular silver bullion series, an all-new reverse design is being issued for the Silver American Eagle. Created by Artistic Infusion Program designer Emily Damstra, this eye-catching new design features an eagle poised to land, with oak branches clutched in its talons.
In addition to the sweeping changes to the reverse design, the obverse of these handsome coins has been refreshed as well. New minting technologies have enabled more of Weinman's original details to shine through on the obverse. Plus, special security features have been added, including a variation on the coin's reeded edge.
One of the world's most popular
Over the course of the last 35 years, the Silver American Eagle has served as one of the world's most popular bullion coins. And it's little wonder! With a beloved design and 1 ounce, 99.9% pure silver content, this stunning issue is a collector's dream.
And now, with the first-ever design change in the history of this cherished series, its desirability is sure to increase. What are your thoughts on this year's new Silver American Eagle design? Will you continue to collect these coins – or will this new Landing Eagle reverse inspire you to begin collecting the series?