Love is in the air… coins that show your romantic side
They're four little letters, but they can make your mind soar, your heart race, your palms sweat and your toes tingle. L-O-V-E. I can't think of any other emotion that can have such a profound effect on a person…
In fact, it's such an intense feeling that for centuries, it's been linked to money – another powerful force! The first time that the full rites of traditional marriage vows appeared in English was in 1549, when they were published in The Book of Common Prayers. At that time, not only did the man give the woman a ring (not necessarily an exchange like today's custom), but also he would give her gold and silver as "tokens of spousage".
Just a couple of years later, in 1551, King Edward VI introduced Britain's sixpence. Maybe it was the way these newly-struck coins glimmered, but people took a shine to giving them as traditional wedding gifts.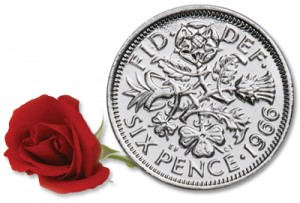 To this day, newlyweds are often given the lucky Silver Sixpence, recalling the rhyme:
Something old,
Something new,
Something borrowed,
Something blue,
A lucky sixpence in her shoe.
Peace dollar: the world's most loving design?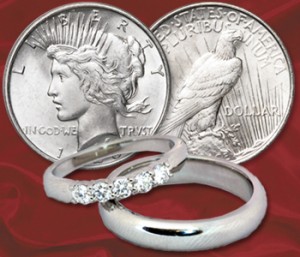 As time passed, certain coin designers used their love as "muses" for their engravings. The best example I know of is from the 1920s, when Anthony de Francisci had his newly-wed wife, Teresa, sit as the model for the Peace dollar of 1921-1935. "Tony," as Teresa affectionately called him, thought that his bride was the embodiment of womanhood. He posed her near an open window so that the incoming breeze would give her hair a soft, windblown look.
For Mrs. De Francisci, it was a dream come true! Later, she wrote to her brother, "You remember how I was always posing as Liberty, and how brokenhearted I was when some other little girl was selected to play the role in the patriotic exercises in school? I thought of those days often while sitting as a model for Tony's design, and now seeing myself as Miss Liberty on the new coin, it seems like the realization of my fondest childhood dream." It's quite possible that this stands as the most romantic wedding gift ever!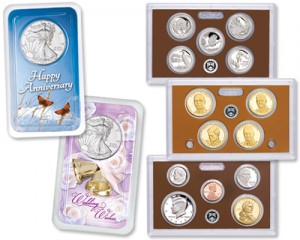 Today, Silver American Eagles – struck in an ounce of 99.93% pure silver – make a great way to continue the tradition of giving coins in precious metal to a loved one. These are really great gifts all on their own, but when they're placed in special displays they become even more personal.
Another great way to commemorate a special occasion or anniversary is with an official U.S. Mint or Proof Set. These sets feature either Uncirculated or Proof examples of regular-issue coins (depending on which you choose), and are always appropriate as gifts. Plus, if you have a special year you want to remember, you can always pick a set up for yourself, too!
"Love"ly coins from around the world
Some mints around the globe have taken the tradition one step further, with special-issue coins struck to specifically honor love. Australia's Perth Mint, for example, struck coins under a special "Crazy in Love" series.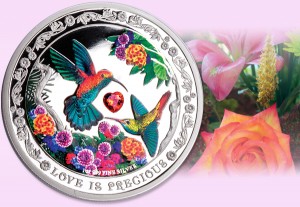 Officially licensed by Disney, both coins issued to date honor some of the franchise's most beloved – and IN love – characters! Although they were struck by the Perth Mint, these coins were issued under the New Zealand Mint, as legal tender for the island nation of Niue.
Finally, in recent years there have been quite a few coins honoring the concept that "love is precious." The newest in the series was just released this year, also issued by the New Zealand Mint for Niue. It's really quite beautiful – struck in a troy ounce of 99.9% silver, it shows two hummingbirds in full color, "dancing" around a heart-shaped cubic zirconia, which is set into the coin.
Love. It really is grand, isn't it?! And now that the holiday of love – Valentine's Day – is upon us, don't forget: a coin as a representation of your feelings doesn't have to cost you a grand!