Top 6 Ways to Start the Collection of your Dreams – Plus, a bonus 7th tip from Littleton Coin Company's President!
Coin collecting is an incredibly rewarding hobby. But for those just starting out, it can seem daunting – with U.S. coins alone, there are multiple series, denominations and designs. We hear it often: "I'd love to start a collection – but where do I begin?!"
Recently, I had a chance to talk with some of our Account representatives. These are the folks who chat with people just like you. They help build collections and work to find just the right coin. Together, these six representatives have over 80 years of experience with helping our customers, so they know what collectors like and what they enjoy most about the hobby! Without further ado, here are the top 6 ways to collect – direct from our pros!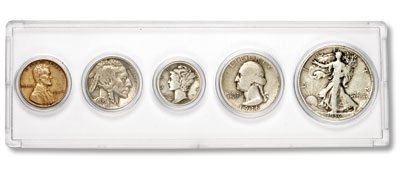 #5 Monique's Pick – Collecting by Historic Events Historical collections can be a fun and exciting way to acquire coins and paper money while commemorating our history. Collections can be put together to mark events from our nation's past – for example, with pieces from the World War II or Civil Rights eras. Another way to build this type of collection might be with coins honoring specific figures in our history, such as cents, notes and commemorative coins depicting Abraham Lincoln. I just love seeing collections that have been put together with a historical twist!
#6 Kori's Pick – Date and Mint Mark Set I always lean toward the complete date and mint mark collection. With this collection, you'll acquire every date and mint mark issue released for the coin series you are collecting. For example, say you find yourself drawn to the Liberty Walking Silver half dollars released from 1916-1947. You would collect each piece from the Philadelphia, Denver and San Francisco Mints for each year of issue! I've heard from so many people that completing this kind of collection really comes with a sense of accomplishment.
Now, enjoy this bonus 7th "pro tip" from Littleton Coin President David Sundman…
#7 David's Tip – Be Selective No matter where you choose to focus your collection, always

remember a key goal should be eye appeal. Here at Littleton, we see a wide array of coins – and are always looking for pieces with even coloring that are "right" for their grade. You don't want to own a coin that makes your heart sink every time you look at it. Look for pleasing coins that will "fit" with your other coins. Stay this course, and at the end of the day, you'll have a matched collection with eye appeal. That's something Littleton's buying team prides itself on. Thanks to our strict standards, you can build at your leisure – the Extra Fine copper cents you bought today will match perfectly with the Extra Fine copper cents you add to your album in five years!
I hope you found some helpful information in the hints above. Do you have a favorite way to collect, or a tip that might help someone else? Please share it in the comments below!