The 4 Must-Have Lincoln Cent Varieties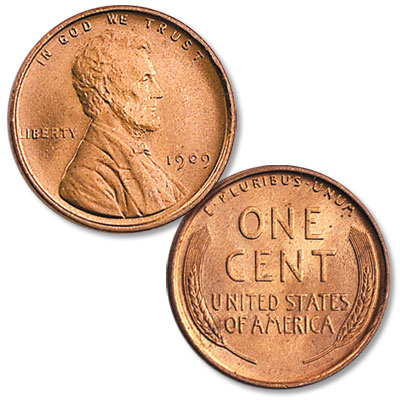 1909 Lincoln Head Cent
Ever since the first Lincoln Head Cent was issued in 1909 on the centennial of President Abraham Lincoln's birth, this smallest of U.S. modern denominations has been popular with collectors. If you're new to collecting and want to know how to deepen your Lincoln cent collection beyond traditional dates and mint marks, look for a rare production slip from one of the U.S. Mints.
When Size Matters
That's what happened in 1960 when Philadelphia and Denver released the new Lincoln cents – twice! Why? The only expected change was on the obverse and it was to the year.
The first two numbers – 19 – remained the same. But mechanical problems caused the last two numbers – 60 – to be struck incorrectly. Mint officials deemed them too small. So, with a change to the master die, the last two numbers were made larger.
The improved cents rolled off the coin presses in March. As both versions wound up in circulation for a brief overlapping period, sharp-eyed collectors checking their pocket change pounced on the discovery!
It didn't take long to realize the Small Date Cents from Philadelphia and Denver were going to be harder to find than their replacements, the Large Date Cents. The hunt was on! Here at Littleton Coin, we've made that quest a little easier by combing the four varieties into one of our informational holders. Beginning collectors of every age find this set useful.
But why are these considered variety and not error coins?
Variety vs. Error
Example of an error coin.
The late collector Alan Herbert made it a point of drilling down varieties. He did so in seven editions of his official price guide, Minting Varieties and Errors.
"The important thing to remember as you participate in this area of the hobby is that everything that comes out of the mint is a minting variety," he wrote, "but only some of them are errors."
Added Herbert, who also wrote a weekly column in the bulletin of the Collectors of Numismatic Errors* "an error is an occurrence that does not repeat exactly."
You can take a deeper dive into error coins in this Heads & Tails blog article. Or look through a wider lens at the variety of coin varieties here!
Lincoln Cent Collection Tips
As we observe President Lincoln's birthday 212 years ago this year, here are some helpful links if you're deciding to start your own Lincoln Cent Collection. Or, if you want to help a youngster in your life get started, check out this opportunity for kids six years old and up!
Other Heads & Tails blog article about collecting Lincoln Cents include these top 10 favorites and this overview headlined: Lincoln Cent Celebrates Key Anniversary.
As the old saw says, variety is the spice of life!
Sources:
*Known today as the Combined Organization of Numismatic Error Collectors of America: https://conecaonline.org/
Lange, David. "United States 1960 Lincoln Cent Overdate Varieties in Proof." CoinWeek December 16, 2020. https://coinweek.com/coins/coin-profiles/us-coins-coin-profiles/united-states-1960-lincoln-cent-overdate-varieties-in-proof/
Lange, David. "The 1960 Small Date Cent: The Coin That Kicked off a Collecting Frenzy." CoinWeek December 12, 2019: https://coinweek.com/coins/error-coins/the-1960-small-date-cent-the-coin-that-kicked-off-a-collecting-frenzy/
Schechter, Scott. "Sorting 1960 Lincoln cents." February 1, 2013. https://www.coinworld.com/news/us-coins/sorting-1960-lincoln-cents.html
Herbert, Alan. Minting Varieties and Errors, 5th Edition. New York City: House of Collectibles, 1991.
Numismatic Bibliomania Society. "Alan Herbert 1926-2013." The E-Sylum, January 27, 2013 (Volume 16, Number 4, Article 6). https://www.coinbooks.org/esylum_v16n04a06.html