Alligator Eyes, Spitting Eagles, Hot Lips & More… Morgan Dollar Varieties add spice to your Collection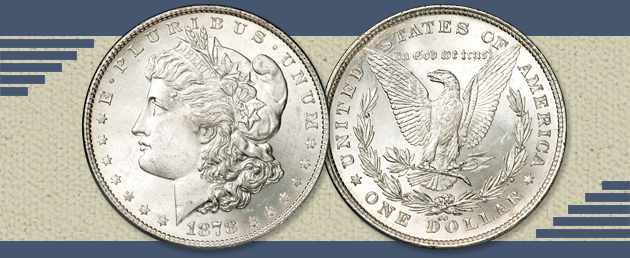 If you collect Morgan dollars or enjoy the "thrill of the hunt," then variety collecting is for you! Since the early 1950s, enthusiasts have not only collected by date and mint mark, but also added interest to their silver dollar sets by collecting Morgan dollar varieties or VAMs. (There are also Peace dollar VAMs, but in this post, I'll just focus on Morgans.)
A Morgan dollar variety is a coin with recognizably different features than other coins of the same date and mint. A few months ago, I wrote about the first-year Morgan tail feather varieties. Now I'd like to expand on that and explore a couple of the more popular Morgan dollar varieties or VAMs.
What exactly is a VAM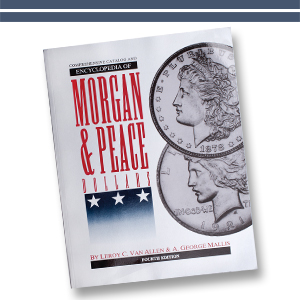 Varieties are known as VAMs, and there are lots of them out there with interesting and fun names – Hot Lips, Scarface and Donkey Tail to name a few – and a catalog or VAM number identifies each one! VAMS take their name from the avid researchers and silver dollar enthusiasts, Leroy Van Allen and A. George Mallis. In 1971, the two published their research, listing each variety by date and mint mark in their book, The Comprehensive Catalog and Encyclopedia of Morgan and Peace Dollars. This book became the "bible" for variety collectors and was updated in 1991.
Every date and mint mark in the Morgan dollar series is assigned its own catalog number. Each VAM number comes from the various changes made to the obverse and reverse designs impressed into the dies used to strike Morgan dollars. Four major obverse designs and four major reverse designs were used to produce the Morgan dollars of 1878-1904 and 1921.
Focus on how the silver dollar was made
You may think that collecting varieties is complex. As someone who writes about coins on a daily basis I can assure you that it is challenging, but it's very rewarding! Plus, these exciting silver dollars make a nice complement to your Morgan dollar collection. Varieties move you away from focusing on the time period the coins were struck (date and mint mark collecting) to focusing on how they were made. And, some VAMs are so popular they're listed in The Official Red Book, a Guide Book of United States Coins.
Silver dollars are made when metal blanks are struck by dies that display the design's mirror image, but sometimes slight flaws in the design can occur. And, sometimes those differences happen as the dies are being made – VAMs are those variations. Although there are hundreds of them, let's focus in on 2 very popular Morgan VAMs and see what created them.
Give me a kiss… "Hotlips!"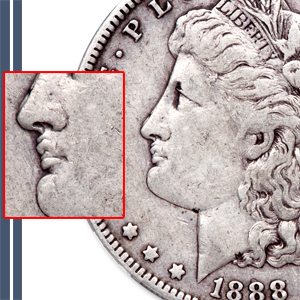 Some of you probably remember the TV series M*A*S*H, and chuckle at the name "Hot Lips" for the doubled 1888-O Morgan, VAM 4. Littleton's President David Sundman says, "It's my personal favorite die variety, the 1888-O doubled obverse die with the moniker "Hot Lips…" Struck in 1888 at the New Orleans Mint, this dollar's dramatically doubled die obverse displays two noses, chins and lips. Plus, the doubling is clearly visible without magnification, making this variety very desirable. Van Allen and Mallis say, "It is the strongest doubled obverse of the Morgan dollar series and commands a large premium." Because it wasn't discovered until 1963, most went into circulation, so it's rare in Uncirculated grades.
Here's looking at you…
Another popular Morgan dollar VAM is Alligator Eyes, VAM 12! This fun 1887 Morgan dollar error takes its name from the alligator, which has a slit for a pupil. Caused by slight doubling in the die, the front of Liberty's eye has another parallel line to the right of the first. Plus, portions of the word liberty in the headband display doubling along with some of the letters in pluribus. Listed in both The Top 100 Morgan Dollar Varieties and Cherrypicker's Guide, Vol. II, 5th edition, this exciting Philadelphia Mint variety is on every collector's list, and readily available.
There are many types of Morgan dollar varieties – die breaks, clashes, doubled dates and mints and more. Two of the more visible ones are overdates and over mint marks, and I will explore those in a future post. 'Til then, let me know what you've found – happy hunting….