From Tears to Triumph: Wilma Mankiller Blazed Her Own Trail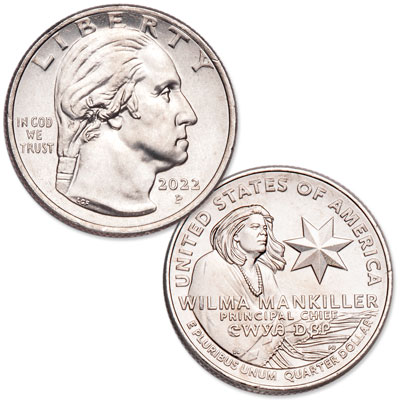 2022-P Wilma Mankiller U.S. Women Quarter
The year: 1969. The event: Native American occupation of Alcatraz Island. The importance: First intertribal protest about the condition of indigenous peoples in the United States. The impact on a young Wilma Mankiller of the Cherokee Nation: Life-changing.
The first woman elected to lead a Native American tribe, Mankiller is celebrated on the reverse of the new quarter series released by the U.S. Mint. She is the third accomplished woman honored in 2022 in the U.S. Women Quarter Series that's scheduled to run through 2025. Five new reverses are planned each year, for up to 20 one-year-only designs.
So far, Heads & Tails has profiled the coinage art of sculptor Laura Gardin Fraser who designed the obverse. We've also written about the inaugural quarter in the series that depicts renowned poet-author-social activist Maya Angelou and America's first woman in space, Dr. Sally Ride. Let's take a look at Wilma Mankiller.
From occupation to activism
The Mankiller Family landed in San Francisco as part of the federal American Indian Relocation Policy. Launched in the 1950s, its intent was to move Native Americans from rural reservations that relied on farming to such cities as Chicago, Los Angeles and Minneapolis where there was more employment. Her father took a warehouse job.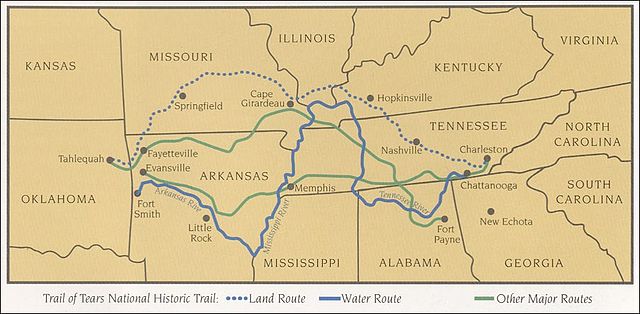 Trail of Tears National Historic Trail
Wilma called this move "my own little Trail of Tears." It came about more than 130 years after the government had relocated over 16,000 Cherokees from native lands in Tennessee, Georgia, Alabama and North Carolina to eastern Oklahoma in the Ozark Mountains' foothills. Cherokees called this 1836-1839 move the "Trail of Tears."
And of the extended Native American protest for tribal sovereignty?
"It changed me forever," she wrote in her 1993 autobiography. "…I met so many people from other tribes who had a major and enduring effect on me…[and] how I perceived myself as a woman and as a Cherokee."
Eventually, new federal laws respecting land rights and the freedom to maintain traditional cultures were passed. And, Wilma, with her newly realized self-respect and sense of pride, returned to Oklahoma with activism skills and founded the Cherokee Nation Community Development Department. Among its achievements were construction of a 16-mile-long system to supply clean water to 200 families of Bell, OK and the rehabilitation substandard housing.
During her tenure as chief, Wilma doubled employment, tripled Cherokee enrollment, built new housing and three health centers, plus launched Head Start programs to provide comprehensive early childhood education, health, nutrition and parental involvement to low-income families. Infant mortality declined and educational achievements rose. The Cherokee model became a template for other Native American tribes.
"Remember that I am just a woman who is living a very abundant life," Wilma once said. "Every step I take forward is on a path paved by strong Indian women before me."
Before Wilma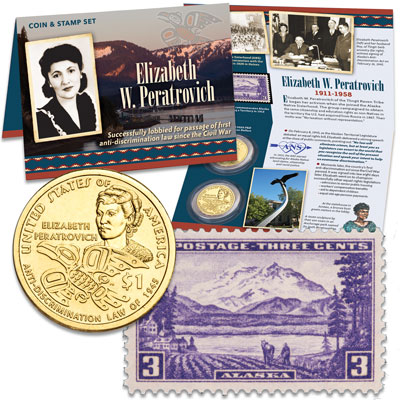 2020 Native American Dollar Coin & Stamp Set
One of those strong Native American women before Wilma was civil rights activist Elizabeth Peratrovich of the Tlingit Raven Tribe in Alaska. Her advocacy was credited with passage of the Anti-Discrimination Act of 1945, considered the first non-discrimination law in America.
Heeding the call to service in World War II, Cherokee Mary Golda Ross left the classroom to become a mathematical engineer and the first known Native American to work in the U.S. space program. Ross had a lifelong commitment to service and education and was an advocate for women and Native people in engineering.
Standing with these women are a couple of notable Native American men who also advocated for justice and equality. Seneca Ely S. Parker was a U.S. Army officer during the Civil War, an engineer and a tribal diplomat. After he was appointed Commissioner of Indian Affairs, he reduced the number of military actions against Native Americans in the West.
Silversmith Sequoyah developed the Cherokee syllabary as a way to empower his people to accumulate and transmit more knowledge than was possible via the oral tradition that relied memory and word of mouth.
Native American history is rich with examples of activism. Thanks to the U.S. Mint, many previously unsung heroes and their accomplishments are increasingly finding their way onto coins worth collecting.