Maya Angelou Rises on New Quarters for 2022
Acclaimed writer and social justice advocate Maya Angelou had a long list of achievements that broke barriers. She was the first black woman to pen a non-fiction, international best-seller I Know Why the Caged Bird Sings. She also was the first African American woman to write a screenplay produced in Hollywood, Georgia, Georgia. Most notably, Angelou was the first Black American and woman to write a poem – On the Pulse of the Morning – for a presidential inauguration and to recite it.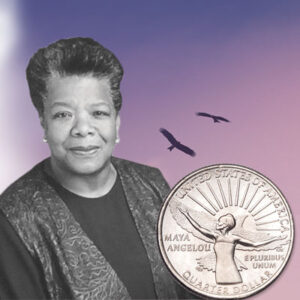 Now, eight years after her passing in 2014, Maya Angelou is the first African American woman to grace circulating U.S. coinage. Similar to the Presidential Dollars, for which a former chief executive has to be deceased for two years, the women in this four-year series are no longer living. Angelou's likeness on the first new quarter of 2022 celebrates American women whose achievements changed the course of history.
And Still I Rise
Sculpted by the mint's Medallic Artist Craig Campbell and designed by Emily Damstra, of its Artistic Infusion Program, the reverse depicts Angelou with her arms uplifted. Behind her is a rising sun and a bird in flight, images inspired by her poetry and symbolic of the way she lived her life. The common obverse for the series features a dramatic new image of George Washington by sculptor Laura Gardin Fraser.
Angelou's published works of verse, non-fiction, and fiction include more than 30 bestselling titles. In her well-known ballad poem, And Still I Rise, she expressed a message of hope, victory over oppression, and of certainty in prevailing over one's challenges. The verb "rise" is used 11 times. The lyrical poem is also the title of her third volume of poetry published in 1978.
Her remarkable career included a good deal of social activism. Angelou helped Malcolm X form the Organization of Afro-American Unity. She did outreach to help fund the Civil Rights campaign of Martin Luther King Jr., serving as his northern coordinator of the Southern Christian Leadership Conference.
"Before you judge anybody you should look at yourself and have enough courage to admit what you see," said Angelou in a 1993 TV interview. "People have been kind to me, so I prepare to give that to someone else who has yet to come."
Walking in Historic Footsteps
Angelou received more than 30 honorary degrees, including a PhD. She lectured in American Studies at Wake Forest University in Winston-Salem, NC. She shared a passion for the equalizing power of education with another social justice trailblazer and educator, Septima Clark.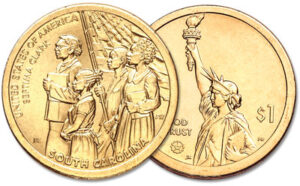 In 2020, the mint honored Clark on the South Carolina Innovation Dollar. Like Angelou, Clark worked for Dr. King's Southern Christian Leadership Conference. She had developed literacy and citizenship workshops, now regarded as the building blocks of the Civil Rights Movement. And like Angelou, Clark also wrote an autobiography, Ready from Within, described by readers as "informative and compelling….[with] insights into the role that women played in the…movement…"
Both women, in fact, followed the trail blazed by Booker T. Washington, who rose from slavery to become a national civic leader. In 1881, he was named the first president and developer at the Tuskegee Normal and Industrial Institute in Alabama. His philosophy for the advancement of his community was rooted in the belief that an educated and responsible citizenry presents the best hope to combat racism.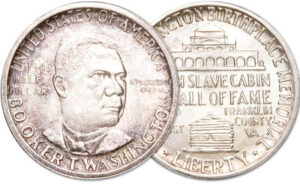 Like Angelou and Clark, Washington wrote an autobiography. Published in 1901, Up from Slavery recounts his rise to national civic leader. His advice was sought by presidents William McKinley and Theodore Roosevelt. In 1946, the U.S. Mint honored Washington with a commemorative silver half dollar on the 90th anniversary of his birth.
Are you searching for colorized currency and coins from Littleton to create a social justice coin collection?