Re-introducing Mrs. Fraser
America's first-ever woman coin designer, Laura Gardin Fraser, is getting the opportunity to make coinage history – again. Shunned the first time 90 years ago, the noted sculptor's portrait of George Washington is finally appearing on the obverse of a U.S. quarter. Her design is part of a new, four-year quarter series whose one-year-only reverses honor women's contributions to the development of our United States.
Celebrating George Washington
The U.S. Women Quarters series runs from 2022 to 2025. Each U.S. quarter's obverse features Gardin Fraser's portrait of George Washington facing right. A 1932 letter from the U.S. Commission of Fine Arts described it as:
"[embodying] those high qualities of the man's character which have given him a place among the great of the world… Simplicity, directness, and nobility characterize it. The design has style and elegance… The Commission believes that this design would present to the people of this country the Washington whom they revere."
But while her quarter design was popular with many, U.S. Treasury Secretary Andrew Mellon over-rode the commission's choice. He selected the left-facing Washington by New York sculptor John Flanagan to honor the 200th anniversary of our first president's birth in 1932. It's since become a highly collectible quarter.
In 1999, the U.S. Mint brought Gardin Fraser's quarter design out of its archives and struck it on $5 gold coins to commemorate the 200th anniversary of Washington's death. And that was the last time anyone saw her Washington design struck on a coin until 2022.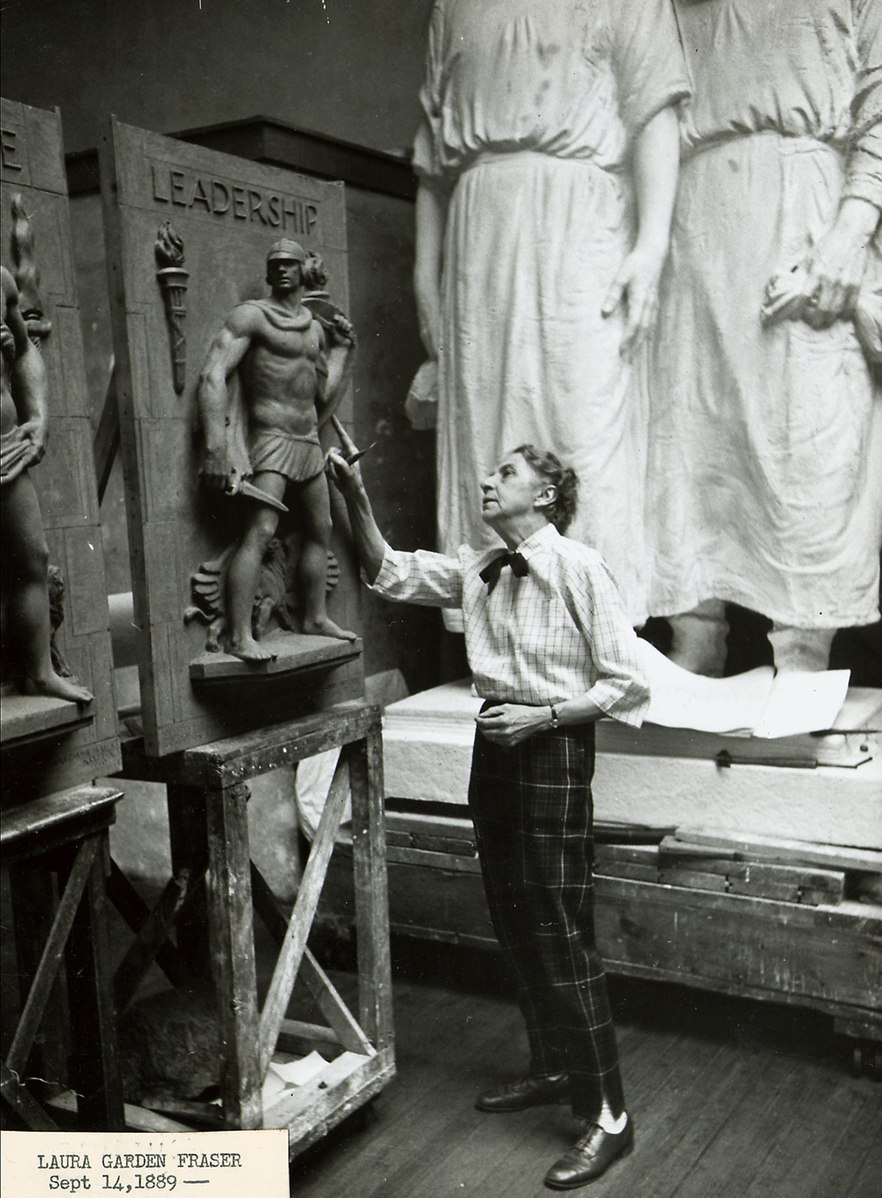 The sculptor in her Westport, CT studio.
America's Most Prolific Female Sculptor
Born one of three daughters in 1889 in a Chicago suburb, Laura's talent showed itself early and was nurtured by her mother, painter Alice Tilton Gardin. After her banker-father, John Emil Gardin, moved the family to New York, Laura enrolled at the Horace Mann School in the Bronx. She successfully finished two portraits and numerous small sculptures of animals by the time she was graduated. Laura Gardin furthered her artistic studies at the Arts Students League in Manhattan.
Her first year there, she won the Saint-Gaudens Medal, named for the renowned sculptor and designer of the $20 gold double eagle coin. Her second year, she won a scholarship. Her third and final year, she won the Saint-Gaudens Figure Prize. Her mentor was sculptor and Buffalo nickel designer James Earle Fraser. In 1913 she married him.
St. Gaudens in his NH studio
Eight years later she became the first woman to design a U.S. coin. Already a sculptor of statues and fountains, as well as medals, she was awarded the commission to design the Alabama Centennial Half Dollar in 1921. Five years later, the U.S. Mint was rolling off its coin presses the first – and to date, the only – issue ever designed by a married couple, the Oregon Trail Memorial Half Dollar. Struck in small quantities from 1926 to 1933, Laura Gardin Fraser designed the obverse with the standing Native American Indian, and her husband, the reverse featuring a Conestoga wagon pulled by two oxen.
James Earle Fraser died in 1953 at the age of 76. Thirteen years later, Laura Gardin Fraser died in Norwalk, CT, also at the age of 76. Many of the couple's sculptural works and studio papers can be found at the National Cowboy and Western Heritage Museum in Oklahoma City, OK.
How to Collect U.S. Women Quarters
From 2022 to 2025, the reverses of U.S. quarters feature 20 notable women. The Circulating Collectible Coin Redesign Act of 2020 (Public Law 116-330) requires that no living person be featured in the coin designs. Their legacies are what live on.
Each of the 20 women made significant contributions from a wide variety of fields, including suffrage, civil rights, abolition, government, humanities, science, space and the arts. The act further stipulates the women be from ethnically, racially, and geographically diverse backgrounds. The distinguished U.S. Women celebrated on the 2022 quarters are:
Collectors can prepare for a traditional collection of these U.S. Women Quarters with Littleton Coin's signature green archival-quality coin folder. Personalizing the folder cover could be an especially nice gesture if you're gifting the folder or adding it to your own library of coin folders.
Anyone else as excited as we are about coin collections devoted to women? You're invited to share your enthusiasm in our comments section. Thank you!