Finding the Perfect Holiday Gift in 2020
Even in the midst of a global pandemic, you can still have fun finding the perfect gifts for family and friends. Here are six ways Littleton can help you finish your holiday shopping…

The holiday season has arrived! And while the global pandemic may make it hard to shop in person, you can still find the perfect gifts for your family and friends. Especially when you shop Littleton's Holiday Gift Collection!
As always, it's filled with currency and coin gifts that are sure to delight. Including festive holiday favorites and superb stocking stuffers… even stunning jewelry for that special someone. Whatever your budget, you'll find plenty to choose from for everyone on your list.
You'll have almost as much fun picking out their gifts as they will opening them. But in case you need some help, here are six suggestions to get you started.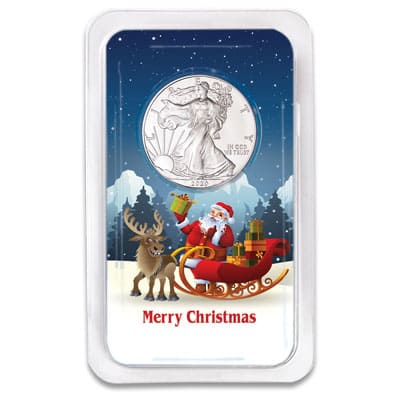 2020 Silver American Eagle in Merry Christmas Showpak®
Littleton's Holiday Showpaks
Uncirculated coin gifts always make people smile. And they're even more special when they're in exclusive Littleton Showpak® holders! Choose from stunning 2020 Silver American Eagles and 2020 Native American dollars in a variety of Showpaks. You'll even find ones celebrating Hanukkah and Baby's First Christmas!
Affordably priced and conveniently sized, they're perfect stocking stuffers. Which makes them the easy way to check off everyone on your list!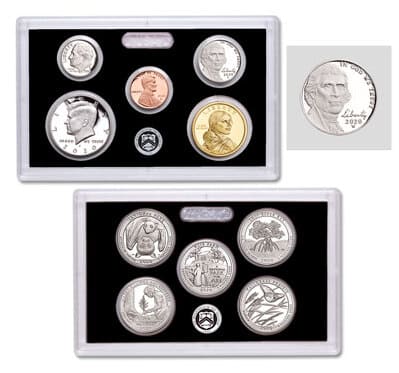 2020-S U.S. Mint Silver Proof Set
2020 U.S. Mint Proof Sets
Another gift they'll love is a 2020 U.S. Mint Proof Set. Coin gifts are always popular. And when it comes to coins, they don't come any better than Proofs – they're the pinnacle of coinage art. That's because Proof coins are made through a special process that produces incredibly sharp design details against a mirrorlike background.
Choose a 5-coin set of all five 2020-S National Park quarter clad or silver Proofs or a 4-coin set of 2020-S American Innovation dollar Proofs.
Better yet, surprise them with a 10-coin Clad or Silver Proof Set. It contains stunning San Francisco Mint Proofs of each regular-issue denomination, including the cent, nickel, dime, half dollar, Native American dollar, and all five National Park quarters!
Gifts of the Wise Men Set
Gifts of the Wise Men Set
While some people prefer to give coin gifts, our Gifts of the Wise Men Set is always a holiday favorite. And it's perfect for any history buff or religious person on your list, because it recreates the original gifts the Wise Men gave the baby Jesus on the first Christmas.
Just imagine the looks on their faces when they open the handsome, satin-lined box to find genuine gifts of gold, frankincense and myrrh. It's a gift that truly brings the Christmas story to life!
2020 Gold American Eagle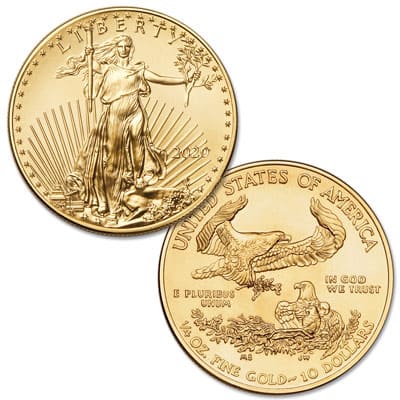 2020 $10 Gold American Eagle
Speaking of gold, another gift that's sure to wow is a 2020 Gold American Eagle. These official U.S. gold bullion coins bear Augustus Saint-Gaudens' cherished design that appeared on $20 U.S. gold coins from 1907-1933. The reverse depicts a family of eagles, along with a statement of weight and purity.
Each lustrous Uncirculated Gold American Eagle is struck in 22k (91.67% fine) gold. And you'll find three sizes to choose from: 1/10 oz., 1/4 oz. and 1 oz. Whichever you pick, it's a gift they'll treasure for years to come!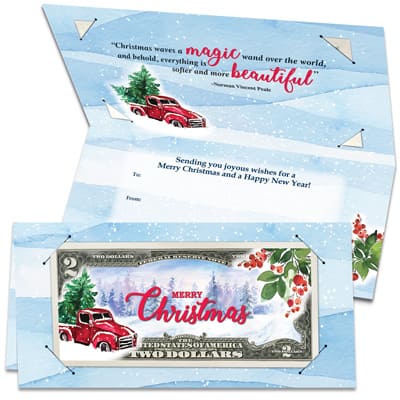 Colorized Note Merry Christmas Card – Truck
Exclusive Colorized and Custom Coins & Currency
Looking for a gift they won't see in any store? How about something from Littleton's exclusive line of colorized coins and currency?
You'll find colorized notes like this $2 Federal Reserve Note our artists have expertly colorized with a traditional holiday design. As well as heart-warming tree ornaments, such as this colorized Kennedy half dollar depicting three adorable penguins spreading Christmas cheer.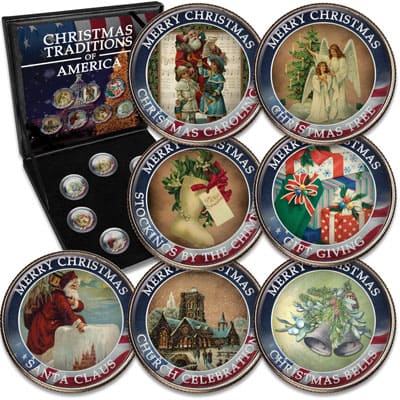 American Christmas Traditions Collection
For a gift that's filled with nostalgia, try our American Christmas Traditions Collection. It includes seven U.S. quarters, each respectfully colorized with classic images of time-honored holiday activities. And if you want something that is truly unique, check out Littleton's new Custom Coins and Currency website. It lets you design your own colorized coins and notes, complete with your own photos and messages!
Littleton Gift Card
Even if you just can't decide what to get someone, we still have you covered… because a Littleton Gift Card is always the perfect gift! Simply pick the amount you want to give – $50 or $100 – and let them choose for themselves.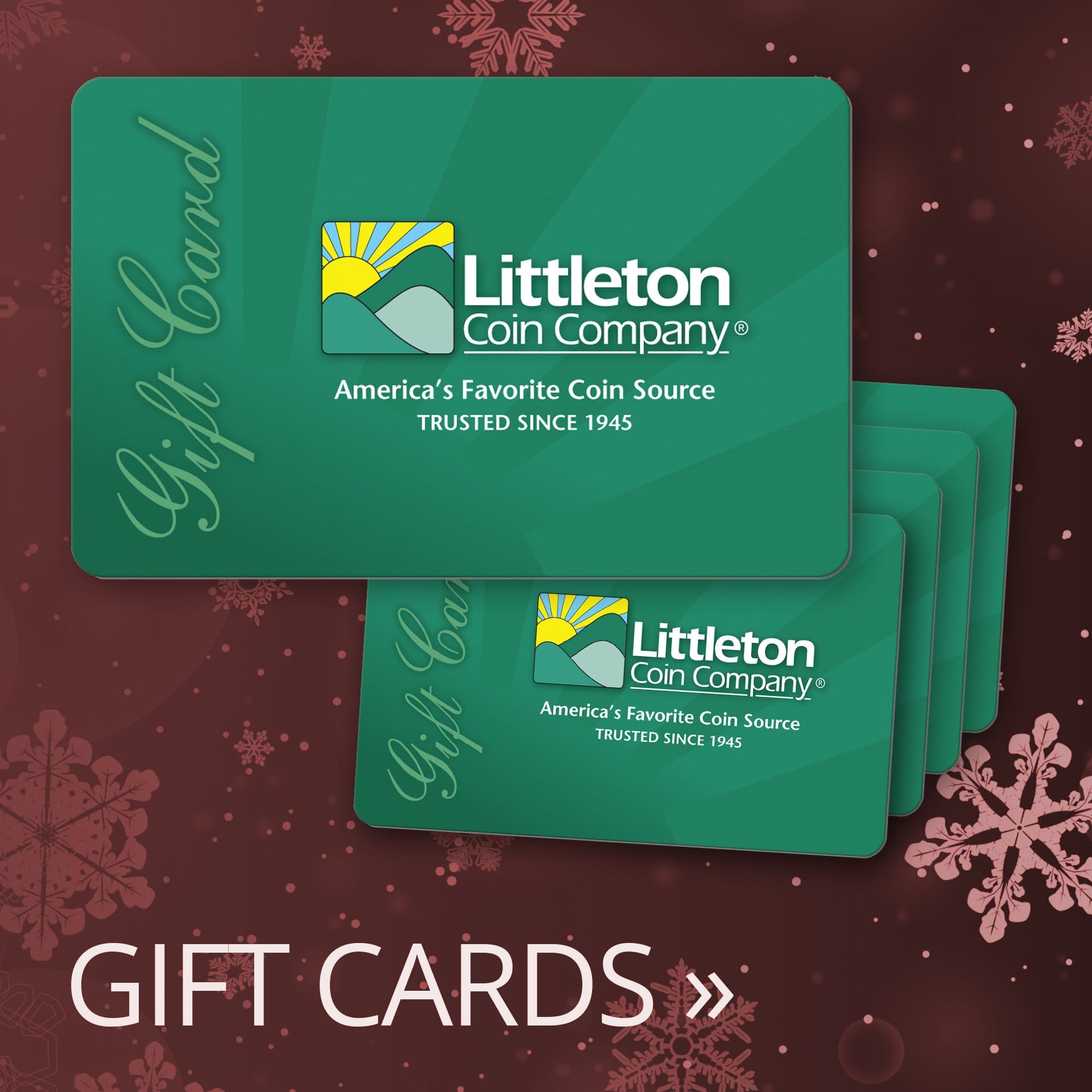 A Littleton Gift Card is always the perfect choice!
Littleton Gift Cards can be redeemed by phone or mail, and they never expire. Each comes in a handsome presentation card with the latest edition of our fully illustrated catalog. From coin gifts and currency to collecting supplies… they'll have so much fun considering their options, they'll feel like a kid again no matter their age!
Do you have fond memories of giving or receiving currency or coin gifts for the holidays? We'd love to hear! Leave a comment below to share your story!