Take a Road Trip with an all-new batch of colorful Landscapes Notes!
Not long ago, I wrote to you about our innovative new series of beautifully colorized notes. Enhanced by the talented artists here at Littleton Coin, each of the American Landscapes notes took you to a new, colorful location within the United States.
And our collectors LOVED them. We received so much great feedback on that first series, that we decided to come back for more!
Glacier National Park kicks off new series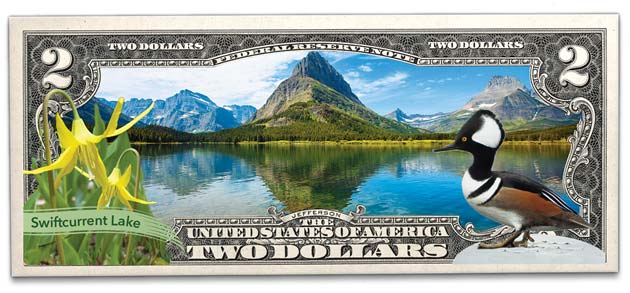 Now, you can continue – or start – a collection of Littleton Coin's exclusive American Landscapes Notes with this all-new series! It kicks off with the clear waters and dramatic mountain scenery of Swiftcurrent Lake in Montana's Glacier National Park. This is a beautiful location in the park's Many Glacier Valley that's host to crystal-clear waters surrounded by snow-capped, towering peaks. And, because this note kicks off a new series, it comes with a FREE custom folder that holds the complete set!
Each scene in the Landscape Series is featured on the face of a $2 Federal Reserve Note. The artists at Littleton Coin work to find the perfect image representative of a beautiful American vista. Then, they adorn the foreground with a photograph of a flower and a bird that are native to that area. The end result is a vivid snapshot into an eye-catching world.
Travel the nation right from home!
As future Landscapes Notes debut, you'll fill your folder with the beauty of America, with sites including:
White Sands, New Mexico – rising like mounds of fresh white snow in the middle of the desert, the sands of this National Monument make up the largest gypsum dune field in the world!
Cape Cod, Massachusetts – wide stretches of sand meet beautiful ocean waters on the Cape Cod peninsula.
Badlands, South Dakota – this land's unique, rugged beauty was caused by incredible erosion over time, which revealed numerous sedimentary layers in a rainbow of hues.
Pa'iloa Beach, Hawaii – the dramatic black sand found here was created when scorching lava met much cooler ocean waters, which shattered the rocks into much smaller sand-like pebbles.
A perfect way to remember that special spot
The notes that excited me right from the start were the ones depicting the Badlands and Cape Cod. Why? Someone close to me just returned from a trip in the Badlands, and I know she'll love this gift as a reminder of her trip. As for Cape Cod – it's one of my family's favorite vacation spots, and I want this one for myself!
This set really is a terrific way to bring home the beauty of past adventures, give a gift of lasting beauty, or even inspire your next great trip. Keep an eye out in our catalogs, or sign up for our email newsletter to receive updates when the new issues launch! Which design are you most looking forward to?