Theme for 2019 National Coin Week honors 50th Anniversary of Apollo 11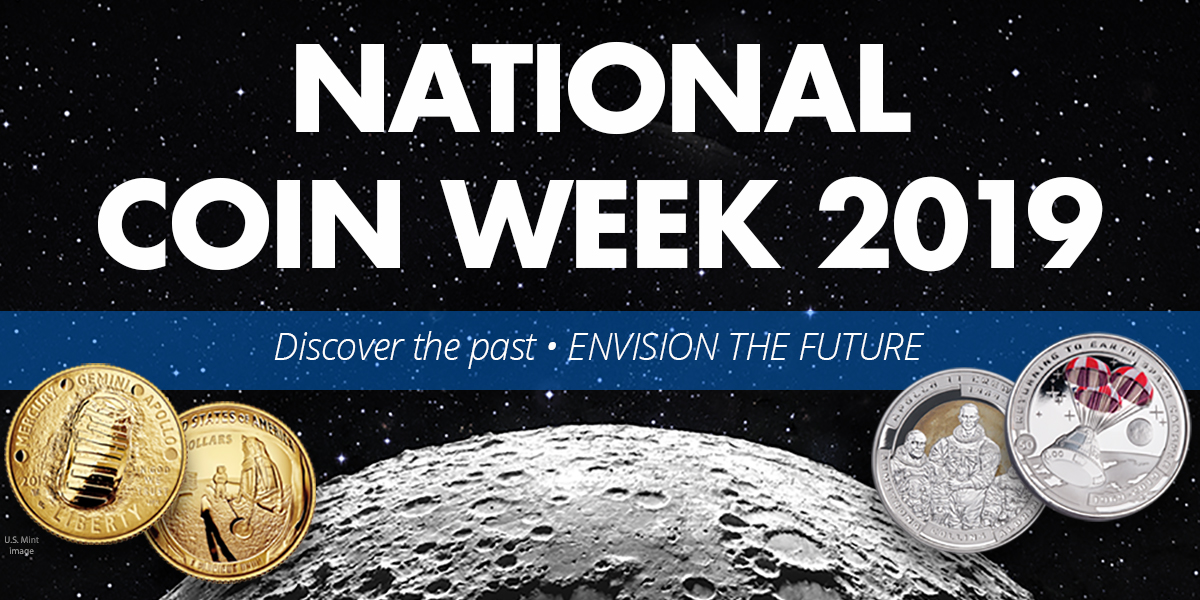 "Discover the Past, Envision the Future"
The theme for 2019 National Coin Week from April 21-27 is "Discover the Past, Envision the Future." It was inspired by the 50th anniversary of the first moon landing in 1969. And it recognizes how coins and paper money celebrate discoveries from the past and innovations for the future.
The Apollo 11 mission that put the first men on the moon was 50 years ago. But it has provided momentum for space exploration ever since. So Apollo 11 is a dramatic piece of history and inspiration for things to come. No wonder mints around the world are celebrating its 50th anniversary with all-new moon landing collectibles!
Like the Apollo 11 mission, coinage reflects the past and the future. It honors people, places and events in history. But coinage today also features cutting-edge designs and exciting new technologies!
The history of National Coin Week
National Coin Week is sponsored by the American Numismatic Association (ANA). The ANA is the nation's largest non-profit organization dedicated to the study and collecting of coins and paper money. The history of National Coin Week began in 1923. That's when ANA Governor Julius Guttag proposed a week-long event "to attract the general public to our hobby and consequently increase our membership, and aid in our science."
First observed in 1924, National Coin Week promotes coin and paper money collecting as educational and entertaining. ANA events include seminars, presentations, a coin design contest and a trivia challenge. Each National Coin Week features a unique theme highlighting an important aspect of the hobby. The ANA conducts a contest among its members for each year's theme.
Many coin clubs and coin dealers also sponsor special events during National Coin Week to educate and entertain collectors. It also attracts new people to the hobby.
Win a $2,500 Shopping Spree

In celebration of 2019 National Coin Week, LittletonCoin.com is featuring special activities and promotions throughout April. These include the chance to win a $2,500 Littleton Coin Company Gift Card. Visit LittletonCoin.com/sweepstakes from April 1-30, 2019 for full details (no purchase necessary to enter or win).