Announcing the winner of our 2017 Gold Coin Sweepstakes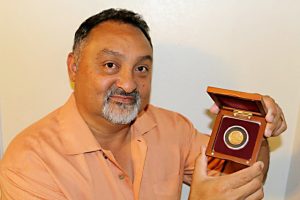 Congratulations to Gary of Fullerton, CA – the grand prize winner of our Gold Coin Sweepstakes! Recently he received his beautiful Saint-Gaudens 1914-D $10 Indian Head gold eagle sealed in an archival-quality holder and displayed in a deluxe cherry wood case. Designed by Augustus Saint-Gaudens – America's premier 20th century sculptor – this $10 gold eagle shows Liberty wearing a spectacular Indian headdress, while the reverse features an eagle that is reminiscent of ancient Roman and Egyptian art.
Littleton's Gold Coin Sweepstakes was held in conjunction with National Coin Week, April 17-21, 2017. This year coin week honored the 100th anniversary of America's entry into WWI, with the theme Conflict and Courage: Money and the Military. Besides the grand prize, Littleton also gave away a daily bonus prize – a $50 gift card – during National Coin Week. Winners were selected daily by a random drawing of all of those who had entered. Enjoy your gold piece Gary, and thank you to all of those who entered.