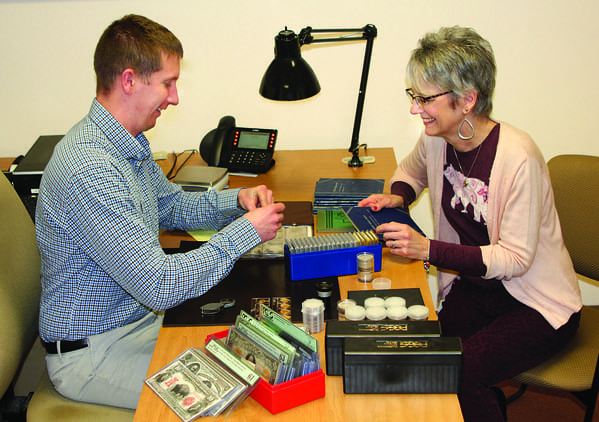 Littleton Coin Buyer Bill discusses a design for the new Personal Coin Appraisal Kit with Elaine, Senior Designer Supervisor.
Whether you're a collector who hasn't been active in years or you've inherited a collection, assessing the value of the coins you have makes a lot of practical sense. With that in mind, Littleton Coin's buying team has come up with a handy set of tools to help you.
"We've heard many times that individuals have had coins and currency but didn't know what to do with them," said Bill Reardon, one of Littleton Coin's veteran buyers, adding "or whom to trust."
The team, which has over 150 years of collective experience purchasing and selling U.S. coins, put their heads together and came up with an affordably priced Personal Coin Appraisal Kit that's easy for even those with a casual knowledge of numismatics to use.
Littleton's affordable and exclusive Personal Coin Appraisal Kit
"It helps anyone figure out the potential value of what they have," Bill explained. "You'll be an informed seller when you decide to turn over what you have."
The Littleton Coin Personal Coin Appraisal Kit comes with cotton gloves, a calculator and a nifty combination bookmark/magnifier/ruler that's edged with inches and centimeters to help sort your coins.
The comprehensive kit also features a 19-page booklet that's packed with useful tips. It has a section with visual information on coin conditions that are called grades by hobbyists and numismatists, alike.
The latest Official Blue Book Handbook of United States Coins that lists wholesale prices is also part of the kit. You can see how much, on average, coin dealers are paying to buy coins by type, date and mint mark – the three cornerstones of classic coin collecting.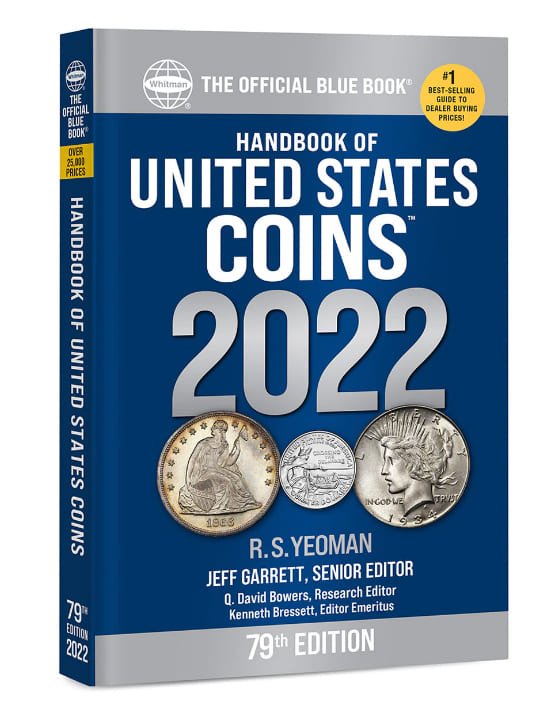 The most up-to-date Blue Book is included in the Personal Coin Appraisal Kit
"Once organized, you'll be able to determine which coins are common versus those of higher value," Bill continued. "By filling out the included U.S. Coin Inventory Checklist, you have a record to show potential buyers when the time is right for you."
Both documents are also helpful for understanding values for such historic denominations as Three-Cent Pieces, Half Dimes, Twenty-Cent Pieces, Classic Gold, plus newer coinages like Modern U.S. Commemoratives.
For potentially higher-valued coins, Littleton's Personal Coin Appraisal Kit also comes with 50 archival-quality coin "flip" holders that let you see the obverse and reverse of each coin in your possession while protecting it.
No formal collection? No problem!
You don't have to go it alone with a coin appraisal. Littleton's friendly, expert staff is available to answer any questions you may have during the process.
"We had no idea what to do with the pounds and pounds of old, circulated coins…" wrote one Littleton Coin customer from Elmhurst, IL. "The Littleton buyers advised us how to get organized and gave us a very fair price… Thank you!"
Whether you're a new collector or have inherited a collection, check out this Heads & Tails blog post about what to do with Great Aunt Ida's coins. It includes a section on paper currency, which Littleton Coin also helps customers evaluate, and buys.
"I had quite a few coins and some currency," wrote another customer from Illinois. "[I] did not want to go to a physical store… LCC could not have been more convenient."
There's no denying that the hours of pursuit in the hobby we enjoy are immeasurable. Yet what we collect does have more than emotional value. No time like the present to find out – carpe diem!