What to do with Great Aunt Ida's coins
I just inherited a collection. What do I do?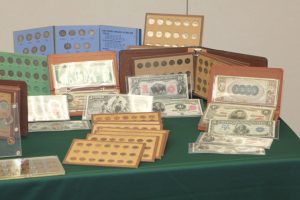 "It's a daunting task if you don't know what you're looking at," said Ken Westover, a Littleton Coin Company buyer. He's seen everything from the huge Southern "CC" Cache of Morgan silver dollars to what visitors bring in through Littleton Coin Company's front door.
Many individuals save what strikes their fancy and often keep coins in containers that have some nostalgic value, like a vintage lunchbox or glass canning jars that show off the warm coppery color of pennies. The first thing Westover advises is not to clean them.
Beauty is in the eye of the beholder, and what might be unattractive to a non-collector, might be significant to a collector if you are looking to sell your coins, according to Westover. Cleaning a coin takes away from its numismatic value.
"Recently, I had a woman come in with three gold coins. Two were one-ounce bullion coins, and the third was a 1907 $20 Saint-Gaudens High-Relief Flat Rim from its first year of issue. It was passed down from her father-in-law who acquired it in the early 1930s.
"Unfortunately, it had been lightly cleaned, but I still made an offer on the coin," he continued. "She took the weekend to discuss it with her family, and the following week we made an arrangement to buy it."
Collectible Paper
A Littleton Coin Company buyer for close to 25 years, Westover is one of four Littleton Coin Company buyers whose combined numismatic experience totals more than 100 years. He also is considered the company's premier paper money buyer.
Unlike coins that casual collectors may keep in plain sight, paper collectors might tuck currency into the bottom of a dresser drawer, or layer it between a desk pad and blotter, or sometimes slip it between a bible's pages. Westover frequently asks people to take pictures of the currency or coins displayed on an uncluttered surface.
"Thanks to today's technology, people who aren't local to us in New Hampshire can send us images they take with their mobile phones or their tablets," he explained.
Several months ago, Westover received an email with a photo attached. It showed a stack of obsolete bank notes from the Confederacy period that had "just sat with the family since about 1860."
Said Westover, "The bank had gone out of business. Finally, the current generation wondered if the time had come to do something with them. After seeing more photos of the Uncirculated bank notes and discussing the quantity, we sent a seller's kit. After we received the notes, we negotiated to buy them."
What's a seller's kit?
A seller's kit, he explained, includes boxes, packing material, pre-paid shipping label, plus insurance. "We only do this after qualifying what we're looking at."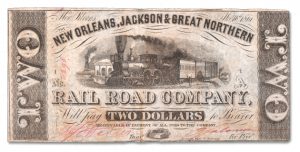 Following some research by Littleton Coin Company's staff, the obsolete bank notes issued by the New Orleans, Jackson & Great Northern Rail Road Company were made available to collectors, both in catalogs and on the web.
Seller's kits aren't just for loose money. They also are sent if Littleton Coin Company coin buyers find coins already organized into albums or folders by advanced collectors. The opening comment from someone trying to settle an estate and wanting to sell coins they've inherited is usually: "I thought these were family photo albums."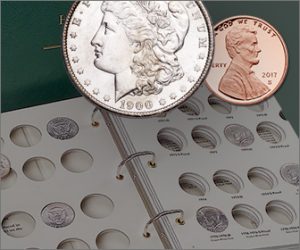 Albums or folders indicate a collector has put some thought into grouping his or her discoveries into acknowledged categories, such as Morgan dollars, Buffalo nickels, or Lincoln cents.
As Westover and his fellow Littleton Coin Company coin buyers find themselves saying more and more these days, "Send us pictures so we can have an understanding of what you have."
Added Westover, "Typically, the follow-up concern is about what's missing from an organized collection and if that affects the value. Some coins are hard to find, but their absence from a set doesn't make what's been collected any less worthy if you want to sell your coins.
"We'd still have an interest because often the value is based on the condition of the coins," he said. "You shouldn't be discouraged if a set is incomplete. We'd still be interested in hearing from you."