Top 7 Gifts for Coin Collectors
All for under $60!
Before I was old enough to have a bank account, in the late '50s and early '60s I had holiday-themed dime cards. I worked all summer and fall, using my hard-earned allowance, to fill in the spots so in December, I could go to the local 5¢ and 10¢ store to buy presents for my mom and dad, brother and sister. Times have changed and it takes more dimes now… but with the holidays almost upon us, you may be wondering what you'll give others. So I thought I'd help you out and share the top 7 best selling coin-related gifts, based on customer popularity.
Silver American Eagle Holiday Showpaks – These have been the top favorites for many years, and at $39.95 they make great stocking stuffers or remembrances of the season. Each year our design team gets to work illustrating or selecting the latest images for the upcoming holiday season beginning in July. Sarah, one of the designers here, says, "This is one of the design projects that's the most artistically expressive and fun that we get to work on all year. I always look forward to it!"
One-ounce 99.9% silver bullet – "Hi Ho Silver…" New this year, the silver bullet is perfect for those who love western lore, are hunting enthusiasts or gun collectors. At $45.95, this unusual gift of silver recalls the masked Lone Ranger who rode through the West fighting outlaws with the help of his Native American friend Tonto.
2015 Presidential Dollar Sets – Like last year, these two-coin Uncirculated Philadelphia and Denver dollar sets placed in the top five. This set, at just $10.95 for the pair, makes an easy way to help someone keep their collection up to date or remember the '50s & '60s. R.H. from Banner Elk, NC said this about the Presidential dollars, "I am particularly pleased with the Presidential golden dollars, and Littleton is the only one that has the Showpak

®

…"
Indian Head Cent Necklace – Accented with precious silver with the Indian Head design highlighted in 24

k

gold, this beautiful necklace has been a "must-have" gift for years. Even if they don't collect coins, a necklace like this is a surefire conversation starter! This classic series was one of America's first small cents, beginning in 1859, and Liberty in a headdress was first used here – a design that's front and center on this necklace that sells for just $39.95!
Lincoln & Kennedy Incredible Facts – Did you know both presidents were assassinated on a Friday…. Elected 100 years apart? And, there are more amazing coincidences waiting for you to discover in this handsome 2-coin set. At only $3.95, it's a great stocking stuffer!
Bison Silver Bar –This 1 oz., 99.9% pure silver bar featuring the American buffalo was designed by our artists, this silver bar is available only from Littleton and at $38.95, it makes a great way to accent a collection of Morgan dollars, gold pieces, or any western-themed collection.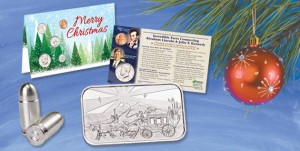 Finally, there are two more items I want to mention. These don't fall in the "Under $60" category, but they're always popular – a Choice Uncirculated $20 Saint Gaudens' gold piece and the giant 4 oz. American Eagle dollar struck in 99.9% silver. I hope this helps to generate some ideas to make your gift giving a little easier this year.
Is there a favorite coin-related gift you like to give? Help others out and share your tips – I'll look forward to reading about them.