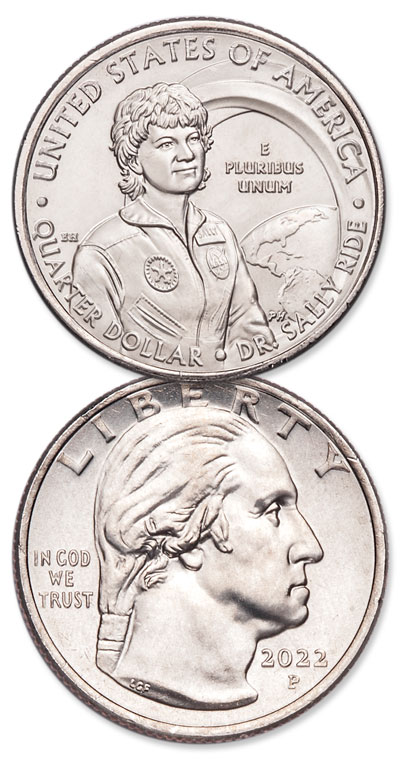 Fourteen years after Neil Armstrong famously said from the moon's surface, "One giant leap for mankind," Dr. Sally Ride made the giant leap into space for American women in 1983. Ride's latest news-making leap is to a new 2022 quarter.
The Sally Ride quarter represents the universe of possibilities. First, there is Ride's pioneer role as America's first woman astronaut. Then, there is Ride's influence as more young women equally qualified as men to fly in space became vocal about their interest in space exploration. NASA had to design new space shuttles for mixed-gender crews. It also had to redesign its space suits to accommodate women's bodies.
The Sally Ride quarter also honors the ground-breaking shift in NASA's space program: Astronauts no longer had to be chosen from a pool of military test pilots. In fact, Aldrin himself had not been a test pilot on experimental aircraft prior to being chosen for NASA's third astronaut training class in 1963.
Similar to the Presidential Dollars, for which a former chief executive has to be deceased for two years, those women chosen for this exciting four-year series from the U.S. Mint are no longer living. The Sally Ride quarter is the second in the series celebrating American women whose achievements changed the course of history.
From Tennis Star to Mission Specialist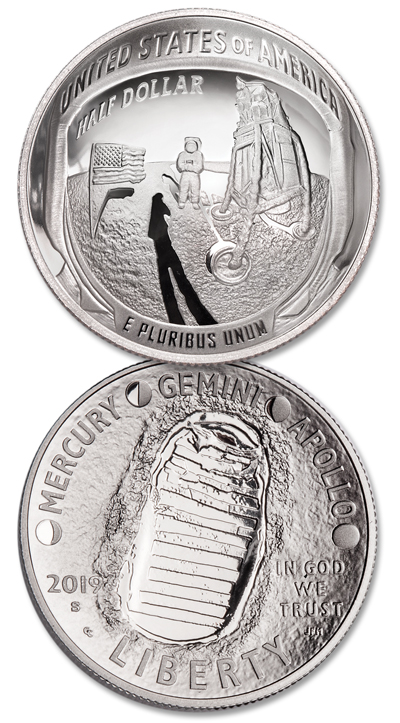 About the time a young Sally Ride started watching Star Trek on TV, she also picked up a tennis racquet. She got so good at the latter that she earned a scholarship to a prestigious girls school in Los Angeles, and briefly thought about a professional career.
At the same time, her parents encouraged her interest in science with a chemistry set, a telescope, and a subscription to Scientific American. Physics study at Stanford University followed. And then one day in 1977, Ride saw an ad in the school newspaper. It asked women to apply to NASA's astronaut program. History changed course.
Before she flew as a mission specialist on board Challenger, however, Ride was the first female capsule communicator – the voice talking to astronauts on a space shuttle. She next became the first woman assigned to a shuttle crew. On her second space mission on board Challenger in 1984, she was part of the first two-women crew; the other astronaut was Kathryn Sullivan.
When she left NASA to teach, Dr. Ride championed science education and was a role model for young girls. All that aspiration is captured on the reverse of the second quarter by U.S. Mint Medallic Artist Phebe Hemphill, who also sculpted the unique converse reverse of the 2019 Apollo 11 50th Anniversary Commemorative Half Dollar. The obverse profiles George Washington by sculptor Laura Gardin Fraser.
Out of this World Currency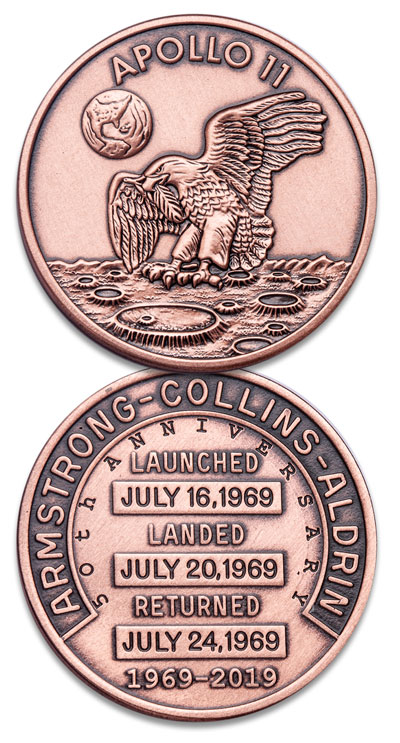 Here at Littleton, we offer a variety of numismatic opportunities to celebrate milestones in U.S. space exploration. You can find a few different suggestions here.
There's also this unique choice from the same dies used by the Robbins Company of Attleboro, MA to strike the original medals that flew with the Apollo 11 crew in 1969. You can choose between silver-plated or copper replicas. Colorfully illustrated story cards that come with each are filled with historical info. Plus, they're a handy reference for any youngster working on a science report!
Another space-related coin choice honors astronomer Annie Jump Cannon. Born in 1863, she became the first woman awarded the Henry Draper Medal from the National Academy of Sciences. Cannon had come up with a system of classifying the stars by temperatures and spectral types universally adopted in 1922, and still in use today. The range is stunningly illustrated on this colorized $1 Federal Reserve Note. It pairs nicely with the U.S. Innovation dollar coin from Delaware that features Cannon's profile against a celestial backdrop. Your choice of an exclusively colorized dollar from Littleton or a 2019 P&D set in a Showpak® holder.
From Cannon to Ride, it's a full circle that continues to expand as more women are acknowledged for successfully turning their curiosity about what lies in space into earth-shattering achievements that benefit everyone.