Remembering Orville Wright
Did you know January 30, 2023 marked the 75th anniversary of the passing of Orville Wright, one of the greatest pioneers?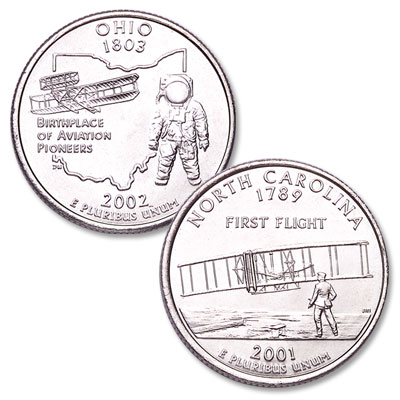 Along with his brother, Wilbur, Orville ushered in a new era when they achieved the first powered, sustained and controlled flight at Kitty Hawk, North Carolina on December 17, 1903.
Since then, the Wright brothers' first flight has inspired countless inventors, innovators and artists. So it's only fitting they've been honored on numerous coins – including two Statehood quarters you may have in your own collection.
We'll look at those and other coins featuring Orville Wright in a moment. But first, let's reflect on the life and legacy of this remarkable individual…
Orville's Early Life
Orville Wright was born on August 9, 1871 in Dayton, Ohio. Along with his older brothers and younger sister, Orville grew up in a loving home with parents who encouraged their children to pursue intellectual interests and investigate their curiosities. And their home had not one, but two libraries to help them do just that.
Orville was very close to his brother, Wilbur. The two were much like their father – independent thinkers who were supremely confident in their own talents and the soundness of their judgement. As well as determined to persevere despite any adversity or disappointment. And while Orville was more mischievous than Wilbur, both shared an adventurous spirit and drive to succeed.
These traits would serve them well in their endeavors. But despite their confidence in themselves, the brothers were far from social butterflies.
Orville, in particular, remained painfully shy throughout his life. And much of the brothers' success can be attributed to their more socially adept sister, Katharine, who later joined them to help manage businesses and engage with potential buyers.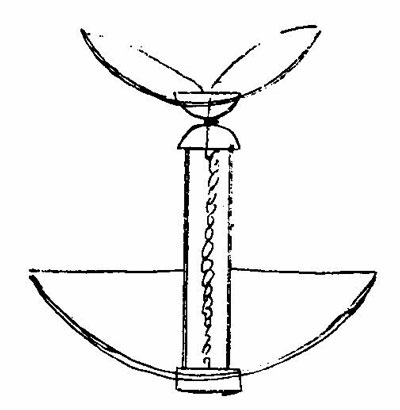 One fateful day in 1878, their father brought home a "helicopter" toy made of wood and rubber bands. Wilbur and Orville were fascinated with it, and played with the toy until it broke. Undeterred, they promptly built another.
And in a move that foreshadowed their future as aviation entrepreneurs, they continued building copies and sold them to friends.
In their later years, the Wright brothers credited that toy with igniting their lifelong fascination with flight. But they would wait a few years before dipping their feet into the aeronautical world…
Building printing presses and bicycles
At age 18, Orville didn't have enough credits to graduate high school. But while he had not found school challenging enough to his liking, he had studied the printing industry for several years. And in 1889, Orville convinced Wilber to join him in establishing a printing press.
The two brothers provided the usual printing services, and even edited a few newspapers. But they didn't stop there. They also used their keen technical and innovative skills to design, build and sell high quality presses to other printers.
However, the Wright brothers were not content with just one business venture.
It seems Orville had a reputation as a championship bicyclist. So three years later, in 1892, they opened their own bicycle shop. At first, they made repairs and sold accessories. But soon, they were building and selling bicycles featuring their own improved designs.
These two business ventures provided mechanical insights that would later prove invaluable. What's more, they were profitable enough to finance the brother's experiments in what was rapidly becoming their true passion: aeronautics.
"We did that work just for fun…"
By the 1890s, Orville and Wilbur Wright had been fascinated by the science of flight for more than a decade. In particular, they followed accounts of German glider pioneer Otto Lilienthal. And following his death in a crash in 1896, their interest in aeronautics soared to new heights.
The brothers read every piece of aeronautical literature they could get their hands on. Within three years, they had exhausted the resources of their local library. So naturally, they wrote to the Smithsonian Institute and got recommendations for further reading.
By now, they had begun to develop their own ideas on aircraft construction. And upon discovering errors in air pressure tables provided by Smithsonian scientists, they built their own wind tunnel so they could obtain accurate measurements.
Orville later reflected, "We did that work just for the fun we got out of learning new truths." But while they might have done the work for fun, they put it to good use. Their studies and observations helped them develop and refine their theories.
They built their first aeronautical machine in 1899: a biplane kite fitted with mechanically controlled wings. Then, to master gliding, they built three biplane gliders and flew them at Kitty Hawk and Kill Devil Hills in North Carolina.
The Wright Flyer
In 1903, the Wright brothers completed their first powered airplane: the Wright Flyer. Sometimes called the Kitty Hawk Flyer, it weighed 170 lbs. and sported a whopping 12-horsepower engine that ran at 1,200 rpms.
And on December 17, 1903, the brothers made aviation history with the first powered, sustained and controlled airplane flights from ground level without assistance.
Orville piloted the historic first flight, soaring 120 feet in 12 seconds. They made three more flights that day before winds damaged the plane. In the final flight of the 1903 Wright Flyer, Wilber flew 582 feet in 59 seconds.
Their Wright Flyer proved underpowered and difficult to control. But it had also proven powered flight was not only possible – it was inevitable.
Aeronautical Entrepreneurs
Following their success at Kitty Hawk, Orville and Wilbur continued to refine their design. By 1904, they were able to stay aloft for 5 minutes. And in 1905, they flew for 24 miles.
At first they had only been able to fly in a straight line for less than a minute. But now, they were flying "figure eights" for 30 minutes or more at a time. They had built the world's first practical powered flying machine, for which they received a patent in 1906.
And with that in hand, the brothers promptly began marketing their Wright Flyer at home and abroad.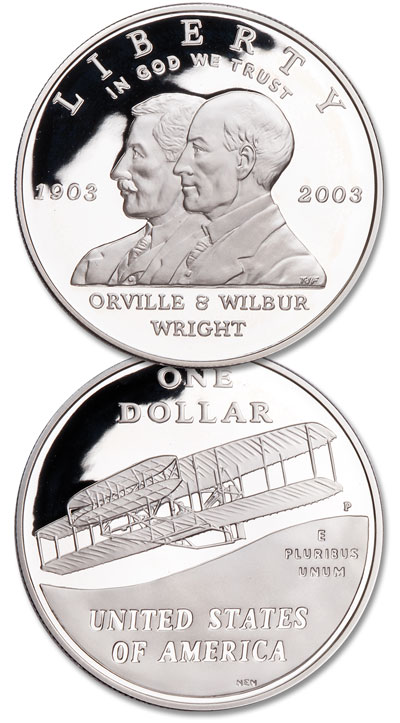 They had their first contracts by 1908, and their airplane business was off the ground. Among their first planes sold was the first military plane, the 1909 Wright Military Flyer.
Wilber died in 1912 following a prolonged bout of Typhoid fever. Orville ran their company until 1916, then sold it and built an aeronautics laboratory. He returned to inventing but remained publicly active, promoting aviation, inventing and the legacy of his historic first flight.
Orville's Legacy
On April 8, 1930, Orville Wright became the first recipient of the Daniel Guggenheim Medal, issued for great achievements in aeronautics. And on April 19, 1936, he was elected a member of the National Academy of Sciences.
Orville was also a charter member of the National Advisory Committee for Aeronautics (NACA), and served on its executive committee for 28 years until his death.
On January 30, 1948 Orville Wright died in his sleep at age 76, four days after suffering a heart attack in his laboratory. But his legacy still lives on.
Ten years after Orville's death, NACA was replaced by a new agency – the National Aeronautics and Space Agency, better known as NASA. And in 1975, the Wright brothers were posthumously inducted into the National Inventors Hall of Fame.
Over the years, the brothers have inspired countless inventors, aviators and artists. Orville's name even graces the television series The Orville and its titular starship.
And, of course, their historic first has been featured on numerous coins…
Coins featuring Orville Wright
Images of the Wright brothers and their historic first flight have graced no less than five coins struck by the U.S. Mint. Including not one, but two Statehood quarters.
First, there's the 2001 North Carolina Statehood quarter, which depicts their historic flight at Kitty Hawk, NC.
The following year, their 1903 Wright Flyer appeared on the 2002 Ohio Statehood quarter, along with astronaut Neil Armstrong and the legend pioneers of aviation.
And in 2003 – the 100th anniversary of their historic flight – the brothers were featured on three First Flight Centennial commemorative coins.
The obverse of the 2003 First Flight Centennial clad half dollar depicts the Wright Memorial at Kill Devil Hill, near Kitty Hawk, NC. While its reverse features a different view of their first flight than appears on the 2001 North Carolina Statehood quarter.
The other two commemoratives – the 2003 First Flight Centennial silver dollar and 2003 First Flight Centennial Gold $10 – share similar but subtly different designs.
Both coins feature portraits of the brothers on the obverse and their reverses feature the 1903 Wright Flyer. But while the silver dollar depicts the brothers facing left and the legendary aircraft above Kitty Hawk's sand dunes, the gold piece shows them face-on and the Wright Flyer soaring alongside an eagle high in the sky.
Which design is your favorite?
I personally find all five coins to feature handsome designs that aptly convey the excitement of that historic first flight. And while it's hard to choose my favorite, the $10 gold commemorative's obverse and commemorative silver dollar's reverse both stand out nicely.
Then again, the North Carolina Statehood quarter's reverse has a way of pulling you into the action. And I do like the Ohio quarter's inclusion of Neil Armstrong. In my younger days, I maintained satellite communications systems for the U.S. Air Force. So the space program is always close to my heart.
But what do YOU think? Which design do you like best? And do you have any – or all – of these coins in your own collection?
We'd love to hear in the comments below!
PS: You'll find all five coins mentioned above in Littleton's online store if you'd like to add them to your collection. Or to present as a gift for a history buff or aviation enthusiast.
Just click the links in each coin's description above to view each item. But remember: supplies may be limited, so order today!
Happy Collecting!
Sources
Crouch, Tom D. "Wright Brothers." Encyclopedia Britannica. Accessed January 23, 2023. https://www.britannica.com/biography/Wright-brothers
NASA. "Biography of Orville Wright." Accessed 23 January, 2023. https://wright.grc.nasa.gov/orville.htm
National Investors Hall of Fame. "Orville Wright." Accessed January 23, 2023. https://www.invent.org/inductees/orville-wright
National Park Service. "Orville Wright." Accessed January 23, 2023. https://www.nps.gov/people/orvillewright.htm
Wright Brothers Aeroplane Company. "Katharine Wright." wright-brothers.org. Accessed January 23, 2023. https://www.wright-brothers.org/Information_Desk/Just_the_Facts/Wright_Family/Katharine_Wright/Katharine_Wright.htm
Britannica.com. "Wright military flyer of 1909." Accessed January 23, 2023. https://www.britannica.com/topic/Wright-military-flyer-of-1909