Why we moved 82 tons of coins…
How 1999 was so historic
Twenty years ago, 1999 promised to be a big year. The U.S. Mint would introduce its highly anticipated statehood quarters program along with its first commemorative silver dollar to honor a First Lady and designed by famed New York jeweler Tiffany & Co.®
For its part, Littleton Coin Company planned to meet coin collectors' growing interests with an innovative map-based statehood quarter folder and a game-changing three-ring binder-style album for coins that would open and lay flat for easier use.
All good except for one thing: To be ready for 1999, the company created by collectors for collectors, needed more room. We had maxed out our 30,000-square-foot facility on Union Street and there was no land for expansion.
"We could barely turn around," remembered Sara, Littleton Coin Company's inventory coordinator who's been here for 32 years. "We were running out of parking, too."
But where to go?
In 1997, one of the last parcels of open property, about 20 acres, became available in the 380-acre Littleton Industrial Park. It was located on the other side of town. But we jumped at the opportunity to make the move in order to build a larger facility.
"We were already crazy busy to begin with," said Stan Fillion, Littleton Coin Company's controller, "so we knew it was only going to increase once 1999 got started."
Working with Bread Loaf Corporation, an architectural construction company from Middlebury, VT, Littleton Coin was able to realize a state-of-the art, 65,000-square-foot building. It was built with two parking lots. More than 7,500-square feet of glass was built into the design to let in as much natural light as possible – a feature employees enjoy. The previous address only had 20 square feet of glass.
Along with modern security, the new headquarters on Mount Eustis Road included an airy lunchroom overlooking Walker Mountain, a retail store and, eventually, historical displays that would form the basis of scheduled tours for visitors.
Temps fall below freezing
"It exceeded our expectations," added Stan, smiling at the 20-year-old memory, marveling still as he recalled the 51 miles of computer cables and the 23 miles of underground electrical cable installed as part of the build. "We could serve our customers in a better way here and expand our services to them."
"And, we only lost one day of sales," he added. With no phone service, two-way radios were the method of communicating during the move.
The convoy started on the Thursday afternoon of February 11, with five inches of snow on the ground. The temperature hovered around 26 degrees. Not the least of the logistics was moving 82 tons of coins and currency the five miles between the old and new addresses. It required a squadron of town and state police for security.
Five moving trucks from Bormann Brothers of Pepperell, MA hauled 42 tractor-trailer loads. The back-and-forth shuttle included an additional 12 tons of equipment and office furniture. Bormann sent 36 professional movers – "the nicest people" according to both Sara and Stan – while 100 Littleton employees pitched in. The transfer lasted until Sunday evening for a total of 80 hours.
On Monday morning, four days later and with phone service switched on, Littleton Coin Company was open for business.
"We've got all this room now…" said Sara, making circular motions with her hands.
"Once the statehood quarters took off we had to hire more people."
"It's good we had the space for them and the quarters!"
1999's "other" 20th anniversary
The move came none too soon. Littleton Coin employees were kept hopping by the U.S. Mint's bold decision to release five new obverse designs a year, exciting the interest of millions of new coin collectors. Each design was struck for 10 weeks only.
The new statehood quarter series started shipping in January, beginning with the first state to enter the union, Delaware. The reverse celebrates the state militia's Brigadier General Caesar Rodney's historic 1776 horseback ride to cast the deciding vote to fight for independence.
By March, Littleton Coin Company was shipping Pennsylvania quarters with ease, along with the modern commemorative silver dollar honoring the 150th anniversary of the death of Dolley Madison. Designed by Tiffany & Co.®, this first coin ever to pay tribute to a First Lady features her surrounded by a bouquet of Cape Jasmines, her favorite flower, in front of her Virginia estate's classically inspired ice house. The reverse shows the landmark estate, named Montpelier, with its columns and lush willow trees and foliage. It's still a collector favorite.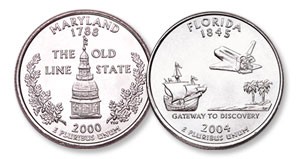 And so are the statehood quarters! On this 20th anniversary year of the statehood quarters launch and to help new collectors, Littleton is offering a 10-coin starter set of Uncirculated quarters, plus a FREE folder. Be on the look out, offer coming soon – enjoy!