Making Memories With Mickey Mouse
Happy Belated Birthday, Mickey!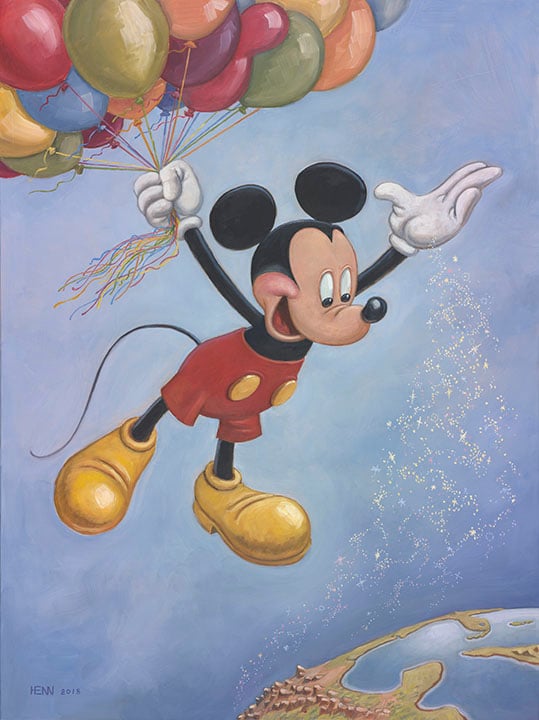 The official 90th birthday portrait of Mickey called "Spreading Happiness Around the World" (shown left) was painted by renowned Disney animator Mark Henn and portrays Mickey doing what he does best — spreading magic around the world. D23 (the official Disney Fan Club) and the Walt Disney Archives, in partnership with Walt Disney Animation Studios, commissioned Henn to paint Mickey's official birthday portrait, which was unveiled this past July at the 2018 San Diego Comic-Con.
Born during the 20th century's Jazz Age, Mickey Mouse has been delighting us for generations. He was – and still is – in the words of his creator, Walt Disney, "a friendly little guy." With the celebration of his 90th birthday in 2018, we're taking a look at some classic Disney coins with a connection to Mickey Mouse!
What better way to start than with a history-worthy break-through: the ability to synchronize moving pictures to music and audio effects. Walt Disney had already been testing the waters with animated cartoons. He took the plunge with a 7 ¾ minute short sending Mickey Mouse on a whimsical river adventure called Steamboat Willie. When it debuted on November 18, 1928 in New York City, Variety magazine wrote in its review of the black-and-white cartoon: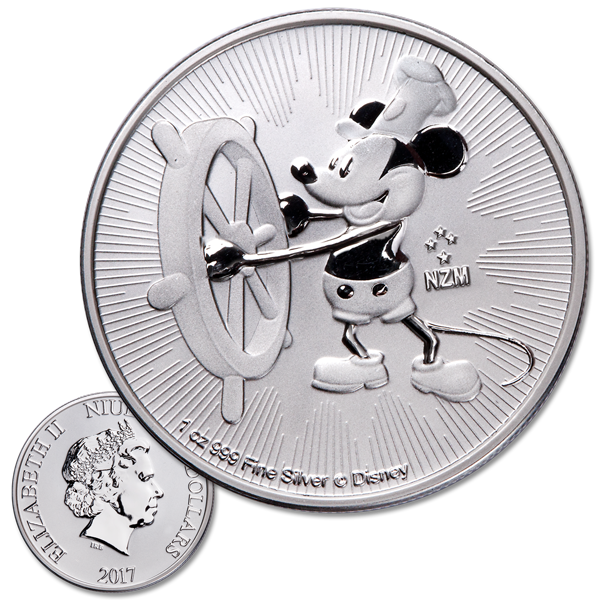 "…[Steamboat Willie] represents a high order of cartoon ingenuity, cleverly combined with sound effects. The union brought laughs galore. Giggles came so fast at the Colony [Theater] they were stumbling over each other."
This ground-breaking production eventually earned a place for Mickey Mouse on a commemorative coin, showing our fearless friend standing proudly at the wheel as "Steamboat Willie". Walt Disney went on to make 130 more animated film shorts starring Mickey Mouse and his friends.
More Mickey Movies
The next one we're looking at is The Band Concert. Representing another milestone in technology history, the 1935 short was produced in Technicolor – a first for Disney studios. The affable Mickey portrayed a band conductor hilariously struggling through a distraction-filled public performance.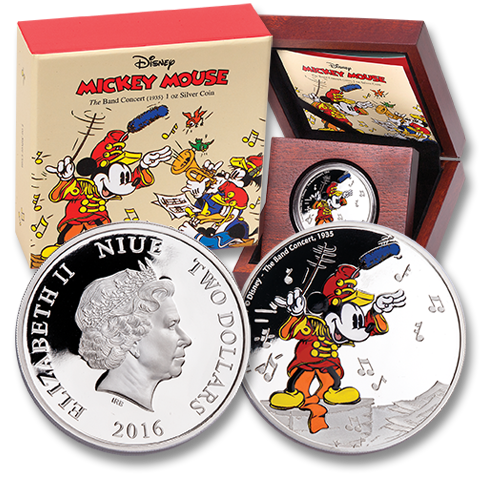 Thanks to the first issue of a new series of Classic Disney Coins from Niue, titled "Mickey Through the Ages", our popular buddy is shown in detailed color on a $2 Proof honoring The Band Concert. And we hear that music lovers are as enthusiastic as Disney fans and coin collectors about the design of this one-ounce coin struck in 99.9% pure silver!
Our Favorite Love Birds!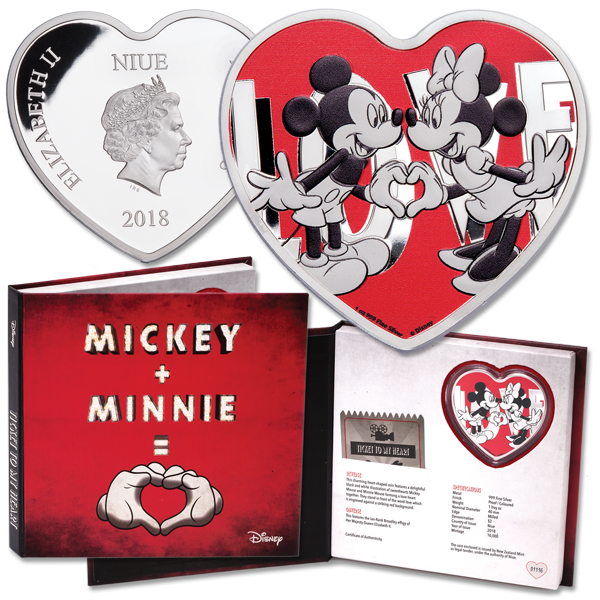 Of course, we can't talk about Mickey Mouse without mentioning the love of his life, Minnie Mouse. With Valentine's Day coming up, we believe sweethearts will want to show how much they care with this heart-shaped $2 Proof struck in one ounce of 99.9% pure silver.
If you're a traditionalist when it comes to favoring circular coins, there's the $2 Proof of Minnie giving Mickey a smooch, also on one ounce of 99.9% pure silver. You can almost hear Mickey say, "Oh, boy!"
Mickey in Gold

In 2018, Mickey Mouse saw his mighty 90th birthday honored on a luminous, limited edition $10 gold coin note engraved and colorized on one gram of 99.9% pure gold. Struck by the New Zealand Mint for Niue (both are part of the Commonwealth of Nations), the front features a profile of Queen Elizabeth II. The back shows Mickey Mouse in some of his more famous cartoon roles. With its pop-up display and commemorative box, this striking coin note makes for a dramatic remembrance of why we love Mickey Mouse!