Littleton customer finds a decades-old note from legendary representative Rena Hood!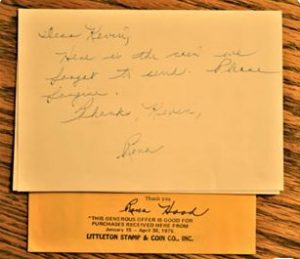 Recently, I received a special message from Illinois customer Kevin A. While going through a box that he'd tucked away years ago, Kevin found this note from celebrated Littleton Coin Company representative Rena Hood.
Kevin recently discovered this note, which was sent to him by Rena in 1974 or 1975. He said, "If one were to put a face to Littleton Coin Company, I still see the friendly image of Rena Hood! It was [an] honor to get a personal note from her, and I still get excited when I see it." We loved seeing it too, Kevin – thanks for taking the time to share!
Remembering Rena Hood
In 1950, Ms. Hood became the first Customer Service Representative hired by Littleton Coin Company. Her personable phone style inspired new representatives, and became the standard that's still followed to this day.
An avid fly fisherwoman, Rena could relate a bear or fishing story, give collecting advice, take an order, and catch up on a patron's family life – seemingly all at once. Her cordial letters delivered individual attention to collectors everywhere.
Her unique style was adored, and her honest, homespun notes and letters to customers were filled with sound advice. She received thousands of customer letters, phone calls and personal visits throughout her career – in fact, many customers traveled long distances to Littleton, NH to meet this person who had been so thoughtful and helpful!
Collecting from an early age
Kevin fondly recalled receiving coins from Littleton Coin Company as a kid, saying that his collecting obsession started when his mother gave him "penny books" when he was 5 years old, so that he could begin a collection from his change! From there, he discovered the joy of Littleton's "on approval" service. His shipments would always arrive with a printed letter from Rena Hood, so "early on I learned her name and discovered she was the 'customer service' person."
One day, he received this handwritten note from Rena and he "…was thrilled! I knew it was not printed, but a personal message from Rena Hood! I put it away… I knew she was a legend at Littleton Coin."
An LCC Legend
She truly was! Her legacy lives on today with the Rena Hood/Bart McKinney Scholarships. These $2,000 scholarships are awarded annually to students who are children of employees.
A huge thank you to Kevin for sharing this memory with us. For everyone else out there – what has been your favorite Customer Service experience with Littleton Coin Company?