Forget about BitCoin – the future is plastics!
Who remembers the one-word career advice actor Dustin Hoffman's talented, but aimless character received in the 1967 movie, The Graduate? During a party thrown by his parents to celebrate their son's college completion, a family friend leans in to the jobless grad and whispers:
"Plastics."
It's been a while since 1967. But if the growing presence worldwide of polymer notes is any indication, the future that is "plastics" has finally arrived.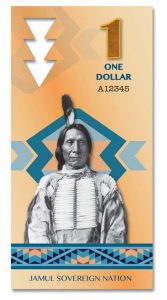 In a blog a few weeks ago, we highlighted the only Uncirculated U.S. polymer notes to date. They were approved earlier in 2019 by the Jamul Tribe of California. The bank note set features six Native American chiefs. Recognized as a sovereign nation by the U.S. government, the Jamul Tribe is legally authorized to issue its own commemorative currency. The notes only are available in North America from Littleton Coin.
Also, as we were finalizing Littleton Coin's 2019 autumn Showcase catalog, we wrote about a 1,000 Pesos polymer bank note from Chile. It's part of a four-note set with spectacular heritage designs from South America. We have other examples on our website, but before we share a few, let's put a finger to the wind and take a look at how plastics flew into the numismatic slipstream.
Hot and Humid
The first known attempt at polymer notes took place in the Caribbean. It's a tropical environment that causes paper currency to deteriorate at a faster rate than in more moderate climates. In the very early 1980s, Haiti experimented with six denominations.
The notes were made by combining flash-spun polyethylene fiber technology from DuPont (known by many consumers as Tyvek®) and printing know-how from the American Banknote Company. Unfortunately, the ink smudged. When the trial came to an end, so did the use of plastic notes on that island nation.
Great Britain tried a similar approach on the Isle of Man in 1983 with the £1 note. It ran into the same ink-smudging challenge as Haiti.
Over the next 32 years, improvements in manufacturing technology took place. The next time Britain tried plastic, it experienced success. In 2015 it produced a £5 polymer note on the 50th anniversary of the passing of Sir Winston Churchill. Littleton Coin offers this note on a stylish presentation card.
Foiling the Fraudsters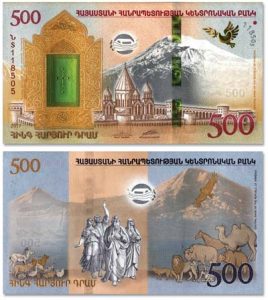 As you might suspect, polymer's role in currency protection really emerged from the always-present need to thwart counterfeiters. To close the security gap between paper and plastic while keeping new production costs in check, many countries turned to hybrid polymer notes.
Currency collectors and history fans got excited about this Crisp Uncirculated 500 Dram Note from the Central Bank of Armenia. Produced in 2017, its award-winning design commemorates Noah's ark. Archaeologists excavating the summit of Mt. Ararat in 2010 believed they found it.
Included in the design is a green-gold security feature made from polymer and styled after the cabinet in which an ark relic is kept at Etchmiadzin Cathedral. Take a look at this nifty, five-minute video showing how this hybrid polymer note was produced.
Full-On Polymer
Had the lead character in The Graduate gone into plastics more than 50 years ago, he might be sitting pretty – in the Land Down Under. Back then, the proliferation of false bank notes raised red warning flags in Sydney. In 1968, the Reserve Bank of Australia put together a currency notes research and development team to come up with ideas for increasing its paper currency's security.
Eventually, the R&D team developed a range of optically variable security devices. One was a see-through panel. Another was a design feature known as slit interference, which splits light into several beams.
In 1988, Australia successfully released a $10 bicentennial polymer bank note with these features, and didn't look back. It now offers its know-how to central banks in over 30 countries.
One of those countries is neighboring New Zealand which has "gone polymer." Its new flat currency is produced by Note Printing Australia. Polymer sheets are manufactured by Securency Pty Ltd, a joint venture between the Reserve Bank of Australia and UCB SA of Belgium, a biopharmaceutical company headquartered in Brussels.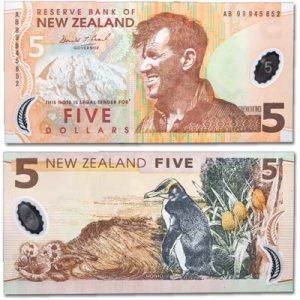 The third polymer note to be produced for the Reserve Bank of New Zealand honors the country's most famous son Sir Edmund Hillary. Hillary was one of the first two men to climb Mount Everest in the Himalayas and the first to drive to the South Pole. His unconventional vehicle was a Ferguson tractor, also shown on the note's front. A yellow-eyed penguin and a Ross lily are some of the native species depicted on the back.
Among the security features in this $5 plastic note are two clear windows, one in the shape of a silver leaf and the other an oval with the numeral 5 in the center; a shadow image of Queen Elizabeth II that appears when the note is held to a light, and the number 5 that appears when the note is exposed to ultra violet light.
For beginning currency collectors, polymers are often more affordable than traditional paper currency. To collect these early issues means getting in on the ground floor of the future. "Plastics" – the career advice from 1967 – is in 2019 a one-word tip for numismatists.