Eyes on These Eagle Tails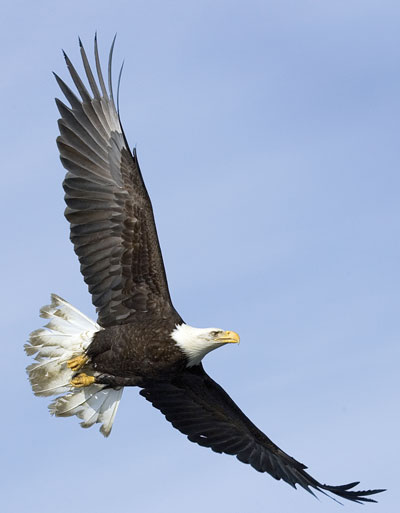 The fearless eagle has been part of our American story for 240 years. It almost wasn't. If Ben Franklin had had his way, our national bird would have been a turkey! Building consensus for which bird to put on our new nation's seal created a stalemate. But it also created time for a fresh drawing. A stately eagle holding a military shield found favor in 1782, and we've never looked back.
Five years later, the powerful "horned eagle" was struck on the reverse of a one-cent issue from Massachusetts. Then, after passage of the federal Coinage Act of 1792, the raptor finally took off as a symbol of authority on circulating U.S. coins. Let's look at a few noteworthy eagle designs and their captivating stories.
Cast in Gold and Silver
By design, not coincidence, 1792 also was the year the new U.S. eagle shield was struck as the reverse on a gold pattern coin. The obverse profiled then-president George Washington. However, Washington stood with our other Founding Fathers, who had just liberated the new United States from a kingdom whose monarchs appeared on its currency. Our nation's leaders did not want their images appearing on newly minted U.S. coins.
Émigré Robert Scot, the U.S. Mint's first chief engraver, came up with the initial heads and tails for a $10 gold eagle coin. But when a new obverse was called for, the pattern piece was gifted to Washington, who carried it for good luck. Since our first president's 1799 death, only a handful of fortunate collectors have owned this unique pattern coin. It last sold at auction for $1.74 million in 2018. Littleton Coin is able to offer exclusively a handsome 24K gold-plated Eagle Replica of that Washington tribute.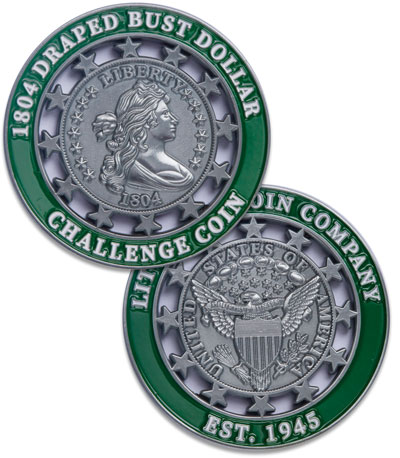 Yet, that's not the only multi-million-dollar eagle shield design by Scot! The man, who earlier in life honed his keen eye for details as a silversmith and watchmaker, designed a Liberty silver dollar in 1804. It's usually identified as a Draped Bust Dollar. According to The Official Red Book, only eight 1804 silver dollars are known to exist. Graded Class 1 for its first reverse, in which the letter O appears above a cloud, one sold at a 2021 auction for $7.6 million – that's an increase of just about 55% over its 1999 auction price of $4.14 million!
As with the gold-plated Eagle Replica, Littleton Coin offers that rare 1804, Class 1 design in a more affordable issue. Layered in silver, here it is as a collectible challenge coin, right down to the letter O directly over a cloud, a distinguishing detail in Scot's Class 1 Eagle Shield reverse. Over the following decades and from successive designers, the Eagle Shield reverse became more fully realized until it came to be called the Heraldic Eagle. But the eagle didn't always front a shield.
Can One Year Make a Difference?
Beaux Arts sculptor Augustus Saint-Gaudens was raised by his French-Irish family in New York, then went to Europe for additional art studies. Sometime after his return, President Theodore Roosevelt, stepping outside U.S. Mint protocol, invited the rising artist to submit designs for new coinage.
Saint-Gaudens' Liberty striding forward, the sun's rays adding drama to her purpose set a new standard. Yet the coin was nicknamed the double eagle, both for its denomination (twice a $10 coin) and for the profile of the eagle effortlessly gliding across a rising sun on the reverse. On the $10 gold coin, Saint-Gaudens' reverse eagle is at attention on the symbolic fasces.
After President Franklin D. Roosevelt initiated a gold recall, none of the 1933 coins were thought to have survived the melting pots…until an Uncirculated 1933 pair were donated to the Smithsonian.
Then a single Uncirculated $20 Saint-Gaudens turned up in deposed Egyptian King Farouk's possessions in the early 1950s, only to disappear. It's believed to have resurfaced in the 1990s. At a 2002 auction, it sold for a whopping $7.59 million.
Public curiosity doesn't end there, according to the fascinating CoinWorld article cited below. Neither does the desire to add this gold coin – in some way – to a collection. Littleton Coin can help you do it with an exquisite 24k gold plating of the 1933 design.
But if you aspire to own a pre-melt, 1909-1932 Saint-Gaudens $20 Gold Double Eagle that's been graded by our experts and certified by the Numismatic Guaranty Company, check out this luminous and Uncirculated issue!
Let's Return to Earth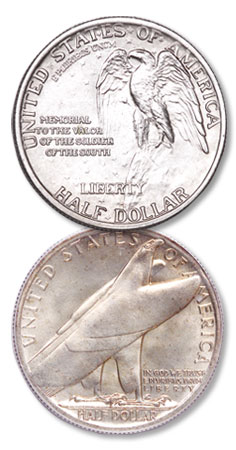 So far, we've looked at the eagle with the shield, in flight, and at attention on U.S. coins. Now, let's take a quick look at the national bird perched on a mountain crag, its wings about to spread. Sculptor and Idaho native Gutzon Borglum came up with the heads and tails for the Stone Mountain Memorial silver half dollar struck in 1925. The Eagle reverse includes 35 faint stars scattered across the field and the inscription: memorial to the valor of the soldier of the south.
Compare that Eagle reverse with this Art Deco-inspired design 11 years later. It was for the 1936 Bridgeport, CT Centennial. Immigrating from Germany, stone cutter-turned-sculptor Henry Kreis was a Works Progress Administration (WPA) artist during the Great Depression. He was awarded the contract to design the commemorative silver half dollar. Bold geometric shapes define the Eagle reverse, making this tail one of the more unusual designs to collect! What do you think?
Sources:
Accessed 9/6/22: "NGC Certifies Newman's 1792 Washington Gold Eagle." CoinNews.net. Accessed September 6, 2022. https://www.coinnews.net/2018/06/14/ngc-certifies-newmans-1792-washington-gold-eagle/
Franklin Institute. "Did Benjamin Franklin Want the National Bird To Be A Turkey?" Accessed September 7, 2022. https://www.fi.edu/benjamin-franklin/franklin-national-bird
Brothers, Erc. "The 1933 Double Eagle America's Most Notorious Coin." Accessed September 21, 2022. https://coinweek.com/us-coins/the-1933-double-eagle-americas-most-notorious-coin/
ConnecticutCreativePlaces. "Henry Kreis." Accessed Sept. 6, 2022. https://connecticutcreativeplaces.org/people/kreis-henry