Convenient Collecting with Coins on Approval
First-edition, hardcover
Once upon a time, amassing anything – coins, stamps, postcards, first-edition books – involved going to a trade show or looking at what was available in a bricks-and-mortar store. But after World War II, Littleton Coin Company's founder, Maynard Sundman, vastly improved how hobbyists could put together a collection. He did it by designing a friendly and efficient Coins-on-Approval Selection Service done entirely by mail and based on trust.
How does it work?
From newcomers to seasoned enthusiasts, you agree to receive regularly a pre-selected assortment of coins you can evaluate for yourself. You have the choice to approve all, some or none. You have 15 days to consider. Then, you send your payment by check or credit card and/or return unwanted selections back to us.
"Automatically sending a variety of coins for me to view…is a great idea! Coins that I never thought of trying to collect are simply irresistible once you see their beauty up close," E.T., of Homestead, FL, told us.
"I am enjoying the convenience of having a company who is 'collector friendly'!" added P.H., of Mechanicsville, VA. "This has helped me build my collection without leaving my home…"
Collecting Ease
Individual preference is what leads anyone to sign up for a specific club. Participation is what allows you, a club member, to focus on acquiring desired coins. For example, you might only be interested in finding all date and mint marks for every silver Mercury dime ever issued. Or, your scope might be wide and deep to encompass all U.S. dimes ever struck by any U.S. mint.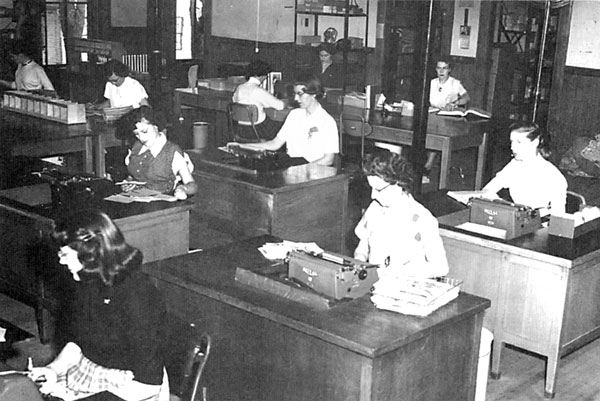 Legendary customer service representative Rena Hood, back row, center
"From the selection that you offer, I managed to finish the Lincoln cents and Buffalo nickels sets this year. The service is great!" S.C., of Englewood, OH told us.
Thanks, S.C.! We're glad the assistance we provide to collectors like yourself is appreciated. It's one we've honed since the early days, when Littleton Coin Company's legendary Rena Hood set the standard for friendly, knowledgeable customer service. That tradition has not gone unnoticed.
"You have the most polite customer service that I have received from any place, and I hope to have more wonderful orders with Littleton," B.A., of Westminster, CO, wrote to tell us. "Thanks for letting me collect with you."
Budget Friendly
Littleton is responsive to how you allocate your discretionary money for your favorite hobby. D. S. of Fayetteville, N.C. wrote us to ask: "I wondered if you could custom design a club… [I have] a monthly limit on my hobby… Do you think that this is possible?"
Yes! The variety of ways to receive Coins-on-Approval is huge. By grade? Littleton Coin can do that. Dates/mints, to use collectors' shorthand? We can do that, too.
Frequency of receiving selections: Once a month? Every two months? Every three? Just let us know!
You can also customize the selections based on your monthly spending plan. Plus, you can put a temporary hold on your collecting, or cancel at any time.
"Perfect for a newbie on a budget," according to L.G., of Decatur, GA. "I like the monthly coins in the mail… I can pick and choose the ones that fit my needs."
Adds B.B. of Baytown, TX, "I also like the fact that if you are in two clubs, [Littleton] will alternate months with each club so I am not hit with two payments at one time."
Not only can Littleton's Coins-on-Approval Service be tailor-made, every dollar you do spend equals 10 Rewards Points in Littleton's popular customer thank-you program.
"Your Coins-on-Approval Service is great… I also love the [Rewards Points], which helps my collecting budget," wrote C.S., of Ontario, NY.
The Trust Factor
Littleton Coin works hard to earn your trust. It's part of our founding DNA. You'll discover in the pages of A Decent Boldness, Maynard Sundman carefully developed his first approval selections because it was important to establishing long-term relationships.
"Because the customer is not right there with you in the store… they must know you value their at-a-distance trust in you through your long-term commitment to personal attention paid to them… Mail order retailers sell products, customers, and faith in promises made by strangers at a distance…When done right, all the best sides of human nature come through with ribbons."
From all the customer feedback we field here at Littleton Coin, C.H. of Pleasant Shade, TN might sum it up best:
"The orders I receive exceed my expectations. This is an unheard of opportunity for anyone building a coin collection. Most places will only let you see, under glass, what you are buying, while Littleton sends directly to your door. Trust and honesty work hand in hand."