Why collectors enjoy "Ike" Dollars – our last large-size circulating $1 coins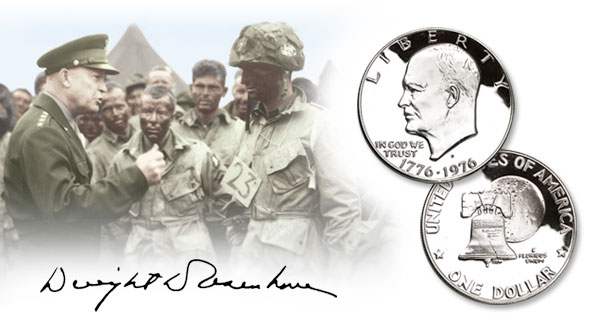 Struck for only eight years from 1971-1978, Eisenhower dollars were America's last large-size circulating $1 coins. And though the series was brief, it has many interesting attributes to attract and hold the attention of coin collectors.
A complete series collection is affordable and attainable.
America's brief but historic "Ike" dollars of 1971-1978 are especially appealing to coin enthusiasts because a complete series collection – which includes both clad and 40% silver regular issues as well as both clad and 40% silver Proofs – can be assembled for a modest cost compared to the much lengthier current series of cents, nickels, dimes, quarters and half dollars, and compared to scarcer series from the past.
The last of America's large, authoritative $1 coins
The Eisenhower dollar marked the end of an era, when coins representing the basic U.S. monetary unit of one dollar were considered flagship coinage and thus were big, weighty, impressive and bold. And from the first dollar coins issued in 1794 through the legendary Morgan dollars of 1878-1921 and beautiful Peace dollars of 1921-1935, America's $1 coins were struck in 89.24% or 90% fine silver. Dollar coinage was halted after 1935, until the 1971-1978 Eisenhower series served as an encore for large, authoritative U.S. dollars (currently produced dollar coins are just slightly larger than a quarter).
Honoring a man who led the nation on the battlefield and in the White House
Serving as Supreme Allied Commander during World War II, General Dwight D. Eisenhower planned the successful Allied landings on North Africa, Sicily and Italy, before coordinating and directing Operation Overlord. This massive and pivotal D Day invasion of Normandy, France turned the tides of war in favor of the Allies.
"Ike" Eisenhower's outstanding military leadership during and after WWII made him so popular and so trusted by the American people that in 1952, both parties wanted him to be their presidential candidate. Accepting the GOP nomination, he defeated Democrat Adlai Stenvenson in an electoral landslide of 442-89.
The reverse honors the 20th century's greatest scientific achievement.
In 1958, just months after the Soviet Union launched the first manmade satellite Sputnik I, President Eisenhower established the National Aeronautics and Space Administration (NASA) and the Space Race was on.
When Eisenhower dollars were introduced in 1971, two years after Ike's death in 1969 and the first manned landing on the moon in the same year, it made sense to honor the space program with a reverse design featuring the Apollo 11 insignia. This historic moon landing was the culminating achievement of the NASA agency founded by President Eisenhower 13 years earlier.
Silver issues, a special bicentennial design, and prominent varieties
While Uncirculated and Proof Eisenhower dollars were struck in the same copper-nickel clad composition as dimes, quarters and half dollars of the era, limited quantities of "Ike" dollars were struck in 40% silver for collectors in both Uncirculated and Proof versions from 1971-1976.
All coins minted during 1975-1976 display dual 1776-1976 dating for the nation's 200th birthday, and feature a special reverse design of the Liberty Bell superimposed upon the moon (representing 200 years of progress from the Declaration of Independence to manned lunar landings). Low-relief and high-relief varieties add further collecting interest to the 1971-1972 "Ike" dollars and 1975-1976 bicentennial issues.
Do you collect "Ike" dollars? Please share any thoughts or comments about these last large-size circulating dollar coins.