Exploring the tradition of placing Coins in Foundations of Homes for Luck!
I'm always fascinated when I come across a new tradition involving coins (like the money cake, or coins left at grave sites). Here's one that was new to me: placing coins in the foundation of a newly-constructed home to bring the owners luck!
Turns out, placing items inside a home dates back to the time of the pyramids1. Some cultures would even bury a horse's skull under a home's floor or under a fireplace hearth. The hope was this would ward off evil spirits.
Today's traditions are far more tame (by our standards!). One of the most popular is signing or writing blessings on the interior walls or joists of a home before they're drywalled.
A hidden good luck charm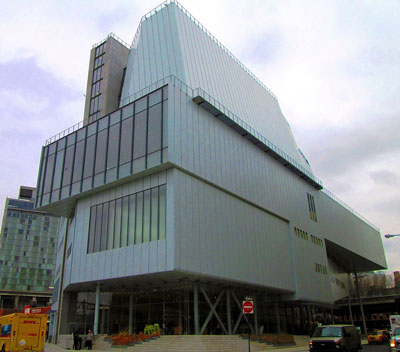 Another popular tradition is to place coins within a new home's foundation! As a coin enthusiast, this is at the top of my list of favorites. The coins are typically thrown in either just before the form is poured, or as it's being poured. Sometimes, folks will keep track of "where" in the house their coins are located – other times, they just become a happy memory for the family.
Coins were even included in the foundation of NYC's new Whitney Museum of American Art building in 2012. What a great way to shine some positivity on a new business or family home!
The Nickersons & Cape Cod
An interesting story with very loose ties to this tradition comes from a place that's near and dear to me – Cape Cod. My family enjoys vacationing in Brewster – and it's not far from there, in Chatham, MA, that four colonial-era coins were found during an excavation at the Nickerson Homesite.
William and Anne Nickerson came to Cape Cod around 1664, having emigrated from England nearly 3 decades earlier. Nickerson purchased a tract of land that would one day become the town of Chatham and his family – alongside other settlers – worked to tame the land. Today, William is famed throughout the area as the "father of Chatham".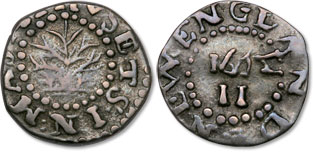 In 2018 and 2019, during an excavation of the William Nickerson homesite, four coins from the 17th century were unearthed. Though three of the four coins in the group were either English or Irish, one was an oak tree silver sixpence coin dated 1652! This find indicates that there was likely a good bit of commerce conducted here! Visit our Learn Center page to discover more about America's First Coinage – including Oak Tree designs.
Now, there's no saying that the coins were purposefully placed in the home according to the tradition mentioned above. However, it is held that centuries ago, folks in Ireland would bury a coin in a new house's stone foundation. And one of the coins found at the Nickerson Homesite – an Irish copper halfpenny – was found in the hearth brickwork.
It's one of the many joys of collecting – imagining the stories that could be behind the coins you hold, and what they may have seen over the years.
1 Kelly, Caitlin, "The History Hidden in the Walls" (New York Times), January 20, 2017. Accessed March 8, 2023. https://www.nytimes.com/2017/01/20/realestate/the-history-hidden-in-the-walls.html