When Coins and Musicians Meet Up
It's no secret that coin collectors are enthusiastic about a wide range of subjects, from sports and stamps to cooking and travel.

Then there's music. It's a pastime that brings people together – whether you're the performer or the listener. Around the globe, World Music Day – also promoted as Make Music Day – takes place every year on June 21.
Did you know you can collect music history and heritage on coins? Here are a few examples from our online coin store, including one that may surprise you!
Give Peace a Chance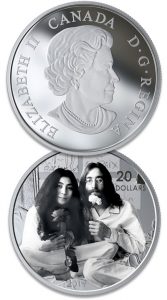 The Royal Canadian Mint struck this stunning black-and-white $20 Proof coin in 99.99% pure silver for the 50th anniversary of performance artists John Lennon and Yoko Ono's famous "bed-in for peace" during the politically turbulent year of 1969.
"We knew whatever we did was going to be in the papers," Lennon said. The musical couple wed in March in Gibraltar and then honeymooned in Amsterdam. "We decided to utilize the space we would occupy anyway, by getting married, with a commercial for peace."
In May in Montreal, the couple staged a second "bed-in for peace" at the luxury Fairmont Queen Elizabeth Hotel. While greeting visitors and granting interviews to journalists, Lennon wrote "Give Peace a Chance." With Ono and an assortment of musical friends who were in attendance, Lennon had the song recorded on June 1. It went on to become the most famous rallying call of the era's anti-war movement.
Take the 'A' Train
The U.S. Mint's hugely popular Statehood quarter series included the nation's capital, plus its five U.S. territories. To honor Washington, D.C. in 2009, native son and musical prodigy Duke Ellington seated at a grand piano was chosen for the reverse design.
"Like many great Americans who succeed in what they love doing, Duke Ellington was equal parts talent, hard work, passion, and perseverance," said then-U.S. Mint director Ed Moy during a ceremony at the National Museum of American History. "When Americans look at this coin, they will remember the man and his art, as well as the place where both were born and nurtured – the District of Columbia."
Inspired by the syncopation of ragtime plus blues-based melodies, Ellington stood out as a jazz and swing big band leader and composer. He did it by showcasing his musicians' individual sounds and talents. He wrote such now-classics as "Satin Doll," "Don't Get Around Much Anymore," "Perdido" and "It Don't Mean a Thing" – over 3,000 song titles!
The 2009 statehood quarter for Washington, D.C. also carries the words "Justice for all." They are the capital's motto. They also honor Ellington's commitment to civil rights. He supported the NAACP. Its initiatives were gaining ground in the 1930s when Ellington was at his height touring the country. The jazz legend was also the first African American to appear solo on circulating U.S. currency.
Singing Bowls
You know Ben Franklin as an inventor, a statesman, and a signer of the Declaration of Independence. But did you know he also played the glass harmonium?
Once wildly popular in the late 1700s, this curious instrument is also called a bowl organ, armonica, harmonica and singing glasses. It was all the craze while Franklin lived in London from 1757 to 1775.
So enchanted by the sounds wet fingers against spinning glasses could make, Franklin worked with a glassblower to make a custom instrument. An iron rod ran through the center holes in each of the differently sized bowls. The rod was then attached to a wheel, which was turned by a foot pedal. Moistened fingers touched to the edge of the spinning glasses produced the desired musical sounds. Franklin, who had already mastered the harpsichord, violin, cello, harp and guitar, now had a new instrument to play for friends in colonial Philadelphia.
Said Franklin, "Of all my inventions, the glass armonica has given me the greatest personal satisfaction."
To honor Franklin, his glass harmonium – and with a hat tip to his publication "Poor Richard's Almanack" – Littleton Coin created a special Showpak®. It features a Franklin half dollar in 90% silver with one of the almanac's most famous wit-and-wisdom sayings: "Glass, china and reputation are easily cracked and never well mended."
Surprised? We were. We also think this music-inspired Showpak makes for a terrific conversation starter, or even a gift if you're invited for dinner or to a recital at a musician's house.
Besides the coins and entertainers mentioned here, are there any you'd like to see honored in this way? Drop us a line and let us know!