First ever "P" Mint Mark Penny struck to honor the Philadelphia Mint's 225th Anniversary
For the first time ever, the Philadelphia Mint struck pennies with a "P" mint mark catching collectors by surprise. Created to honor the 225th anniversary of the Philadelphia Mint, which opened for business in 1792, the 2017 Lincoln Shield cents with P mint marks have quietly been released into circulation. According to Coin World, the mint wanted to see how long it would take before collectors would notice.
Nation's only mint for nearly 50 years!
The workers at the mint came up with the idea as a way to recognize their hard work and the mint's achievements. As the nation's first mint the
Philadelphia Mint
struck its first official coins for circulation in 1793. For many years it was America's only mint. It wasn't until 1838, nearly 50 years later, when gold was discovered in Dahlonega, GA and Charlotte, NC, that the first branch mints opened. From the time the Philadelphia Mint struck its first cent until this year, no 1¢ coin has had the "P" mint mark. So this year's special issues will be one-year types.
One-year-only coins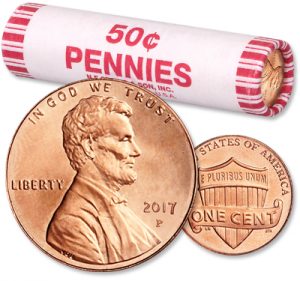 These one-year-only Lincoln cents were first released into circulation at the beginning of January and shortly thereafter a sharp-eyed collector discovered one in North Carolina. In 2018, the Shield cent will return to its usual "no mint mark" format. The special "P" mint mark cents will be part of the 2017 Uncirculated Mint Set and are available here as single coins. The mint's surprise gift to collectors adds some excitement to the hobby. Have you spotted one yet in circulation? Let us know… Til then, keep your eyes open… you never know when a Philadelphia "P" cent will turn up.