Are you loyal, lively & courageous?
2018, the Year of the Dog, is your time to shine


Like man's best friend, people born during the Year of the Dog are faithful friends, intelligent and always ready to comfort someone who is down. Dog years include: 1934, 1946, 1958, 1970, 1982, 1994, 2006 and 2018. If you're born during one of these years, your lucky numbers are 3, 4 & 9 and red, green and purple are your colors.
Chinese New Year's festivities for 2018 began on February 16th and ushered in the Year of the Dog. The dog is the 11th animal of the Lunar Calendar and is one of the six domestic animals raised by the Chinese – the others are the ox, horse, goat, rooster and pig. The remaining six, found in the wild, (12 animals in all) are the tiger, rabbit, monkey, rat, snake and the fictitious dragon.
Traditional calendar based on a 12-year cycle
Chinese New Year is movable, dictated by the lunar cycle (opposed to our familiar Gregorian calendar) and held the first day of the first lunar month during a new moon. The traditional Chinese calendar is based on a rotating 12-year cycle with each year linked to an animal.
According to the story, Buddha asked all animals to meet him on New Year's Day to celebrate, but only 12 showed up – the: rat, ox, tiger, rabbit, dragon, snake, horse, sheep (ram or goat), monkey, rooster, dog and pig (or boar). To reward them, he named a year after each animal and New Year's day marks the start of a new animal's reign.
Bad luck swept away – ready for a clean start
Before the celebration, houses are cleaned to sweep away bad luck. Then on New Year's eve families gather and festivities begin. New Year's eve meal is one of the most important, and symbolizes the bounties of a year of hard work. Families enjoy many different dishes, but dumplings (similar to the shape of old gold and silver ingots) are important because they symbolize wealth and prosperity.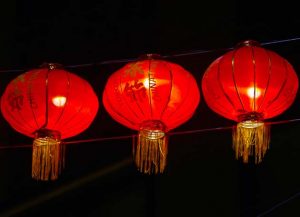 Red is the color of Chinese New Year, associated with luck and fortune! Red lanterns are hung by doorways to ward off bad luck, red paper is used for cut-outs and for "Fu," an expression of hope for good fortunes. Red envelopes, containing "lucky money" are given to children. Then at midnight, firecrackers explode in a red-yellow light to drive out the old year – 2017 Year of the Rooster – and welcome in the new, the Year of the Dog.
During the Year of the Dog – 2018, I'd like to wish you a year of health, happiness, good fortune and prosperity!
Do you know your Chinese zodiac animal? Click here to find out.