Where Did Modern Coin Folders and Albums Come From?
The Evolution of Organization
I can still remember my first coin folder – I was about 7 years old when Dad gave me a blue book that I could keep my Jefferson nickels in. "It's a great way to save them," he said. With his help, I'd filled in quite a few holes… until the day I decided on a whim that I had JUST ENOUGH "saved" in there to get a little toy at the local Ames department store. Dad chuckled when I showed him what I'd done… I think he was just relieved he hadn't started me off with Buffalo nickels!
Coin folders are a fantastic way to get both children and adults alike into collecting (as long as the coins stay there once they're put in!). There's a definite feeling of satisfaction when, slowly but surely, you start to see those neat little lines of punched holes filling in. When first invented, coin folders and albums gave the numismatic hobby a big boost!
Before the 1930s, the best way for collectors to store their coins was in big, expensive coin cabinets. Because of their cost, these cabinets meant that the hobby was limited to those who were well-to-do. Then, in 1929, the Beistle Company began marketing their Unique brand of coin albums. The pages were made of heavy cardstock covered in paper on both sides, with cellophane to hold the coins in place. Each page was hole-punched on the side to fit into a binder.
Suddenly, organizing a coin collection became a little more economical and MUCH more convenient. Almost immediately, numismatists went from collecting coins by type, to assembling their collections by date and mint mark. Just over a decade later, Beistle's patent was sold to Wayte Raymond, who changed the brand name to National. But these early albums were still relatively high priced.
When the Great Depression hit, Joseph Kent Post (an engineer at the Kimberly-Clark Corporation) found his number of hours at work cut dramatically. So he began to develop a lower-cost "coin card" for collectors. It only offered viewing of one side of each coin, but was much more affordable. The first "penny boards" were sold in the mid 1930s, and blew the proverbial top off the hobby – they made coin collecting available to everyone!
It wasn't long before World War II came to the U.S., and rationing went in to effect. Industries across America were charged with wartime production, meaning that the manufacture of paper products took a back seat. By then, penny boards were already beginning to wane in popularity due to the Daniel Stamp Company's (now known as Dansco) invention of the coin folder.
One of the biggest drawbacks to the penny boards was their limited space. Once the page was filled, there wasn't room to expand for a growing collection. Folders – cardboard pages with "ports" (holes) punched into them – could hold more coins, and the pages were able to fold up compactly to store on a shelf.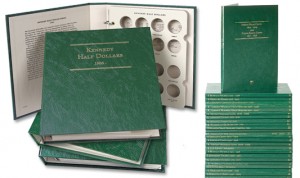 It's been more than 70 years since albums and folders first made numismatics a hobby for the masses. During that time, innovations have improved their designs – in the 1990s, Littleton's line debuted, with their green line of popular "lay flat" albums, and easy-to-use folders – but one thing remains unchanged. These portable books continue to make coin collecting a fun and enriching hobby – all at a glance.
For more information on early coin boards, David W. Lange's book Coin Collecting Boards of the 1930s & 1940s is an excellent reference!