What's in a grade?
Breaking down the differences between Select LCC graded coins & our #2 quality pieces
One of the questions we receive regularly from customers is, "What's the difference between your originally-graded coins, and your coins that are labeled as #2 quality?"
According to Littleton's official U.S. Coin Grading Standards, #2 Quality is defined as:
Coins clearly labeled as "#2" quality within their designated grade, and priced according to condition at a discount appropriate to the grade.
Recently, I had the chance to chat with Trevor – a member of our professional grading staff who's been grading with Littleton Coin Company for just over 8 years now. He had some fantastic behind-the-scenes insights on the differences between grades that I wanted to share with you!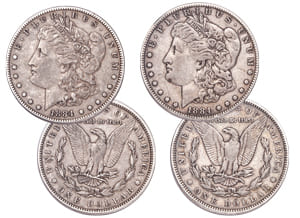 1884 Morgan Silver Dollar, Very Fine (left), Very Fine #2 (right)
An eye for quality
Trevor was really knowledgeable about the difference between a "Select" Littleton Coin Company coin and one labeled as "#2" quality. He explained it to me as, "basically, in any batch of coins, you'll have the top 20% or so that are just immaculate. They're right for the grade, show all the right characteristics, and have an appropriate amount of wear. Then, we'll see coins that are still really good quality, and really solid for the grade… but they might have a bag mark, or a rim ding that detracts from the overall appearance. They're still right for the grade as far as industry standards, but there's just some slight imperfection that means they don't meet Littleton Coin Company's strict criteria for Select coins."
In other words – Littleton is picky! We want to bring you the best possible coins for your collection, no matter the grade you choose. However, we also know that there are a lot of coins out there that are solid for their grade – and we don't want our customers missing out on those, too!
Focusing on the details
1907 Indian Head Cent, Very Fine (left), Very Fine #2 (right)
Wanting a better understanding myself as to how our graders operate, I asked Trevor how they manage to separate the "Select" LCC-quality coins from the "#2" quality. He used his process for grading our Indian Head cents as an example. Working with a large group of coins, he'll divide the coins into "rejected," "Genuine," and "grades."
Following this initial pass, he takes a closer look at the fine details of each coin that falls into the "grades" category. These coins are separated out into their official grading category – including those that fall under the "#2" designation for their grade. Trevor says that, "our #1 coins stand out pretty well, especially on copper. Even on silver or nickel, really. As you flip through the coins, you get used to a certain standard, and can easily pick out cleaned coins or rim dings. But even with the #2 quality, coins are just so much better than all others in the group (compared to those we don't accept)."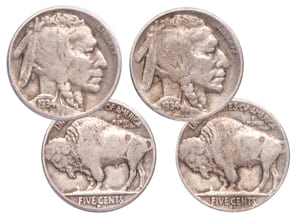 1934 Buffalo Head Nickel, Very Fine (left), Very Fine #2 (right)
The best of both worlds
One of the best parts of our #2 quality coins? "They're definitely a more affordable option for our collectors. They make a great way to fill an album or folder – especially for those harder-to-find issues. Whether someone prefers Select graded coins or #2 quality coins is all up to personal preference, but rest assured that these coins are still solid for their grade."
Trevor also said that he enjoys being one of Littleton Coin Company's coin graders because, "no two days are the same. We get in such a variety of coins, that you're never doing the same thing twice. Even if it's two bags of the same coin type – you never know which one has a surprise waiting inside!"