Silver American Eagles a big hit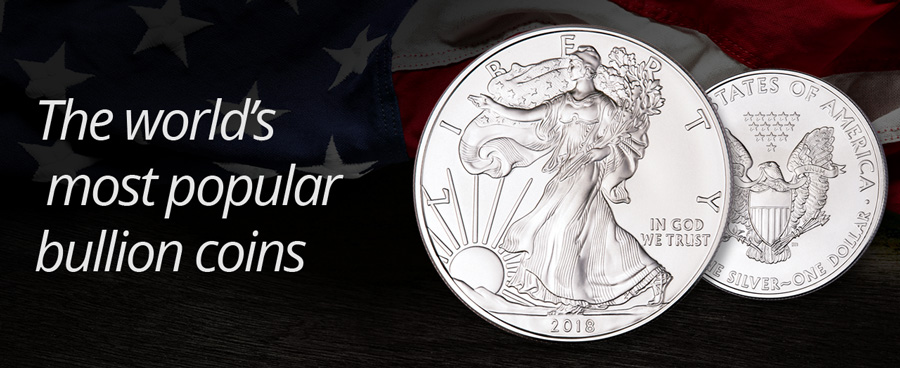 The U.S. Mint has had its share of unsuccessful coin programs. But the Silver American Eagles of 1986 to the present are a big hit. Annual sales have topped 40 million three times in recent years. And Silver American Eagles have become the world's most popular bullion coins.
These beautiful coins are a great way to own precious metal, as each contains 1 oz. of 99.93% pure silver. They feature one of the most revered designs in U.S. coinage history. They enjoy the universal acceptance of an official U.S. Mint issue. And their weight and purity are guaranteed by the U.S. government.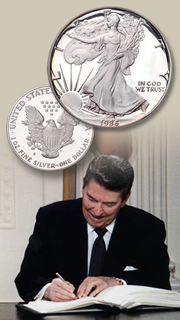 Coinage favorites that almost never were
Silver Eagles are favorites around the world today. But the legislation authorizing the coins almost died on the Senate floor. The proposal was attached to a 1985 bill authorizing U.S. commemorative coins to honor the 100th anniversary of the Statue of Liberty in 1986.
But unrelated measures were also attached to the bill. So the bill ground to a halt in the U.S. Senate. Meanwhile, time was running out to mint Statue of Liberty coins before the 1986 centennial celebration. Finally, Senate leaders managed to strip the non-coin measures from the legislation. The popular coin bill quickly passed both Houses and was signed into law by President Ronald Reagan on July 9, 1985.
Just bullion coins and Proofs for 20 years
From their debut in 1986 until 2005, Silver American Eagles were issued only as Uncirculated bullion coins and premium-quality Proofs. The bullion coins, which bear no mint mark, were struck at Philadelphia until 2000 when production moved to West Point. The bullion coins cannot be purchased by the public directly from the U.S. Mint. Current issues are sold through a network of authorized dealers.
Low-mintage Proofs for collectors do have mint marks. They bear San Francisco "S" mint marks from 1986-1992. Then Philadelphia "P" mint marks from 1987-2000. And West Point "W" mint marks from 2001 to the present. (None were struck in 2009 due to a shortage of silver for coin blanks.) With sharp, frosted images and brilliant mirrorlike surfaces, Proofs are the highest-quality Silver Eagles.
Special Uncirculated coins for collectors
Since 2006, the West Point Mint has also issued Burnished Uncirculated Silver Eagles in limited quantities for collectors. These coins have "W" mint marks. They're struck on polished coin blanks. And they're hand-fed into specially adapted coin presses. Like Proof coins, they come in satin-lined U.S. Mint cases with certificates of authenticity.
Key Dates sought after by collectors
You may think that Silver American Eagles are all alike. But that's not the case. Three bullion dates and two Proof issues are especially hard to find. This is because fewer than usual were struck, or fewer coins have come back on the market. These coins command a higher premium than other dates:
1986 bullion issue – though 5.4 million were struck, this was the first year of the American Eagle. Most of these prized issues are tucked away in permanent collections.
1993 Proof issue – the mintage of high-quality Proofs dropped in 1993 to just over 400,000. Most collectors who own this coin are hanging on tight!
1994 bullion issue – with a mintage of about 4.25 million, this was the first year fewer than 5 million Silver Eagles were minted.
1994 Proof issue – just 372,168 Proof Silver Eagles were issued in 1994. It's the lowest-mintage regular Proof Eagle (special-issue Reverse Proofs have had lower mintages).
1996 bullion issue – the only year to date that fewer than 4 million silver Eagle bullion coins were struck (mintage about 3.6 million).
This series almost perished on Capitol Hill back in 1985. Now silver American Eagles rank among the U.S. Mint's greatest successes. As modern coins with a beloved Liberty design from the past, Silver American Eagles combine the best of the past and present.
Do you collect silver bullion coins, Burnished Uncirculated collector coins or premium-quality Proofs? Please share your thoughts on these modern silver beauties!