What are we talking about – so last century?
Well, 20th century U.S. type coins, of course!
Why?
It's one of the easiest, most satisfying collections to put together if you're just starting out – or want to encourage someone who is. Most of these coins are so affordable, they're practically free. All you have to do it pull out your pocket change!
Plus, 20th century U.S. type coins are linked to some of the most important history-making events that took place in the last century – including birth dates for most of us!
Designer fan clubs?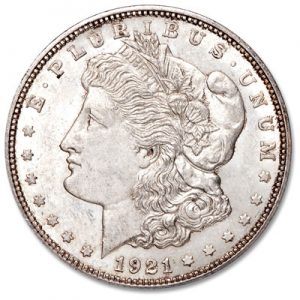 Then there's this to consider: coin designers have fans!
Probably the biggest name to collect belongs to the Philadelphia Mint engraver whose Liberty silver dollar is referred to by his last name, Morgan. That's George T. Morgan, and those coins were struck from 1878 to 1921, qualifying the latter issues to be 20th century U.S. types.
Morgan came to the U.S. from England in 1876, answering the mint's call for a new engraver to draft original designs for new coins to be struck on all the silver coming out the western mines. A Littleton Coin customer from Magnolia, TX, D.D. wrote us with enthusiasm to declare, "I love the quality of the Morgan silver dollars that I started my own collections with."
To give your search for 20th century type coins some guidance, Littleton Coin offers a special custom album that features 29 slots, each one labeled so you know what you're looking for.
Ready to start?
What is a type coin?

Type refers to the motif, or design, associated with each denomination. Usually, it's what's on the obverse, or head of the coin. But sometimes it can be the reverse, or tail. At Littleton Coin's free Learn Center, there's a landing page for type coins that can visually help broaden your understanding of what's out there to collect.
Our Littleton Company coin album for the 20th century U.S. type coins opens with four slots for cents. The very first port is for a bronze Indian Head Cent that was in circulation until 1909. The mythical Liberty wears a ceremonial feathered headdress. Over time, this early cent designed by James B. Longacre earned the nickname by which it's known today.
There are four openings for each of the different nickel designs that circulated in the 20th century. Of the most popular, the Buffalo, here's what its designer, James Earle Fraser had to say: "My first objective was to produce a coin which was truly American, and that could not be confused with the currency of any other country….
"…And, in my search for symbols, I found no motif within the boundaries of the United States so distinctive as the American buffalo."
From ports for Barber dimes to Susie B's
The four ports for the 20th century's ten-cent pieces include one for the much-loved, but misnamed Mercury dime by famed designer A.A. Weinman. It's chronologically placed between the last Barber (another engraver who's a fan favorite!) dime minted in 1916 and the first Roosevelt dime created by mint engraver John R. Sinnock. The Roosevelt dime was first struck in 1946, the year immediately following FDR's untimely passing.
Of the five slots for the different quarter-dollar designs, there's one for the controversial Standing Liberty. There are also three ports for Washington quarters. Our first president never wanted to be on a coin. But his profile found its way onto a quarter in 1932, the 200th anniversary of his birth.
Now, turn the sturdy archival page. On the second page in your 20th Century Type Coin album you'll find six openings sized for half dollars, including a Kennedy Bicentennial from 1976. A nice feature about these pages is that they allow you to see both the obverse and reverse designs. The bicentennial half dollar has a terrific nod to history on the tail.
Then there are the six slots for dollar coins to fill out the last page. It includes one port for the dollar honoring Susan B. Anthony, the first female figure from American history to be found on an obverse. It's interesting to note how she compares in size to the other dollar coins on that page. There's a story to that, too, that you'll have fun discovering along with the design on the reverse.
Littleton brings you the coin store
Want to get a jump start collecting 20th century U.S. type coins? One of our customers, B.K. from Hopland, CA told us in a recent note that "I'm most pleased with the monthly approval selections and the Type Coin Album…it really got me into collecting again."
Littleton Coin has a club for 20th century type coins. Plus, we're running a special. Check it out. Let us know.
Next time we'll explore what's covered in a 21st Century U.S. Type Coin folder. It's a timely category to start collecting if you have one eye on the digital Bitcoin trend and how that might impact the value inherent in U.S. government-backed currency. We're finding 21st century type coins not only attractive, but also affordably priced. How about you?