Enjoy our Top 10 unique & unforgettable coin gifts for 2022!
One of my favorite times of year is here again! Even though the temperatures keep dropping (at least here in northern New England), it always gives me a warm feeling searching out the best gifts for friends and family. The only thing better than hunting for the perfect something, is seeing the smile on each person's face when they open their gift!
Our 2022 Coin Gifts lineup
Whether or not you're specifically searching for coin gifts, rest assured you've come to the right place! That's because Littleton has such a vast inventory, you're guaranteed to find something for everyone. Let's start with the Top 5 coin gift ideas from this year's Holiday Gift Catalog:
1. Santa Express Train Set – designed by our artists, this exciting coin set is only available from Littleton! These silver-plated coins stand vertically thanks to custom acrylic holders that connect together… so you can grow this collectible train each year!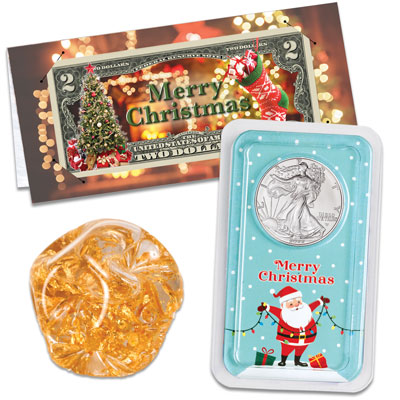 2. Gifts of the Wise Men – the original Christmas gifts of gold, frankincense and myrrh, all presented together in a satin-lined box.
3. $2 Merry Christmas Note – this delightful holiday card holds a $2 note that's been colorized by our talented artists.
4. Merry Christmas Showpak® – count this one as more of a "4a" and "4b". Send Merry Christmas wishes with your choice of two different Littleton exclusive Showpaks – one holds a 2022 American Silver Eagle – the other, a 2022 Native American dollar!
5. Kennedy Half Dollar Ornament – deck the halls in style with a genuine 2022 Kennedy half dollar – colorized by our artists, and presented as a fun ornament!
Littleton's Online-Only Coin Gifts
As an added benefit for our online customers, we have a nice selection of "online-only" items – including these special gift ideas:
1. Santa Ornament – a custom 2022 ornament for your tree, featuring a jolly Santa carrying a Christmas tree with a young reindeer at his feet.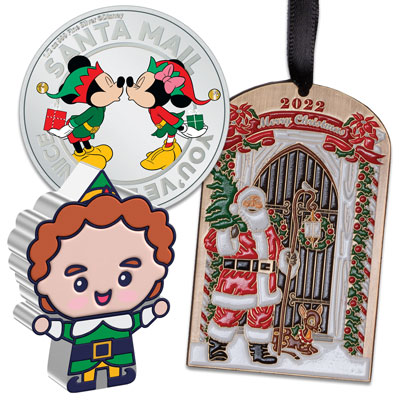 2. 2022 Silver-Plated Santa – this cheerful coin will put the jolly in anyone's holiday! It's specially shaped to show Santa in a sleigh filled with treats.
3. Silver Elf Chibi® – this is one piece that makes me smile every time I see it! Holiday movies are a staple in our home – and Elf is at the top of the list! This fun 1 oz. silver coin honors Buddy the Elf in full color.
4. Santa's Mail – here's an officially licensed Disney collectible that features a charming image of Mickey and Minnie Mouse! Plus, the 1/2 oz. silver coin comes in a star-shaped ornament capsule with a ribbon, ready to hang.
5. Colorized Kennedy Half Dollar – this genuine 2022 Kennedy half dollar is also colorized by our artists and presented as a fun ornament – plus, it's only available online!
If you're in the Littleton area and would like to pick up a last-minute gift idea, the Littleton Coin Company Store is open to the public! Although we haven't yet resumed the tours of our facility, the Coin Store is open Monday-Friday from 9:00 a.m. to 4:00 p.m.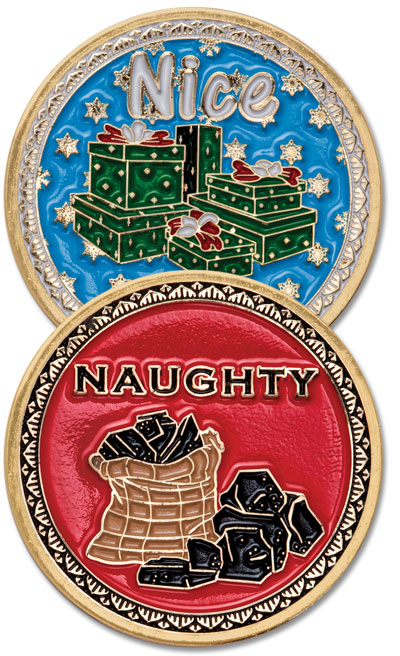 Custom coin gifts & a Bonus!
If you're looking to go even more personal with your gifts, be sure to check out our Custom Coins website! There, you can choose from several different coin and currency options (including Kennedy half dollars, $2 Notes and American Silver Eagles in Showpak®). Upload your own photo and add text to personalize… it's the most unique coin gift out there!
Before I "wrap" this article up, there's a bonus gift idea I wanted to share with you – it's a personal favorite! This "Naughty or Nice" Challenge Coin makes a perfect stocking stuffer, plus it's great to hand out at holiday parties. Do you have any collecting traditions that you follow around the holidays? I'd love to hear about them in the comments section below. Sending best wishes for a happy and healthy holiday season to you all!