The National Park Quarter Series is like a travel guide to America's favorite places!

If you're like me, the arrival of summer whets your appetite for travel, adventure and visiting places you've never been. Of course, the warm weather is most conducive to beautiful outdoor destinations, and that's what the 2010-2021 National Park Quarter Series is all about! Featuring 5 new issues per year and reaching its midway point this summer in honoring a national park or site in each of the 50 states, D.C. and the 5 U.S. territories, this series showcases America's most beautiful, significant and inspiring places. From the natural splendor of the Grand Canyon and the Great Smoky Mountains, to the historical importance of Gettysburg and Fort McHenry, the National Park quarters honor federally protected sites that exude the true spirit, heritage and grandeur of our country.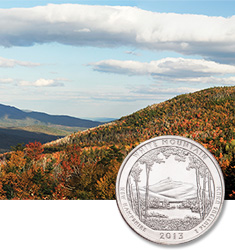 Living in northern New Hampshire, I'm very fortunate to reside in the heart of the White Mountains – featured on the 2013 White Mountain National Forest quarter and widely considered the most scenic mountains east of the Rockies. I'm also very fortunate that at the age of nine, our family took a lengthy western camping trip that included visits to Yellowstone, Glacier, Olympic, Yosemite, Arches and Grand Canyon National Parks – as well as Mount Rushmore National Memorial, Mount Hood National Forest and San Antonio Missions National Historical Park (the Alamo). All of these revered places are commemorated in the National Park Quarter Series, and I wonder how many I'd have visited at this point in my life without that family trip…
I must confess that I haven't taken the time or made the effort to get to some much closer national parks and sites, even though they've been well recommended by family or friends. So it's been a treat to research and write about each new National Park quarter as it's released – I can vicariously visit each featured location! Between those that I've been to, and those that I've written about, I've gained a much greater appreciation for the commitment and sacrifices of earlier generations of Americans, and for the accomplishments of early conservationists and national park proponents like 26th president Teddy Roosevelt and Sierra Club founder John Muir.
But that's not all. Writing about the National Park series helped inspire me last fall to visit former Ellis Island Immigration Center in New York Harbor – to be featured on a 2017 National Park quarter. Learning about the featured sites has also solidified my determination to visit other relatively nearby places for the first time. These include Maine's seacoast national park featured on the 2012 Acadia National Park quarter, the site of the first major American victory of the Revolutionary War to be honored on the upcoming 2015 Saratoga (NY) National Historical Park quarter. And nearby Lowell (MA) National Historical Park to be commemorated on a 2019 National Park quarter and presents the fascinating history of New England's textile industry.
If you've been collecting the National Park quarters, perhaps you've been inspired to visit some of the featured locations in your own part of the country. And if you haven't been collecting these coins, you're missing a series that serves as a travelogue to America's most revered places. What an amazing journey of discovery it would be to visit all these national parks and historic sites in one grand excursion!
One interesting adventure is to visit the sites commemorated on the coins you've collected. Here's a partial list of sites featured in the National Park Quarter Series by region of the country:
SOUTHEAST:
Hot Springs National Park in Arkansas
Vicksburg National Military Park in Mississippi
Great Smoky Mountains National Park in Tennessee
Shenandoah National Park in Virginia
Everglades National Park in Florida
Cumberland Gap National Historical Park in Kentucky
NORTHEAST:
Gettysburg National Military Park in Pennsylvania
Acadia National Park in Maine
White Mountain National Forest in New Hampshire
Ellis Island National Monument (Statue of Liberty) in New Jersey
Fort McHenry National Monument and Historic Shrine in Maryland
Saratoga National Historical Park in New York
CENTRAL:
Chickasaw National Recreation Area in Oklahoma
Ozark National Scenic Riverways in Missouri
George Rogers Clark National Historical Park in Indiana
Apostle Islands National Lakeshore in Wisconsin
Voyageurs National Park in Minnesota
San Antonio Missions National Historical Park (the Alamo) in Texas
NORTHWEST:
Yellowstone National Park in Wyoming
Mount Hood National Forest in Oregon
Glacier National Park in Montana
Olympic National Park in Washington
Mount Rushmore National Memorial in South Dakota
Theodore Roosevelt National Park in North Dakota
SOUTHWEST:
Yosemite National Park in California
Grand Canyon National Park in Arizona
Chaco Culture National Historical Park in New Mexico
Great Basin National Park in Nevada
Arches National Park in Utah
Great Sand Dunes National Park in Colorado
If you've been collecting the National Park Quarters or you've visited some of these cherished places, please share your thoughts and recommendations with other collector-travelers!