The Language and Anatomy of Coins
As with most hobbies, the world of numismatics – better known as coin collecting – has developed something of a language all its own. Collectors new to the hobby may find some of these terms familiar – especially those associated with the anatomy of a coin.
But even experienced collectors can occasionally be stumped.
That's why you'll find not one, but four extensive Coin Glossaries in Littleton's Learn Center – one each for U.S. Coins, Paper Money, Ancient Coins and Error Coins. Along with a virtual treasure trove of Collecting Guides, Checklists, Grading Guides and more.
It's definitely worth checking out, especially if you're a novice collector. But for now, let's take a quick look at the parts or anatomy of a coin, then follow up with some basic numismatic terms every collector should know…
The anatomy of a coin
Anatomy of a Coin – Image courtesy of usmint.gov
As a coin collector, it's important to understand a coin's parts. Here are some basic terms for the anatomy of a coin:
Obverse – The front (or "heads") side of a coin, which usually features the date and the principal design
Reverse – The back (or "tails") side of a coin
Edge – The outer border of a coin, considered the "third side" – can be plain, reeded, lettered or decorated (not to be confused with "rim")
Rim – The raised circumference of a coin's obverse and reverse, circling the design and protecting it from wear (not to be confused with "edge")
Relief – Any part of a design that is raised above the coin's surface (opposite of "incuse")
Incuse – The design of a coin that has been impressed below the coin's surface, rather than raised above the surface (opposite of "relief")
Field – The flat portion of a coin's surface not used for design, legend or inscription
Legend – Lettering that encircles a coin's edge or fields just inside its borders
Inscription – Lettering that runs across the fields of a coin
Mint Mark – A small letter that identifies the mint that struck the coin
Device – A symbol or figure on a coin
Motto – A phrase or slogan on a coin that is often political or religious, and meaningful to a particular country
The language of coins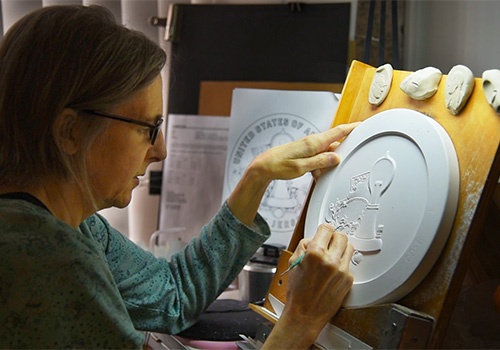 Coin Designer – Image courtesy of usmint.gov
Designer – The artist who creates a coin's design (not necessarily the person who engraves the design into a coinage die)
Engraver – The person who cuts the design into a coinage die (not necessarily the designer)
Mint – A facility that produces coins. Today there are U.S. Mints in Philadelphia, Denver, San Francisco and West Point
Mintage – The quantity of coins produced
Strike – The process of stamping a planchet (coin blank) with a die bearing the design; may be considered full, average or weak on a particular coin, and will affect the value of rare coins
Denomination – The value represented by specific currency, such as a nickel, dime or dollar
Series – All dates and mint marks of a specific design and denomination
Type – The basic design type of a coin within a series
Variety – A minor change from the basic design type of a coin
Condition – The physical state of a coin (see also "grade")
Grade – The condition or amount of wear a coin has received, measured on a scale from Poor (PO-1) to Perfect Uncirculated-70
Mint Luster – The dull, frosty or satiny shine or finish found on coins, resulting from the centrifugal flow of metal as dies strike the coin blank
Coin types and finishes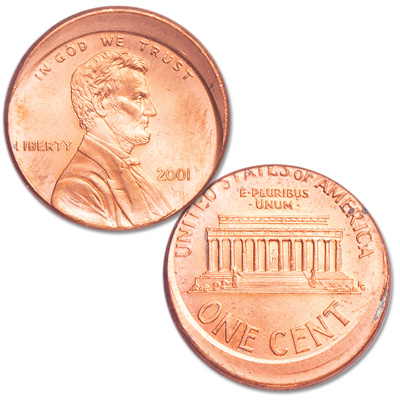 Lincoln Cent Off-Center Strike Error
Bullion – Precious metal in the form of coins, bars, ingots, etc.
Currency – Any medium of exchange used in daily commerce, including coins, paper money and other items of value
Medal – A metal object resembling a coin but not of legal tender status
Legal Tender – A coin, note, or other article issued by a government as official money
Restrike – A coin minted from the original dies after the year of its date
Business Strike – A coin intended for circulation (as opposed to Pattern pieces, Commemorative issues and Proof coins specially made for collectors)
Planchet – The blank piece of metal on which a coin design is stamped or struck
Pattern – An experimental or trial piece, generally of a new design or metal
Commemorative – A coin of special design, issued to honor an outstanding person, place or event in history
Uncirculated – A coin without rub, friction or wear from circulation
Proof – A specially produced coin made from highly-polished planchets and dies, and often struck twice to accent the design
Error – An improperly produced coin that is not detected by the mint and is released
How many did you know?
If you recognized all the above terms, good job! If not, no worries – learning the language of numismatics and the anatomy of a coin can take some time.
Remember: Littleton's Learn Center is a great resource for novice and experienced collectors alike. Just go to https://www.littletoncoin.com/shop/Learn or look for the link at the bottom of any page on the LCC website.
Until next time, Happy Collecting!