Take the trip of a lifetime with these beautiful 99.9% silver bars!

If you've ever been bitten by the travel bug, you know it has a strong pull. The world is filled with natural and man-made landmarks just waiting for us all to discover! It would be a dream to hop the globe, travelling from the Statue of Liberty to the Colosseum, on to the Eiffel Tower, Christ the Redeemer statue, Tower Bridge and beyond…
What makes each of these landmarks so amazing is the incredible effort that went into creating each one. All are feats of engineering, renowned around the world for their beauty and elegance.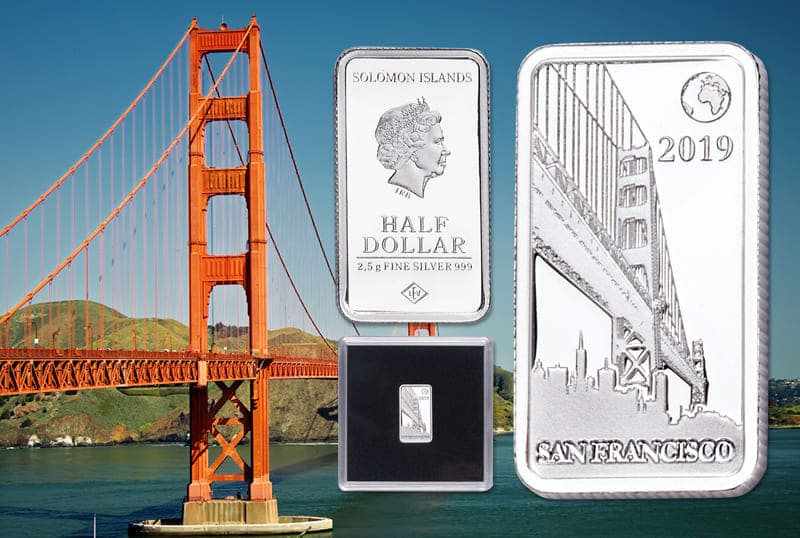 A new way to see the world
Maybe you've already visited some of these sites. Perhaps seeing some of them is on your "bucket list"! But whether you've taken the trip, plan to, or just enjoy the aesthetics of these grand creations, there's a fantastic new way for collectors to mark the occasion…
…With magnificent coin bars struck in timeless 99.9% pure silver! In an exciting new first from Littleton, we're pleased to introduce the new 2019 Magnificent World Landmarks Silver Bar series. Totaling 12 coin bars in all – each struck in 2.5 grams of 99.9% pure silver – these Proof issues take you on an impressive tour of the globe.
The World Landmarks Silver Bar series kicks off in San Francisco, at the Golden Gate Bridge! Spanning an impressive 8,981 feet, this is said to be the most-photographed bridge of all time. Despite its total weight of 887,000 tons, the Golden Gate Bridge's suspended roadway can safely move to accommodate weather conditions. In fact, it's designed to move up and down by as much as 16 feet! Because the bridge is located in a region known for its high winds and earthquakes, this feature is critically important.
The first of 12 designs
Now, that structure is forever memorialized in fantastic detail on this first-in-a-series silver coin bar! Each new design that follows is as magnificent as the one before. From India's grand Taj Mahal to Spain's Sagrada Familia, Australia's Harbour Bridge to the great Pyramids of Egypt… and of course, the Statue of Liberty!
Each Proof coin bar is legal tender for a half dollar in the Solomon Islands – a tropical island nation located in the South Pacific. Since the Solomon Islands are a member of the Commonwealth of Nations, Queen Elizabeth II is the head of state, and appears on the obverse of each World Landmarks Silver Bar.
Encapsulated in custom clear holders, each 99.9% pure silver coin bar comes with an informative, illustrated certificate of authenticity.
Collect the entire 2019 series!
For those who choose to collect the entire series, we also have a custom folder available (shown right)! It's customized with 12 slots – one for each coin bar in the series – and is beautifully illustrated and nicely labeled. Inside the front cover, you'll find a pocket to keep all your certificates of authenticity close at hand!
We'll be releasing each World Landmarks Silver Bar design as it becomes available this year. Now is the perfect time to start your world tour, with the first-issue San Francisco coin bar! Plus, keep an eye on our website or our catalogs (if you're not on our mailing list and would like to be, you can sign up here). We'll be featuring each new Proof as it becomes available for your collection!
Have you ever been to any of the locations honored on these silver coin bars? If so, which was your favorite? If not… which one do you dream of visiting?