Celebrating a Silver Centennial – it's the
100th Anniversary of the Last Morgan & First Peace Dollar!
America in 1921… a new president was inaugurated, the world continued its work to recover from a global pandemic and Albert Einstein won the Nobel Prize in physics.
Thank goodness for that last point, or this could get confusing!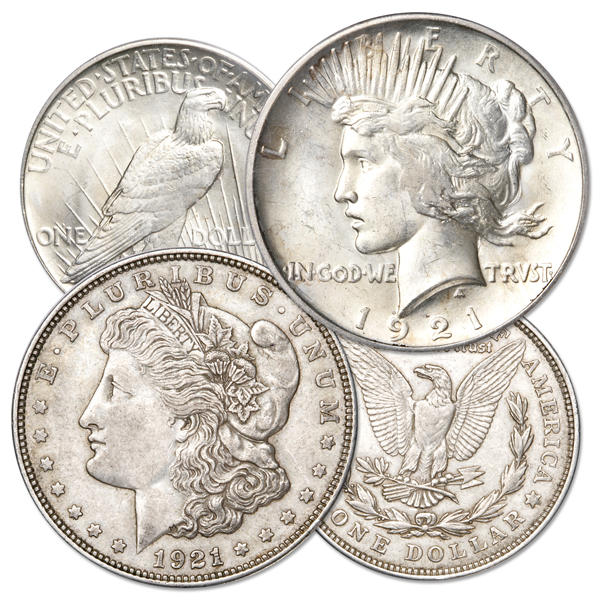 1921 saw both the final Morgan dollars and the first Peace dollars!
The year was a momentous one in the world of numismatics, too. To meet the requirements of the Pittman Act, the U.S. Mint had to replace the millions of silver dollars that had been melted in 1918 to help finance World War I. Until the design for a new dollar was ready, mint officials quickly crafted dies to re-create the Morgan dollar. This marked the first time in 17 years that George T. Morgan's classic liberty design was issued!
In 1910, assuming that the Morgan was "gone for good," officials had destroyed the remaining Morgan dollar hubs. So, in order to craft the initial 1921 dollars in short order, copy hubs were made based on a first-year 1878 Morgan. And with that, the 1921 Morgan dollar was born!
A second dollar design for 1921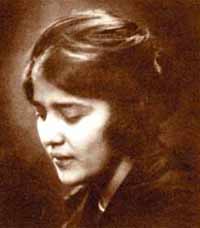 Teresa de Francisci
In the meantime, the mint held a limited competition for the new dollar design. Just 9 artists were invited to participate! In the end, designer Anthony de Francisci's youthful rendition of Liberty with windblown hair was declared the winner. De Francisci used his young wife, Teresa, as his model.
The reverse featured a bold eagle perched on a crag with the word peace below. Nicknamed the Peace dollar, this design was struck to commemorate peace at the end of World War I – then thought to be "the war to end all wars." Though that that wasn't the case, the beautiful 90% silver Peace dollar remains a lasting tribute to that sentiment.
The original intent was for the Peace dollar to be struck in high relief – and in 1921 at least, they were. But soon it became clear that striking the coins in high relief wasn't practical in the long term. So, in 1922, the relief was lowered – adding even more allure to the first-year coins as the only high relief issues in the series!
Special silver round displays both the Morgan and Peace dollar obverse designs
A desirable transition set
Two beloved silver dollars, both bearing the 1921 date. The end of one era and the start of another. And this year marks the 100th anniversary of both the final Morgan dollar and the first Peace dollar! Do you have a favorite silver dollar design? Are you planning to add one of these coins to your collection to honor their 100th anniversary? I'd love to hear your plans in the comments below!