Queen Elizabeth II's Platinum Jubilee – Celebrating 70 Years on the Throne!
"I declare before you all that my whole life whether it be long or short shall be devoted to your service…" – Queen Elizabeth II, April 21, 1947
Long live the queen – and oh, has she ever!
Queen Elizabeth assumed the throne in 1952 following the death of her father, King George VI. At the time, she was in Kenya on an official tour. As news reached her, Elizabeth and Philip rushed back to England. A formal coronation was held in June the following year.
In the 70 years since, the queen has led her country through thick and thin. She's ruled during the tenure of 14 Prime Ministers. Jonas Salk's polio vaccine was approved shortly after she ascended the throne. Television became mainstream – in part, thanks to Elizabeth's decision to allow the live broadcast of her own coronation!
7 decades of change
Beatlemania gripped the world in the 1960s. She greeted the Apollo 11 astronauts at Buckingham Palace following their return to Earth in 1969. The European Union was formed in 1973, and the Berlin Wall fell in 1989. Her self-described "Annus Horribilis" followed in 1992. And though she's formally saluted around the globe, at home her eight grandchildren and twelve great-grandchildren affectionately call her "Granny". From the development of the Internet to smartphones and social media – Queen Elizabeth II has seen some incredible world changes during her reign.
The queen set an impressive milestone this February – one that's being celebrated in a big way this June. She's the first British monarch ever to celebrate a Platinum Jubilee (70 years on the throne).
Queen Elizabeth on coins
Queen Elizabeth II's portrait has appeared on the coins and currency of more countries than any other monarch in history (a grand total of 33). From Great Britain to Australia, the Solomon Islands, Cook Islands, Canada, and beyond – it's an impressive array! In addition to the multitude of regular releases, we're seeing several special issue coins and sets created in celebration of the jubilee!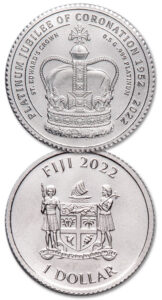 This platinum-plated portrait set features four different portraits of the queen, ranging from youth to maturity. Plus, a special Proof coin from Fiji – struck in 99.9% pure platinum – celebrates the jubilee. It shows the Saint Edwards Crown worn just once by the queen, at her coronation.
A commemoration fit for a queen
The celebration kicks off on June 2 with a 4-day bank holiday across the UK Commonwealth. A wide variety of events is planned to celebrate this important milestone. From a contest to invent a pudding that celebrates her long reign, to Platinum Parties and a "Big Jubilee Lunch", the long weekend is bound to be filled with celebration for the queen.
And it's a celebration that's well deserved.