The President, The Numismatist and The Peace Dollar
What do a tireless coin promoter, a Roaring Twenties look for Lady Liberty and a hopeful U.S. presidential candidate have in common? Keep reading to find out what happened as America returned to normalcy after the Great War.
Despite a November 11, 1918 armistice and a subsequent peace treaty in June of 1919, World War I rivalries lingered. Diplomats and politicians squabbled over territorial truces. An arms race took root in the Pacific. And, at home, economic and political turmoil gave rise to strikes, riots and fears of terrorism.
Against this background, the folksy Warren G. Harding, a U.S. Senator from Ohio and a newspaper publisher, got the nod from the Republican Party to run for higher office in June 1920. Harding wasted no time launching a front-porch campaign whose slogan was "A Return to Normalcy."
Also yearning to get back to the pre-war status quo was avid coin promoter Farran Zerbe. As the 1920 presidential campaign ramped up, Zerbe saw an opportunity for the U.S. to have a new coin that would pay tribute to post-war peace. To gather support for his idea, Zerbe prepared a white paper for the American Numismatic Association (ANA) convention that August in Chicago.
Political Persuasion
"I cannot refrain from being politically partisan and prophetic to the extent of stating that the next Administration will be headed by a distinguished citizen from Ohio," wrote Zerbe, his words delivered at a public session by fellow ANA member Moritz Wormser.
Numismatists with an Ohio leader are no strangers with requests at Washington, and they have succeeded in obtaining about all they asked for. It should be easier for a favorable hearing when they can talk to 'home folks'," wrote Zerbe in his speech later published in The Numismatist of October 1920.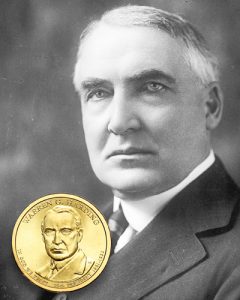 In his argument for a circulating peace-themed coin, Zerbe urged a return to minting silver coins by stating…" we gave all our silver dollars away to help win the war, we restore them in commemoration of victory and peace." He also suggested a public competition for both half-dollar and a dollar coin designs.
Zerbe and the ANA didn't have long to wait to get presidential support. That November – and by a landslide – Harding won the election to become the 29th president of the United States. Good bye, Victorian values. Hello Roaring Twenties!
Peaceful Opportunities
On March 4, 1921, Harding was sworn in against a backdrop of World War I repercussions. Never far from Harding's mind was his campaign claim that "America's present need is not heroics but healing; not nostrums but normalcy; not revolution but restoration… not surgery but serenity." Luckily, as his presidency took hold, Harding found several opportunities to promote peace.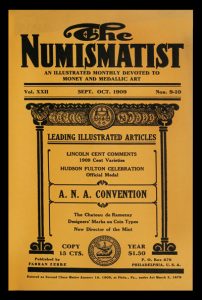 Meanwhile, The Numismatist of June 1921 assured the ANA membership that its new silver dollar proposal was on track: "It is stated on good authority that the proposed peace dollar meets with the approval of the Secretary of the Treasury and the Director of the Mint."
On July 2, Harding signed into law the Knox-Porter Resolution. Passed by Congress, it formally ended the world war between the U.S. and Germany. Yet, global peace remained elusive. Around the Pacific Ocean, especially, a naval arms race was ramping up. Seeing another opportunity for peace, Harding publicily inviting foreign heads of state to Washington, D.C. that autumn for a military naval conference.
Coin collectors' attention, however, was understandably more focused on Harding's executive order signed later that July. It allowed for "essential matters relating to the design of medals, insignia and coins….[to] be submitted to the Commission of Fine Arts…" When the ANA met for its summer convention that year in Boston, Harding's decree was read into the minutes. It prompted this observation by ANA President Waldo Moore:
"There is a great deal of publicity being given to this commemorative coin in the United States and elsewhere, and we ought to have more, as that will do more towards publicity for the coin and getting it into circulation than anything else."
A who's who of coin designers
The new Liberty dollar would replace the long-running Morgan dollar, the Grecian-inspired profile that had been circulating for 43 years – since 1878. According to the design specifications, the 20th century profile would be "as beautiful and full of character as possible."
Among the sculptors invited to submit their designs were Lincoln cent designer Victor D. Brenner; dime and half dollar designer A.A. Weinman; Standing Liberty quarter designer Hermon A. MacNeil, and Anthony de Francisci, a one-time student of James E. Fraser, the Buffalo nickel's designer. Invitations went out Saturday, Nov. 19, seven days after the start of Harding's Naval Conference. Submissions were due barely three weeks later, on Dec. 12.
Given the sketches to review, President Harding chose de Francisci's. It showed a Liberty with wind-blown hair and a forward-leaning, radiating crown. But he had one caveat. Harding wanted the sculptor – whose new, young wife was the model – to remove what he regarded as an "inappropriate dimple" from Liberty's face. De Francisci agreed. The design choice was made public the next day, Dec. 13. The Philadelphia Mint rushed to strike the new Peace coin before year's end so the president would have a silver Peace dollar to inspire the world powers still locked in negotiations.
And what about the ANA?
Members smarted over the lack of federal acknowledgement for their influential role in bringing about a new silver dollar design. Plus, the February 1922 issue of The Numismatist chronicled quite a few design complaints. But let's let Farran Zerbe's words make the final volley:
"If the new coin does not at first glance measure up to all that was expected, just study it a while; it improves with acquaintance. With utility defects remedied it should be a pleasing and satisfactory coin for long and good service, and the A.N.A. can deservingly call it its coin."