5 Reasons Native American Dollars Matter
Updated: August 2017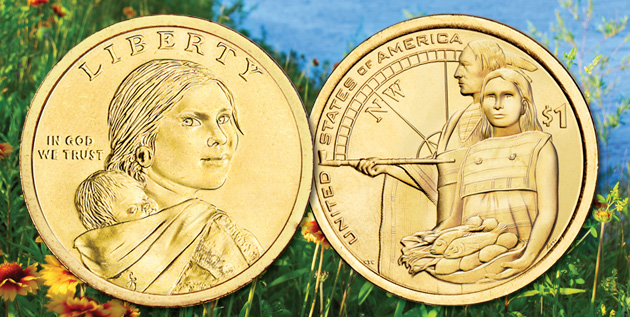 Writing the Native American dollar off as just another modern coin would be a mistake. To me, they offer you great designs and an interesting subject. Being an eastern gal, when I look at them, I'm reminded of the open vistas of Utah, Colorado and the Midwestern plains… the tall forests of northern California and Oregon and warm blue waters of the Pacific.
1. Reverses change annually
One of the most exciting features of the Native American dollar series is that each "golden" dollar's reverse is struck for one year only and never again. Called Native Hospitality, 2014's design is the 6th for the series. It shows a man offering a pipe, while his wife holds a basket of provisions. The upper left shows a stylized version of the compass used by Lewis & Clark's journey, pointing northwest.
The subtle compass in the background not only ties it to the expedition's guide Sacagawea on the obverse, but also makes the design great, because it reminds you of the enormousness of the journey – 8,000 miles into the unexplored wilderness.
2. First series honoring Native Americans
While many coins, paper money and even medals have featured Native Americans, this $1 series is the first that highlights their contributions. What would our dinner tables be like today without the standard meat and potatoes… or what would we do without chocolate (cacao)? Native Americans introduced these two food staples, along with corn, pineapples, avocados and squash (to name a few) to Europeans. Edibles, concepts for government and laws are some of the important contributions that shaped the way we live today.
3. Limited mintages
Native American dollars have much lower mintages than most circulating dollar coins. And, since these $1s have been struck only as collector coins, numbers have been even lower. In 2013, both the Philadelphia and Denver Mints each produced a miniscule 1.82 million coins – making 2013's Treaty with the Delawares the lowest mintage issue of the series to date.
4. Now struck for collectors only
In December of 2011, Secretary Geithner approved halting the production of $1 coins for circulation, including Native Americans. Mintages plummeted by 92%, and now these dollars are limited to collectors only – making them very appealing indeed!
5. Designs open possibilities to endless opportunities
Aside from creating a date and mint mark collection of Native American dollars, one of the things I like is that their designs open the door to other collecting avenues. The 2010, 2011 and 2013 issues all go nicely with various U.S. commemoratives like the 1987 U.S. Constitution dollar, 1989 Congressional Bicentennial coins, 1993 Bill of Rights coins, and others. Or perhaps like me, you like horses and will consider pairing 2012's Trade Route coin with the Year of the Horse coinage.
And so far the mint has released design possibilities through 2020, so more of these exciting one-year dollars will be ready to highlight your collection. Plus, check out our full line of Native American dollars – update your collection with older issues or accent it with colorized coins. Once you get started with these fascinating dollars, the collecting possibilites are endless!